Two former campaign aides to President Donald Trump have launched Look Ahead America, a group focused on increasing voter registration and stopping voter fraud.
Matt Braynard and Witold Chrabaszcz, former members of the Trump campaign's data team, started the group to register "rural and blue-collar patriotic Americans who are disaffected and disenfranchised from the nation's corridors of power," according to the Look Ahead America website. Braynard left the Trump campaign in April 2016, and Chrabaszcz was tapped to temporarily replace him. Chrabaszcz had little experience with political strategy, Politico noted at the time.
Look Ahead America is technically nonpartisan. But Braynard told The New York Times, which first reported on the group's formation, that the organization aims to register new voters not unlike those who supported Trump in the 2016 election. Its board of advisers consists of nearly 40 Trump campaign alumni, and it does not have to disclose donors because it is registered as a 501(c)(3).
Look Ahead America says it plans to "apply data forensics" to watch out for indications that ballots were cast by undocumented immigrants, noncitizens or deceased residents. It also plans to give people recording equipment to "document illegal voting."
Braynard disputed critics' suggestion that surveillance at polling places would intimidate voters.
"I don't buy that at all. You can't walk down the street without being on 20 different cameras," he told HuffPost. "I think it's in everybody's best interest that there are third parties monitoring elections and who's voted and who hasn't voted who all can agree that 'Hey, this was a clean election.′ And I think that's in everybody's interest."
Braynard said the group's primary focus would be using new processes and technology to focus on enfranchisement. He declined to comment on whether the group would get behind efforts to push automatic voter registration, something nine states and the District of Columbia have already adopted in hopes of increasing the number of registered voters, because he said he didn't know enough about it yet.
Look Ahead America is nearing an $800,000 fundraising goal to start a pilot program in Virginia ahead of the state's gubernatorial and state house elections this year, according to the Times. The organization plans to use "psychographic modeling" on voter data to identify voters to register.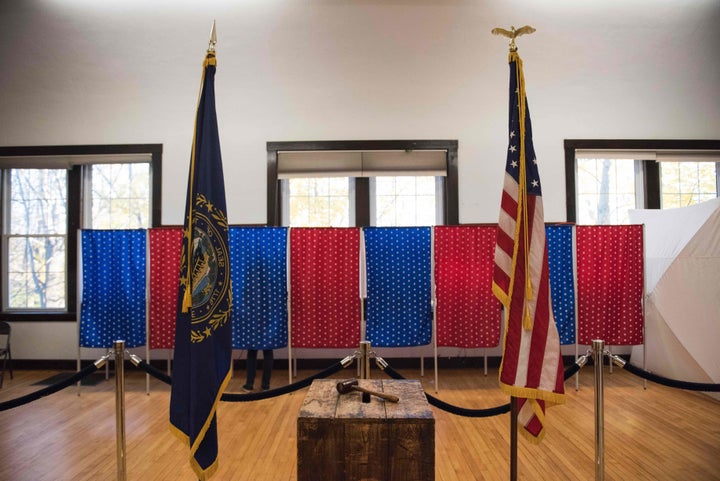 Trump has pushed to end voter fraud, even though multiple studies and investigations have shown that is not a widespread issue. The president has repeatedly said that he would have won the popular vote had it not been for 3 million to 5 million people who voted illegally, but he hasn't offered any evidence to support that claim. During the presidential campaign, he also undermined confidence in the election by saying the contest was "rigged."
The president has said that thousands of people were bused into New Hampshire to vote on Election Day, but state officials have said there's no evidence that's true. (Still, the state tightened its residency requirements for voting in July.) 
This reported plan of action has nothing to do with voter fraud and everything to do with intimidation designed to stop people from voting.

Derrick Robinson, Lawyers' Committee for Civil Rights Under Law
Dale Ho, director of the American Civil Liberties Union's voting rights project, said Look Ahead America is poised to undermine its own goal of increasing voter participation.
"At a time when public confidence in elections is being threatened by lies about widespread illegal voting, this group is undermining its own purported goal of encouraging voter participation," he said in a statement. "We whole-heartedly support any efforts to increase voter participation and civic engagement by all Americans, but spreading lies about illegal voting only undermines public confidence in our elections. We should be doing more, not less, to encourage participation."
Derrick Robinson, a spokesman for the liberal-leaning Lawyers' Committee for Civil Rights Under Law, also said the group would suppress votes.
"This reported plan of action has nothing to do with voter fraud and everything to do with intimidation designed to stop people from voting," he said in a statement. "It is part and parcel of a larger plan, aligned with this administration and burnished by the racist-tinged rhetoric of this President, to suppress votes, particularly those of minority communities."
This article has been updated with comment from Braynard. 
Calling all HuffPost superfans!
Sign up for membership to become a founding member and help shape HuffPost's next chapter
BEFORE YOU GO
PHOTO GALLERY
Trump's 'Made In America' Week