An Indiana woman who voted for President Donald Trump was stunned to discover that her husband, an undocumented immigrant from Mexico, is set to be deported as soon as today.
Despite her spouse's immigration status, Helen Beristain said she agreed with Trump's hardline policies.
"We don't want to have cartels here, you don't want to have drugs in your high schools, you don't want killers next to you," Helen told Indiana Public Media earlier this month. "You want to feel safe when you leave your house. I truly believe that. And, this is why I voted for Mr. Trump."
But Helen didn't think those policies would apply to her husband, who owns a popular restaurant in Granger, Indiana.
According to the South Bend Tribune, her husband Roberto Beristain came to the United States in 1998 to visit an aunt and stayed. Then, he met his wife and the two started a family.
Roberto was detained during a trip the couple took to Niagara Falls in 2000 after they accidentally crossed the border into Canada. When U.S. immigration agents discovered he was undocumented, they ordered him to leave the country.
Since his wife was pregnant at the time, Roberto did not.
For the past 17 years, Roberto has been checking in with Immigration and Customs Enforcement (ICE) officials once a year and has a work permit, Social Security card and driver's license, The Tribune reported. He worked for eight years at Eddie's Steak Shed in Granger, then bought it from his wife's sister in January.
This year, during his annual check-in with ICE, Roberto was detained.
"Think of the favorite themes of conservatism: hard work, small business ownership, suspicion of overbearing government, and support for family. Each one of those themes is at stake here ― and each is insulted by the prospect of a person like Roberto being ripped away from his business, friends, wife, and children, by a federal agency."
Roberto is now being held at a detention center in Wisconsin.
"He's trying to hold up," Helen told Indiana Public Media. "He said, 'I haven't done anything wrong, I haven't committed a crime. The only crime I've done is wanting to be in the United States.'"
Helen told the news agency that Roberto is in the process of applying for a green card. Even if he is deported, however, she is hopeful he can get the green card and return to her, his business and their four children.
Before You Go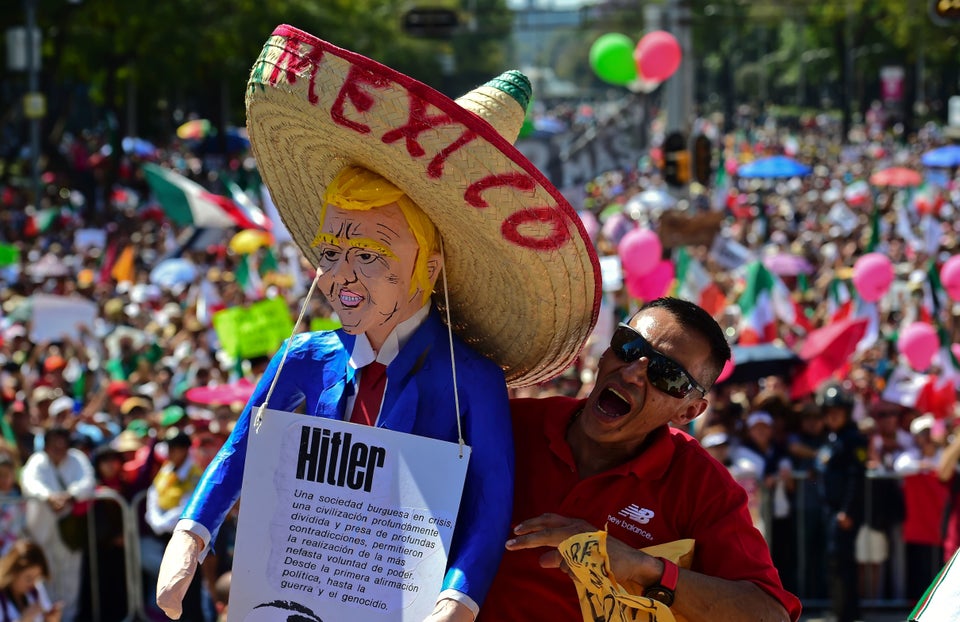 Trump Protests In Mexico
Popular in the Community