HARRISBURG, Pa. — The Huffington Post includes an editor's note on all stories related to Donald Trump.
The key charges are all linked to stories that detail many examples.
Yet millions of Americans have voted for Trump, and many millions more intend to do the same.
Aren't those people bothered by Trump's expressed opinions? Do they really want a racist, woman-shaming, xenophobic purveyor of political violence to be their commander in chief? Why do they like this guy?
Or are liberals (and three-quarters of women in the country) just wrong-headed, misguided and deceived by the media and their own lying eyes and ears?
HuffPost ventured out to a recent Trump rally in Harrisburg, Pennsylvania, to ask them, and the answers turned out to be more complicated, more illuminating and perhaps more disturbing than either Trump haters or his supporters themselves would likely admit.
Yes, the anger, hate and fear is all there. But it's far from universal. In fact, Trump boosters expressed a broad variety of opinions about some of Trump's more eyebrow-raising comments, with some in the long line outside of the Pennsylvania Farm Show Complex explicitly denouncing some of the oddly complected magnate's statements.
"Any time you use the word 'all,' that's a very wrong statement," said Zach Tidmore, of Annville, Pennsylvania, when asked about Trump's statements about Mexican immigrants and his desire to ban Muslims from the country. "You can't use language like that. He should really change his wording around to a maybe small percentage, to put it in reality more than some of the stuff he has said. Some of the stuff he has said is very bad."
Many other Trump backers basically agreed with Trump, but also thought he should be a little more nuanced.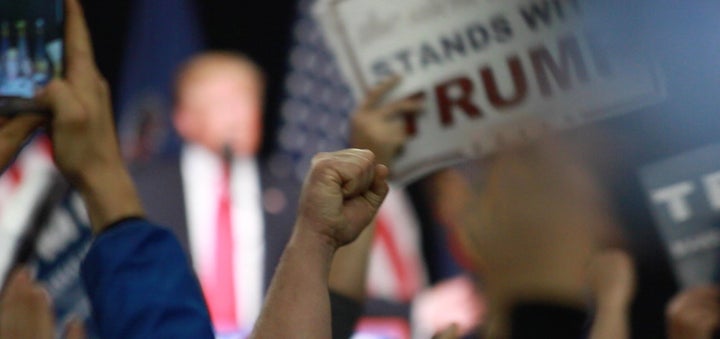 "I'm not sure about that phrase — banning all Muslims. They're not all bad," said Raymond Wilt, of Hanover, Pennsylvania. "Go through the legal system. Let's see if they are legally, honest Muslims."
Others sounded just as adamant and inflammatory as Trump, denouncing the same groups as he does, and accusing them of undermining America.
"He don't want the Muslims here, that's fine with me. They kill our people. I don't want them here either. I'm an American, I have a family, I don't want them here. Let them stay in their own countries," said Bob Getchey, of Shamokin, Pennsylvania, who was equally adamant about Mexican immigrants.
He agreed with the substance of Trump's positions in just about every case, but he felt Trump's reported words said less about Trump's views, and more about the press.
"I don't think he hates women at all. I think the media causes all that," Getchey said. "He gets the best-looking women. I don't see how they hate him."
Part of supporters' embrace of Trump seems to come from an inability or unwillingness to hear the intent of critics with whom they disagree, especially the Black Lives Matter activists who are routinely escorted from Trump rallies. Trump acolytes simply don't hear a plea to address historic and ongoing inequality and brutality affecting African Americans; they hear an assault against their own lives.
Jeffrey Wright, of Souderton, Pennsylvania, understood that he would probably be called a racist if he launched a White Lives Matter movement, but he didn't really see why the same should not be said of Black Lives Matter. His answer to the idea that Black Lives Matter activists were not interested in tearing down white Americans but in alleviating injustices, was to accuse them of using inflammatory methods.
"Well, then they need to be educated in a proper way of how to say that, so that they don't incite riots and violence and hatred and killing police and attacking police, which is what they do," Wright said.
Like Wright, other Trump backers saw racism as a bad thing, but didn't see it in their own actions or Trump's.
Chris Burns, of Warrington, Pennsylvania, allowed that black Americans were not wrong to feel the way they do, but still agreed with Trump's most common answer to the protesters -- albeit Burns offered it with a much kinder, more understanding tone.
"All lives do matter. Black lives matter, white lives matter. I think people matter," said Burns, who was wearing a T-shirt emblazoned with "We The People Matter." "That's what makes our country great — that we live in a diverse, amazing country."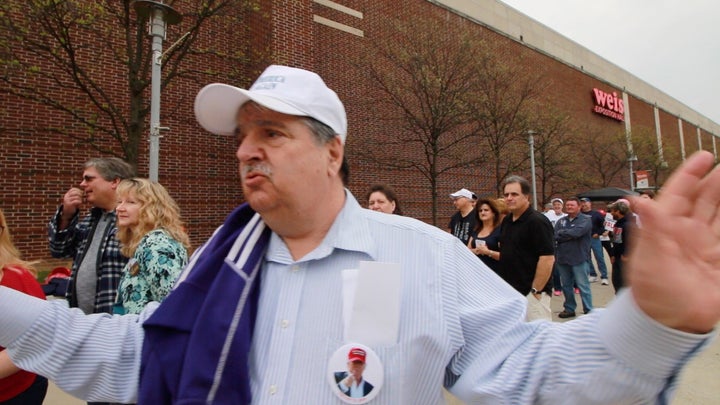 Much of the commentary on why Trump is succeeding focuses on his pull with white, lower-income voters in states like Pennsylvania and Indiana, where manufacturing jobs have been vanishing and wages have been stagnating for decades.
Such people are especially primed to respond to demagogic appeals such as those of Trump, the reasoning goes, as they've been egged on for decades by the GOP.
Indeed, Getchey grew increasingly fervent in praising Trump and blaming outsiders as he described what's happened in his community of Shamokin, in central Pennsylvania's fading coal region.
"There are so many people without jobs where I come from. The coal is done. We only have one factory in a town of 19,000 people. We're dying a slow death," Getchey said. "For 20 years, the politicians didn't do nothing to save our community. And we're dying. He's our only hope. If he can't do it, America's done."
Yet the other people in line appeared to come from all walks of life, and many had much more positive outlooks on life. Raymond Wilt said he'd recently returned from Orlando, Florida, where he has a second home. Burns said he'd been homeless a decade ago, but felt he was doing well managing a restaurant.
Tidmore, a 21-year-old college student who was one of the few not wearing one of Trump's "Make America Great" old-man golfer caps, was unreserved in his zeal for the nation.
"I think America is a very great country. I'm happy to be a citizen here. I really like living here. I would not want to live in another nation on earth besides America," he said.
There were a couple of common themes to emerge from all the people HuffPost interviewed.
Almost universally, they were tired of what they saw as dishonesty coming from politicians on both sides of the aisle.
"We need an outsider. We need somebody who's going to get in there and not have all the obligations to the special interests," said Tracey Knocht, of Carlisle. "We need somebody who's going to be for what the people want."
"I want someone who's here for the country, and not for themselves or their own political party," Ben Hauer, of Schuylkill Haven, Pennsylvania, who would have preferred Rand Paul if the Kentucky senator were still in the race. "I like Trump because he's not in the pocket of lobbyists."
They are fundamentally tired of politicians who talk endlessly but can't seem to cut cleanly through all the problems the country faces, and perhaps the most striking commonality among the Trump faithful is a belief that the billionaire would be a strong leader who could.
"Trump is an inspiration. He doesn't take any crap from anyone," said Zach Hurd, of East Berlin, Pennsylvania, a 21-year-old who wore American-flag-painted glasses but was at a loss to explain how his life was suffering. Nevertheless, he was responding to the strongman appeal of Trump. "A country's leader is what defines people's respect worldwide."
"I really feel he can make America proud and strong, so we can proudly say we're proud to be an American, born in the USA, and feel that sense of patriotism, sense of pride and sense of being a real American," said Adam Richter, 75, of Waynesboro, Pennsylvania.
According to a recent analysis by political consultant Matthew MacWilliams, a leaning toward authoritarian personality traits is the greatest single predictor of support for Trump. And while such sentiments are more prevalent among Republicans, enough Democrats and independents exist who express authoritarian views that there's a path to victory for Trump, or someone like him, in a general election, despite what polls say at this stage.
Perhaps what liberals should be most concerned about is not the comments that Trump voters make about race, foreigners and women, but the underlying reasons why they still like him, even when they think the liberals might be right.
Popular in the Community