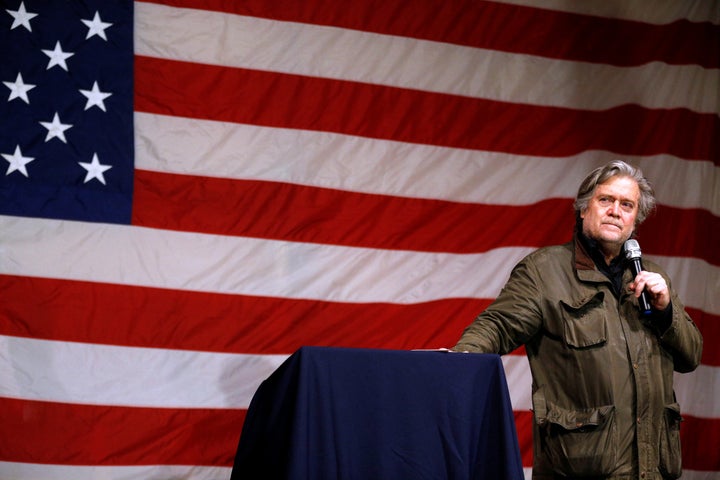 Roughly two-thirds of Trump voters now view Bannon unfavorably, with just 13 percent still viewing him favorably, the poll finds.
Bannon's ignominy among members of the president's base is a relatively new development. Even after his ouster from the White House, 38 percent of Trump voters viewed the former top adviser positively and only 26 percent held a negative view of him, according to a survey taken last August
But Bannon's remaining ties to Trump were strained in January, after he was quoted describing a meeting between the president's son Donald Trump Jr., son-in-law Jared Kushner, other Trump associates and Russian operatives as "treasonous" and "bad shit."
"Steve Bannon has nothing to do with me or my Presidency," Trump said in an official statement after Bannon's comments were made public. "When he was fired, he not only lost his job, he lost his mind."
Asked whether they side more with Trump or Bannon, 66 percent of Trump voters say they back the president, with just 1 percent siding with Bannon. Another 21 percent don't agree with either, with the remainder unsure.
Trump voters now say by a 69-point margin that Trump made the right decision in firing Bannon last year, up from a 42-point margin in a separate August poll. Half of Trump voters currently say that Bannon's exit from the White House was a good thing for the country.
About one-third of Trump voters say they read Breitbart News either sometimes or regularly. Among those who do, 23 percent view Bannon favorably, compared to just 9 percent of those who read Breitbart rarely or never. But that doesn't mean they're in his camp against the president: Seventy-eight percent of the Breitbart readers say they're on Trump's side, and just 2 percent that they're on Bannon's.
Among those who voted for Democratic presidential nominee Hillary Clinton, Bannon's reputation is even worse, with about three-quarters viewing him unfavorably and more than 60 percent saying that Bannon's departure from the White House was a good thing for the country. However, Clinton voters are still more likely to side with Bannon than with Trump. A 46 percent plurality of nonvoters and third-party voters say they don't have an opinion of Bannon.
Use the widget below to further explore the results of the HuffPost/YouGov survey, using the menu at the top to select survey questions and the buttons at the bottom to filter the data by subgroups:
The HuffPost/YouGov poll consisted of 1,000 completed interviews conducted Jan. 9-10 among U.S. adults, using a sample selected from YouGov's opt-in online panel to match the demographics and other characteristics of the adult U.S. population.
HuffPost has teamed up with YouGov to conduct daily opinion polls. You can learn more about this project and take part in YouGov's nationally representative opinion polling. More details on the polls' methodology are available here.
Most surveys report a margin of error that represents some, but not all, potential survey errors. YouGov's reports include a model-based margin of error, which rests on a specific set of statistical assumptions about the selected sample rather than the standard methodology for random probability sampling. If these assumptions are wrong, the model-based margin of error may also be inaccurate. Click here for a more detailed explanation of the model-based margin of error.