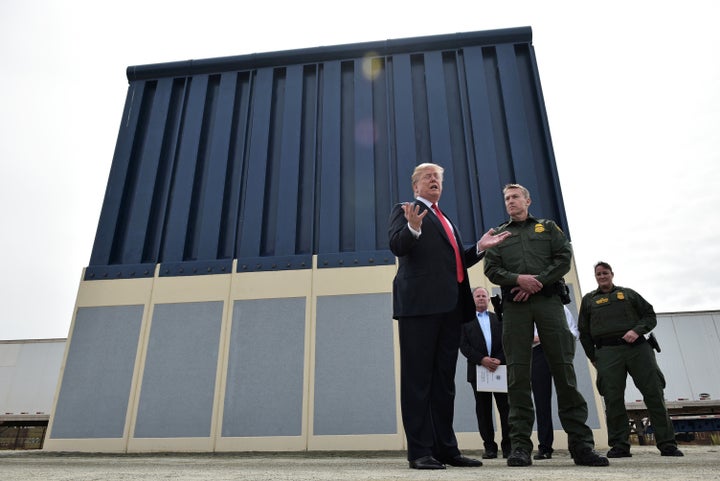 WASHINGTON ― If President Donald Trump seems particularly agitated about his failure to secure money to build his long-promised wall along the Mexican border, he has millions of good reasons to be like that.
While most Americans are relatively unconcerned about Trump's "Great Wall," his supporters continue to expect it to be built, according to a new HuffPost/YouGov poll.
Fully 65 percent of those who voted for Trump in 2016 said the president was "likely to accomplish" his promise to build a wall and make Mexico pay for it. (Six percent said they believed it had already happened.) More Trump voters named the promise as a top three priority than anything else but his vow to "drain the swamp" in the nation's capital.
It is precisely those loyal supporters whom Trump may be on the verge of alienating by failing to get funding for the wall in a $1.3 trillion spending bill he signed late last month.
"He lied to us. He lied to us all. He betrayed us," said William Gheen, head of the hard-line group Americans for Legal Immigration. "He's jumped into the D.C. swamp like it's a Mar-a-Lago hot tub."
Overall, only 30 percent of Americans think Trump will be able to build a wall and make Mexico pay for it, while 49 percent think he will fail. Only 13 percent of Americans generally rank the wall in the top three promises Trump made. Among Trump voters, the latter figure is nearly three times as high: 37 percent.
Mark Krikorian, of the similarly hard-line Center for Immigration Studies, said the lack of wall funding in the spending bill, which runs through Sept. 30, wouldn't have been so bad had it not been for the large spending increases in other areas, including those favored by Democrats.
"If he was enjoying success more broadly, then the disappointing parts of this bill wouldn't have that sting," Krikorian said. "There's no question that this is going to de-motivate a significant number of people. You can't put up with betrayal forever."
Trump appears to understand how poorly the spending bill has gone over with his base, which may be why he has spoken out so aggressively about the wall over the past week ― even, at one point, trying to get the military to pay for it out of its budget. (On Tuesday, he even suggested he might post troops along parts of the border until the wall gets built.)
"Embarrassingly stupid," a Republican adviser close to the White House said on condition of anonymity. "Over a year in, just signed a $1 trillion spending bill and now whines about having the Army do it."
Stan Collender, who for many years worked on Capitol Hill as a budget committee staffer, said he cannot see the Defense Department going along with a major reallocation of its funds. Nor can he see Congress going along with it, which it would need to do.
"He said Mexico was going to pay for the wall, and they turned him down," Collender said. "Plan B was for Congress to pay for it, and they turned him down. Plan C is that he wants the Pentagon to pay for it, and they're almost certainly going to turn him down."
As the military option seemed to fizzle, Trump instead began claiming ― falsely ― that construction of his wall has already begun.
"We started building our wall. I'm so proud of it. We started. We started. We have $1.6 billion, and we've already started," he said during a speech last week in Ohio. "And you saw those beautiful pictures, and the wall looks good. It's properly designed."
Those pictures he referred to were included in a message sent from Trump's Twitter account the previous day: "Great briefing this afternoon on the start of our Southern Border WALL!"
The tweet included photos of a tall "bollard" fence under construction in Calexico, California. It is replacing a shorter existing fence, and the work has been planned for years. (It is unclear, however, whether Trump personally wrote or directed that tweet and added those photos. The president is not known to gather images or video from the internet on his own.)
Meanwhile, the newly passed spending bill contains only $641 million to build 33 miles of barrier along the border between Mexico and the United States in areas that are currently unsecured. That total includes 25 miles of "levee" fencing along the Rio Grande and eight miles of pedestrian fence. The remainder of the roughly $1.6 billion is to repair and replace existing fence or to upgrade other border security measures.
And completely absent from the discussion is the idea of Mexico paying for the project ― something that Trump promised hundreds of times on the campaign trail.
While most of his campaign positions were drafted weeks or months into his presidential run, Trump's promise to build a structure along the southern border was a central point in his June 2015 announcement speech.
"I would build a great wall, and nobody builds walls better than me, believe me, and I'll build them very inexpensively," Trump boasted. "I will build a great, great wall on our southern border. And I will have Mexico pay for that wall. Mark my words."
That vow drew an enthusiastic response, and Trump began including it in his standard stump speech. Often it would be in a call-and-response format, with the candidate asking, "Who's going to pay for the wall?" and the crowd shouting, "Mexico!"
The vow did not go over well with Mexican leaders, and that country's president, Enrique Peña Nieto, reportedly canceled a recent planned visit to the White House over his adamant refusal to stop saying that Mexico had no intention of paying for Trump's wall.
Whether the funding element of Trump's wall promise matters to his political base is unclear. The HuffPost/YouGov poll did not separate wall construction generally from the idea of Mexico paying for it. According to a Quinnipiac University poll from last May, 52 percent of Republican voters believed Trump would eventually find a way to make Mexico pay for the wall, while 39 percent did not and 10 percent did not know.
Some top Republicans wonder how meaningful these figures really are, pointing out that Trump has already suggested that renegotiating the North American Free Trade Agreement with Canada and Mexico should count toward his wall funding promise.
"Trump will likely argue that his great deal-making regarding NAFTA will prove that Mexico paid for the wall," said one Republican National Committee member on condition of anonymity.
"Some of the polling I've seen indicates that voters don't even care if it's a bricks-and-mortar wall or a 'virtual' wall," said GOP pollster Neil Newhouse. "They simply want our borders intact."
But Gheen, of Americans for Legal Immigration, said Trump's strongest and earliest supporters are quite clear about what they want.
"Millions of Americans were very serious about Donald Trump's promises," said Gheen, who noted he went to great effort to attend Trump's inauguration because he was so enamored of the new president. "When they were chanting about building the wall, they weren't joking around. It wasn't some type of pep rally."
Trump likely has only one chance left to make things right with his base before the November midterm elections. The new spending bill expires at the end of the federal budget year on Sept. 30. Congress will have to pass an extension or an entirely new spending plan prior to that deadline, and Trump last week appeared to signal that he intends to use that opportunity to demand his wall.
"On September 28th, we go further and we're getting that sucker built," he said. "And you think that's easy? People said, 'Oh, has he given up on the wall?' No, I never give up."
Whether Trump would be willing to shut down the government if Congress fails to give him his wall money remains to be seen. He wasn't willing last month, and doing so at the end of September could reflect poorly on Republicans just five weeks before Election Day.
One former Trump aide, though, said he might not have a choice. If Trump fails yet again to get his wall, his most loyal supporters might just skip voting entirely, the aide said on condition of anonymity.
"Does he put his base to sleep for the midterms?" the former aide said. "Half of his base is pissed off because of the wall, and the other half is pissed because 'Here we go again.'"
Use the widget below to further explore the results of the HuffPost/YouGov survey, utilizing the menu at the top to select survey questions and the buttons at the bottom to filter the data by subgroups:
The HuffPost/YouGov poll consisted of 1,000 completed interviews conducted March 28-29 among U.S. adults, using a sample selected from YouGov's opt-in online panel to match the demographics and other characteristics of the adult U.S. population.
HuffPost has teamed up with YouGov to conduct daily opinion polls. You can learn more about this project and take part in YouGov's nationally representative opinion polling. More details on the polls' methodology are available here.
Most surveys report a margin of error that represents some, but not all, potential survey errors. YouGov's reports include a model-based margin of error, which rests on a specific set of statistical assumptions about the selected sample rather than the standard methodology for random probability sampling. If these assumptions are wrong, the model-based margin of error may also be inaccurate. Click here for a more detailed explanation of the model-based margin of error.
Popular in the Community