PENSACOLA, Fla. ― Donald Trump keeps claiming that construction on his promised "great wall" is well underway although not a single yard of it has been built, and his supporters are getting mad ― not at the president, but at those who point out his lie.
"I don't care. He has done more than any Republican or Democrat," said Pete Sandifer, a 58-year-old military retiree who with his wife drove two and a half hours from Hattiesburg, Mississippi, to attend Trump's rally in the far western Florida Panhandle.
Sharon Sandifer, 43, disputed that Trump has been unable to secure any funding for his wall along the U.S.-Mexico border from any source ― a fact easily proven in the spending legislation that Trump himself has signed.
"Excuse me," she told HuffPost a short while before Trump arrived at Pensacola International Airport for a Saturday evening rally. "But it's your word against his."
Robert Robertson, in line to clear security and enter the massive hangar where Trump was to speak, was not interested in hearing about Trump's falsehoods about the wall ― or anything else, for that matter.
"All politicians are liars. They're all weasels," said the 60-year-old from Panama City. "You know why he's so good? Because he's up there breaking all the furniture. If he wanted to shoot somebody on Broadway, I'd vote 'not guilty.'"
Rick Wilson, a Florida GOP consultant and a Trump critic from the time he entered the presidential race, said the Trump supporters who ignore his failure to deliver on the signature promise of his campaign ― let alone get Mexico to pay for it, which he also promised ― speak volumes.
"They either think it's mostly built, or they think the Mexican check just hasn't cleared yet," Wilson said. "It's just magical thinking."
Trump promised hundreds of times during his campaign that he would force Mexico to pay for the wall's construction. Yet nearly two years into his presidency, he has not even once broached the topic with that country. In fact, he acknowledged to Mexican President Enrique Peña Nieto just days after taking office that he understood Mexico would not pay for the wall but asked Peña Nieto not to say that publicly to avoid embarrassing Trump with his supporters.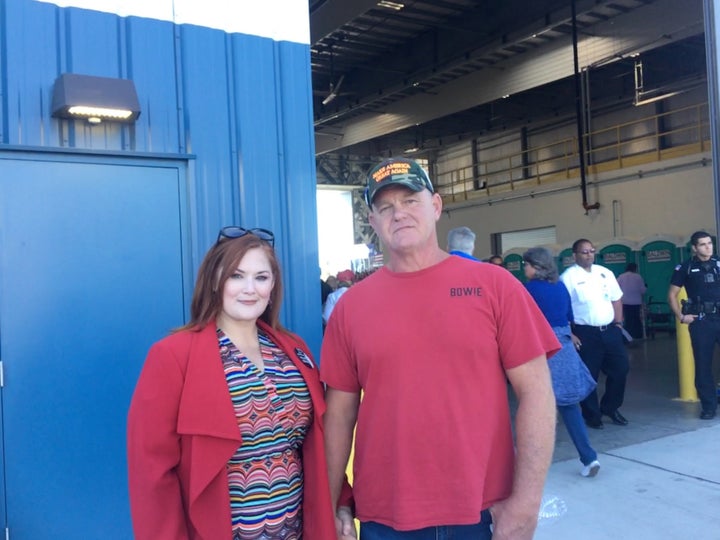 That promise of forcing Mexico to pay, first made the day Trump came down his Manhattan condo escalator to announce his campaign in June 2015, has now been abandoned. Instead, Trump has taken to claiming in recent months that Congress gave him $1.6 billion to start wall construction. He later increased that amount to $3.2 billion, and in recent speeches he has added a third $1.6 billion tranche, bringing the supposed total to nearly $5 billion.
In fact, the actual dollar amount Congress has appropriated for wall construction is zero.
There was $1.57 billion in the 2017-2018 spending bill to build and repair 33 miles of fencing along the southwest border and pay for some additional border security measures. However, the legislation specifically prohibited the construction of any form of structure that was not already in use in 2017.
With most of Trump's thousands of falsehoods, it is unclear whether he knows he is saying something untrue. Trump has proven to be deeply ignorant on any number of issues important to the presidency, so in many cases, a given falsehood could be a matter of him lacking information about a topic but forming a strong opinion nonetheless.
But on the matter of the wall, Trump does seem to understand that Congress has not provided any funding for its construction. In fact, he threatened to veto a massive $1.3 trillion spending package in March because it did not pay for his wall. He wound up signing it anyway, and said he did so because of all the money it contained for the military.
Despite all of this, Trump has claimed that construction has begun on his wall in virtually every rally speech of late. He repeated the falsehood again in Pensacola Saturday night.
"So we're building the wall. As you know. It started. We did $1.6 billion. We got another $1.6 billion, we're doing that. And we have another third, but I want to build it all at one time," Trump said.
And his supporters, from elderly to first-time voters, said the lie did not bother them.
"Trump has really good intentions. And a lot of the things he says, I think he will do," said Abigail Mainor, an 18-year-old student at Northwest Florida College in nearby Niceville who said she will be casting her first ballot in Tuesday's midterm elections. "Everyone makes mistakes."
Trump's Pensacola visit was his second campaign stop in Florida in four days on behalf of former Jacksonville-area Rep. Ron DeSantis, who is running for governor, and current Gov. Rick Scott, who is running for Senate.
Their respective Democratic opponents are Tallahassee Mayor Andrew Gillum, who is hoping to become the first African-American Florida governor, and Sen. Bill Nelson, who is running for a fourth six-year term.
Popular in the Community