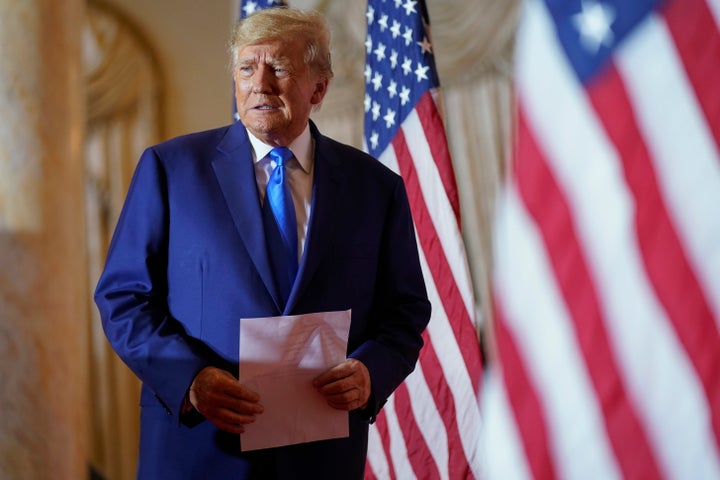 WASHINGTON ― The coup-attempting former president raised less than $5 million in the final month of 2022 for his 2024 campaign ― barely more than what he cleared in a single day selling trading-card images of himself.
Trump's Save America Joint Fundraising Committee reported raising $4,951,463 in the final two days of November and all of December in its filing Wednesday night with the Federal Election Commission.
Possibly of more relevance for a dominant figure in his party, a HuffPost analysis of transfers to that committee from WinRed, the Republican small-dollar fundraising platform, shows that Trump collected just $2.4 million in the week following his Nov. 15 announcement.
The next week saw $2 million, and the take dwindled to $1.2 million in the week after that.
"His timing was so poor," said a prominent Republican consultant familiar with Trump's operation who spoke on condition of anonymity. "He announced at the exact time of the depression in fundraising for the entire party."
The $2.4 million figure is also less than the $2.8 million he raised in the week following the FBI's search of his Mar-a-Lago social club in Palm Beach, Florida, for classified documents he had withheld in defiance of a federal subpoena. He raised $3.2 million in the week after he announced the creation of his Save America "leadership committee" in a Florida speech just five weeks after his failed Jan. 6, 2021, coup to remain in power despite having lost the 2020 election.
In contrast, Trump sold $4.5 million worth of NFTs (non-fungible tokens) featuring his own face superimposed onto a race car driver, a cowboy, an astronaut and so on, in a single day in December. It is unclear how much Trump personally earned from the sales, but the fundraising scheme ― teased by Trump as a "major announcement" ― was roundly criticized by his own supporters.
Trump campaign spokesperson Steven Cheung said Trump had raised over $20 million in the final three months of 2022, which proved "he is an unstoppable force that continues to dominate politics."
"The campaign built out a second-to-none operation both on the national level and in early states since announcing," he added. "The president will wage an aggressive and fully funded campaign to take our country back from Joe Biden and Democrats who seek to destroy our country."
But the weak post-announcement showing by someone who believed he could win the GOP nomination in 2024 without any serious opposition would now, instead, encourage challenges, predicted Republicans from across the party's spectrum.
"It's a bad sign," said Tyler Bowyer, a Republican National Committee member from Arizona who was among the leaders of a movement to push out chair Ronna McDaniel at last week's RNC winter meeting. "But fundraising is tough right now with lots of uncertainty."
David Jolly, a former Republican congressman from Florida, said Trump's number sends a message. "He may be losing the big mo. Fundraising is a proven metric for whether there's a market for one's candidacy," he said.
David Kochel, a longtime Iowa consultant, agreed. "I'm not sure what might explain that except for a general lack of enthusiasm. When DeSantis gets in, he will make $5 million look like child's play."
Ron DeSantis, Florida's Republican governor who won reelection in a landslide and is expected to announce his presidential candidacy after the Florida legislative session ends in May, entered 2023 with $70 million in a political committee.
That figure is comparable to money Trump has available in his various committees. His campaign entered 2023 with $3 million in the bank and an additional $3.8 million available to it in the fundraising committee. A pro-Trump superPAC run by a former employee and his pollster had $54 million.
Save America, Trump's leadership PAC, had $18.3 million heading into 2023, although as a declared candidate, that money cannot be used for his own election activity, although it can pay for such things as his criminal defense lawyers. Indeed, Trump spent $2.9 million on legal fees through the committee last month, including $491,365 to a lawyer who, along with Trump, was recently fined $1 million for filing a frivolous lawsuit.
And through his own campaign committee, Trump is already showing that he is again willing to use donor dollars to enrich himself, as he did during his two previous campaigns. The Trump campaign paid Mar-a-Lago, where he held his announcement speech, $67,865 for catering and room rental, according to its FEC filing. Profits from the members-only club flow directly into his bank account.
Popular in the Community