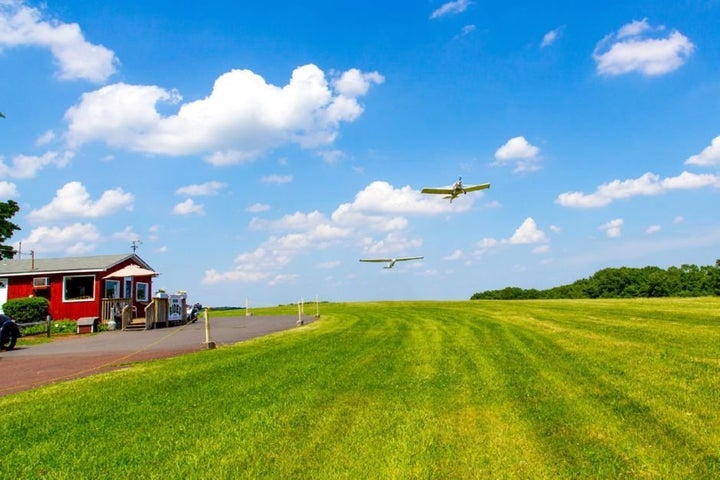 ERWINNA, Pa. ― Steady rain drenches the grass airstrip. A gleaming 1928 biplane called the Bird of Paradise will stay in its hangar for now, behind the long-winged gliders and their towplanes that, in nicer weather, carry sightseers and thrill-seekers, and sustain tiny Van Sant Airport in rural Bucks County.
Bar Eisenhauer, an antique airplane buff who runs the two-runway airport with his wife, Dannie, said they can deal with bad weather, even though their livelihood depends on a six-month season of taking tourists for rides in old airplanes. Rain eventually stops, he said, and they can often squeeze in a few customers before dark.
But the Eisenhauers now face a problem far worse than no-fly weather ― something that threatens to put them out of business: President Donald Trump's weekend trips to his golf club across the Delaware River in Bedminster, New Jersey.
"We never saw this coming," Eisenhauer said the other day on the high ridge where the airport's cozy office sits, stuffed with flying memorabilia and old black-and-white photos of airplanes and pilots. "Of all the things ― this is something that could be really, really bad."
Trump, who campaigned on cutting business regulations and often touts his executive orders that do just that, has nevertheless created a red-tape death tangle for mom and pop airports in New Jersey, Pennsylvania and Florida with his weekend travels to various Trump resorts.
Whenever the president leaves the White House, the Federal Aviation Administration imposes "temporary flight restrictions" that tightly limit nearby air traffic. General-aviation airports ― those serving private planes ― are closed to takeoffs and landings within 10 miles of the president's location. Those outside that 10-mile ring, but within 30 miles, like Van Sant, can allow aircraft to arrive and depart if they're equipped with two-way radios and a transponder that constantly broadcasts location and identity. Commercial air traffic at regional airports isn't affected.
Loitering covers pretty much everything the Eisenhauers do. The old propeller planes ― lovingly restored with glossy paint and lustrous wood ― take off from Van Sant's grass runway for a leisurely loop along the Delaware River. Gliders soar on updrafts created by the area's steeply carved terrain.
Van Sant was built in the 1940s for crop-dusting and flight instruction. Now, it's owned by the county. The Eisenhauers run flight operations, and depend on flying lessons and weekend tourists to earn a living. 
Other small airports covered by the Bedminster-area FAA restriction cater to hot air balloons and skydivers. But most also have restaurants, robust fuel sales and paved runways that can be used for takeoffs and landings of private planes ― even when the temporary flight restriction is in effect.
Van Sant is so small that it's seldom used by travelers. Yes, there's food ― a guy on the porch with a barbecue grill. But only three of the Eisenhauers' 15 airplanes have the kind of electronic equipment that would allow them to take off and land during temporary restrictions.
"We're pretty much grounded," Eisenhauer said.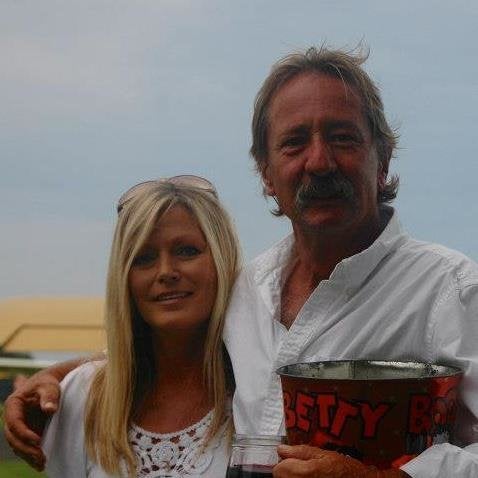 The FAA says it has no ability to adjust temporary flight restrictions. "These things are set up at the request of the Secret Service," a spokesman said.
The Secret Service tries to balance "security and access," a spokesman for that agency said, but "the primary responsibility of the Secret Service is to provide a safe environment for the president." 
A White House spokeswoman didn't respond to a request for comment.
Trump spent most weekends during his first months in office at his Mar-a-Lago resort in Florida, where similar FAA orders restricted air travel. A nearby general-aviation airport lost much of its business to competing airports when Trump was at Mar-a-Lago, according to the Sun-Sentinel, a South Florida newspaper.
With summer approaching, the president is adjusting his weekend routine to favor Trump National Golf Club, about an hour's drive from New York. "The reason I am staying in Bedminster, N. J., a beautiful community, is that staying in NYC is much more expensive and disruptive," Trump tweeted during a visit to his resort this month.
Trump's railing against business regulations hasn't been lost on the Eisenhauers. Just last month, he issued a statement deploring what he called "excessive and unreasonable regulations" and touting his executive orders to undo "overreaching rules" so entrepreneurs can "spend more time creating jobs and less time navigating the federal bureaucracy."
Dannie Eisenhauer said she loves what Trump has been doing.
"He's done a lot of great things, but in this little situation, it's killing us," she said. "I'm a Trump supporter. I think if he knew what was happening to us, he'd do something."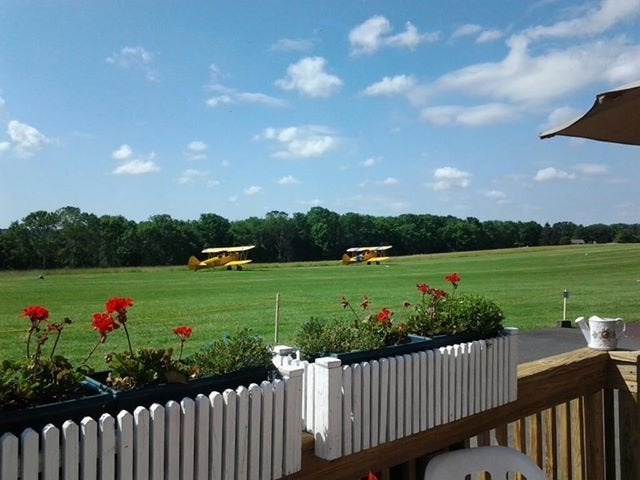 The Eisenhauers learned on May 2 that Van Sant would be subject to a temporary flight restriction two days later. The order began that Thursday night and lasted until Sunday night. That took the heart out of a week's business, something the Eisenhauers said has them scrambling for ideas on how to survive.
"Movie nights, balloon rides ― we're even thinking about kite-flying," Bar said.
"We freaked out at first," Dannie said. "But I'm trying to stay really positive that something good will happen."
"This isn't just one weekend," she said. "This could go on for four years ― or more. It's a situation, that's for sure."  
Calling all HuffPost superfans!
Sign up for membership to become a founding member and help shape HuffPost's next chapter
BEFORE YOU GO