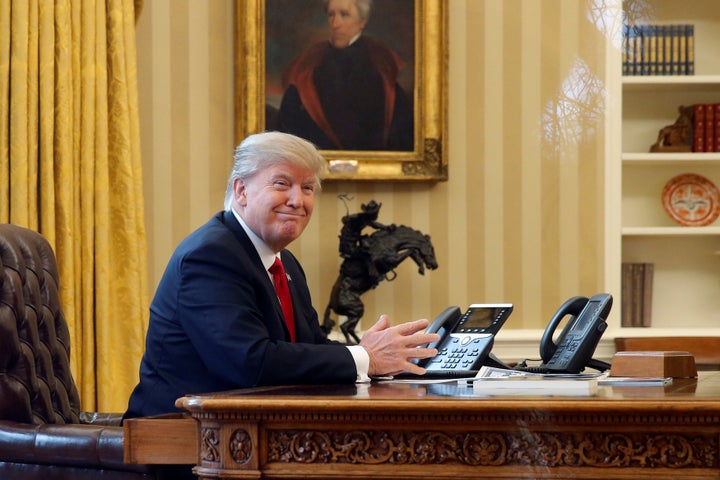 After watching a Tucker Carlson segment on Fox News on Wednesday, President Donald Trump boosted the unfounded claim that white farmers in South Africa are being systematically killed as the government steals their land.
It's unlikely Trump knows much about South Africa — he has yet to name an ambassador to the country ― but his claim is a favorite conspiracy theory among white nationalists and South African far-right groups, some of which have gained influence in the White House in recent months.
Far-right groups in South Africa ― and Tucker Carlson ― have seized on land reform proposals by South Africa's parliament aimed at accelerating black ownership to claim the emergence of a white genocide by the country's black majority. They warn that white farmers are not only at risk of losing their land but are also targeted for violence.
There is no evidence that this is happening. A government land audit released last year showed that white South Africans still own 72 percent of privately held farmland — an enduring effect of apartheid. And the claim that white farmers make up a disproportionate number of the country's victims of violent crime is not backed by statistics. The State Department's own human rights reports on South Africa makes no mention of white citizens being the targets of violence or land theft. Instead, it documents several instances of discrimination against black South Africans. But on Thursday, State Department spokeswoman Heather Nauert declined to disavow the notion that white people are under attack in South Africa. "The expropriation of land without compensation," Nauert told reporters, "would risk sending South Africa down the wrong path."
Yet far-right groups in South Africa have been working hard to find traction for their ideas in the U.S. In May, the leaders of AfriForum, an Afrikaner rights organization that has referred to apartheid as a "so-called" historical injustice, visited Washington and met with officials at the U.S. Agency for International Development, staffers in Sen. Ted Cruz's (R-Texas) office, and policy analysts at the Cato Institute and the Heritage Foundation. They also did an interview with Carlson at the time.
"IT'S HAPPENING: Trump Tweets About WHITE GENOCIDE in South Africa," neo-Nazi Andrew Anglin wrote in the Daily Stormer, a white supremacist site.
"This is huge," wrote Lauren Southern, who traveled to a white part of South Africa to create a "documentary" praising the concept of a white ethno-state and warning of white genocide in South Africa.
"Wonderful," tweeted Red Ice TV, a white nationalist outlet.
"Is white genocide about to enter mainstream discourse? Do you realize what Trump just did?" tweeted Lauren Rose, another white nationalist.
"God bless Donald Trump," tweeted Scott Greer, a Daily Caller contributor and a white nationalist.
To AfriForum Deputy CEO Ernst Roets, Trump's interest in South Africa's land distribution policies is evidence that his group's messaging is working. "We are making progress," Roets wrote, retweeting Trump. "Will communicate with the US government and visit Washington again in the months to follow."
Roets insists he is not a white nationalist — but prominent white supremacists have long shared his alarmist claims about South Africa. Back in 2012, a group of white supremacists launched the South Africa Project, a nationwide protest effort aimed at stopping what they called "genocide of the Whites" in South Africa. Earlier this year, American white nationalist leader Richard Spencer described a "war that is currently being waged on South African whites." In April, Identity Evropa, a white supremacist group, posted pictures of a protest they staged in front of the South African embassy in Washington, D.C., against "the slaughter of White farmers."
Popular in the Community