President Donald Trump admitted Friday what White House reporters already knew: His officials' statements at press briefings may not be true. 
"As a very active President with lots of things happening, it is not possible for my surrogates to stand at podium with perfect accuracy!" Trump tweeted. "Maybe the best thing to do would be to cancel all future 'press briefings' and hand out written responses for the sake of accuracy???"
Trump's Twitter rant renewed questions about the utility of press briefings and whether reporters would be better served if they spent their afternoons doing something else. 
Ron Fournier, who spent more than two decades in Washington as a top political journalist and is now editor and publisher of Crain's Detroit, told HuffPost he doesn't believe briefings should be canceled.
"It's important that the president and his staff be accountable to the public, and coming out every day and defending themselves is an important part of the process," he said. 
However, Fournier said news organizations would be wise to free up their best reporters' time by keeping them out of the briefings and focused on digging into the administration. "If Sean Spicer walked into an empty room once in a while," he said, "that wouldn't be the worst thing either."
White House Correspondents' Association President Jeff Mason said in an email that briefings and press conferences continue to "provide substantive and symbolic opportunities for journalists to pose questions to officials at the highest levels of the U.S. government."
"That exercise, conducted in full view of our republic's citizens, is clearly in line with the spirit of the First Amendment," he added. "Doing away with briefings would reduce accountability, transparency, and the opportunity for Americans to see that, in the U.S. system, no political figure is above being questioned. The White House Correspondents' Association would object to any move that would threaten those constitutionally-protected principles."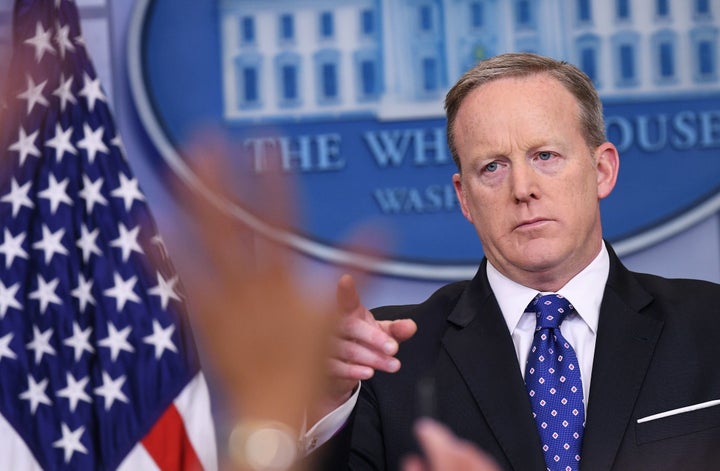 Reporters don't expect "perfect accuracy" from government officials and are accustomed to spin in the briefing room. That's why they question and investigate officials' claims. But reporters do expect White House officials to not intentionally mislead them and to arrive at the briefing room with basic facts about the timing and rationale of events. 
White House press secretary Sean Spicer and his deputy, Sarah Huckabee Sanders, claimed that Trump fired FBI Director James Comey on Tuesday in response to the recommendation of Deputy Attorney General Ron Rosenstein. But Trump contradicted his staff's claims Thursday during an interview, claiming that he was going to fire Comey regardless. The president said Comey, who was investigating Trump associates' ties to Russia, was a "showboat."
Trump's shifting explanation of events "undercuts the message that does come from that podium," NBC News White House correspondent Peter Alexander said on air Friday. "The podium used to really mean something. It used to be the message not just of the White House, but of America. Now, so much of what we've heard from there is at odds with the facts." 
CNN political director David Chalian said Thursday that the White House is "in a crisis of credibility."
"It is unbelievable to watch Sarah Huckabee Sanders, for now the third day in a row, needing to adjust her story because the president did not send his team out with all the information, so therefore they were in the position of lying to the American people about why President Trump fired Director Comey," Chalian said. 
If Sean Spicer walked into an empty room once in a while, that wouldn't be the worst thing either.

Ron Fournier
Reporters' frustrations over getting inaccurate information at the lectern isn't new. Spicer came out of the gate lying in support of Trump's baseless boasts about inauguration crowd size. In the briefing room, he's defended Trump's reckless conspiracy theory about rampant voter fraud and wasted weeks of reporters' time spinning Trump's baseless claim that former President Barack Obama wiretapped him. 
Spicer, who was on Navy Reserve duty on Wednesday and Thursday, is set to return to the briefing room on Friday. His absence fueled rumors that Trump is considering replacing the press secretary with Sanders.
But Sanders' claims have similarly come under scrutiny.
For instance, she said Thursday during a briefing that "countless" FBI agents told her they were grateful Trump fired Comey ― something that contradicts the acting FBI chief and was challenged by veteran journalists, including Pulitzer Prize-winning New York Times reporter Matt Apuzzo and CNN chief national security correspondent Jim Sciutto. "That is frankly not true," Sciutto said Thursday night.
Although Sanders' temperament may differ from that of Spicer, who is more abrasive, her performance wasn't more truthful, as The New York Times' Maggie Haberman noted Wednesday. 
Her Times colleague, Glenn Thrush, tweeted Thursday that "it doesn't matter who is at the podium ― if the information they provide isn't true."
Calling all HuffPost superfans!
Sign up for membership to become a founding member and help shape HuffPost's next chapter
BEFORE YOU GO