WASHINGTON ― A day after white nationalist groups protesting the removal of a Confederate statue incited deadly violence in Charlottesville, Virginia, President Donald Trump still had yet to directly denounce them ― even as members of his own party assailed him for not providing leadership on the matter and White House officials scrambled to clarify his response.
By Sunday morning many officials, including members of his administration, had done so, making the president's tepid response even more telling.
His former communications director, Anthony Scaramucci, criticized Trump's statement as insufficient, saying that the president should have been "much harsher as it relates to the white supremacists," and that it was incumbent on him to do so because of "the moral authority of the presidency."
Republican lawmakers, including those who have previously stood by Trump, said he needed to be more authoritative.
"Calling out people for their acts of evil — let's do it today. White nationalist. White supremacist," Sen. Cory Gardner (R-Colo.) told CNN. "We will not stand for their hate."
The White House released a statement Sunday morning attempting to make clear that his remarks were, at least in part, meant to denounce the extremist groups that precipitated Saturday's violence.
"The president said very strongly in his statement yesterday that he condemns all forms of violence, bigotry, and hatred," the full statement read. "Of course that includes white supremacists, KKK, Neo-Nazi and all extremist groups. He called for national unity and bringing all Americans together."
Yet conspicuously, it was attributed to an unnamed spokesperson, and it did not come from the president himself.
"We have no tolerance for hate and violence, from white supremacists, neo-Nazis, or the KKK," Pence said at a joint press conference with the president of Colombia. "These dangerous fringe groups have no place in American public life and in the American debate, and we condemn them in the strongest possible terms."
At the same time, he appeared to offer a defense of Trump's "many sides" remark.
"The president also made clear that behavior by others of different militant perspectives are also unacceptable in our political debate and discourse," Pence said.
Not mentioned: the weekend's violence in Charlottesville.
Perhaps it's no surprise that Trump, elected in part through a groundswell of support from far-right groups and his appropriation of white nationalist rhetoric and ideology in appealing to voters, has not specifically denounced such groups or their beliefs.
"There's an old saying, when you dance with the devil, the devil changes you," Signer said on NBC's "Meet the Press." "I think he made a choice in that campaign, a very regrettable one, to really go to people's prejudices, to go to the gutter."
"People are dying, and I do think it is now on the president and on all of us to say, enough is enough," he continued. "This movement has run its course."
But that movement is firmly ensconced in Trump's White House, led by chief strategist Steve Bannon, who left the helm of the white nationalist news site Breitbart to advise Trump's campaign.
It was only after public pressure that the then-GOP presidential candidate issued a lukewarm denouncement of Duke and the KKK.
"I disavow, OK? I disavow," Trump said at a press conference.
Will it happen this time, and will it matter?
This article has been updated with comments from Pence and information about Trump's Monday morning tweets.
Support HuffPost
The Stakes Have Never Been Higher
Before You Go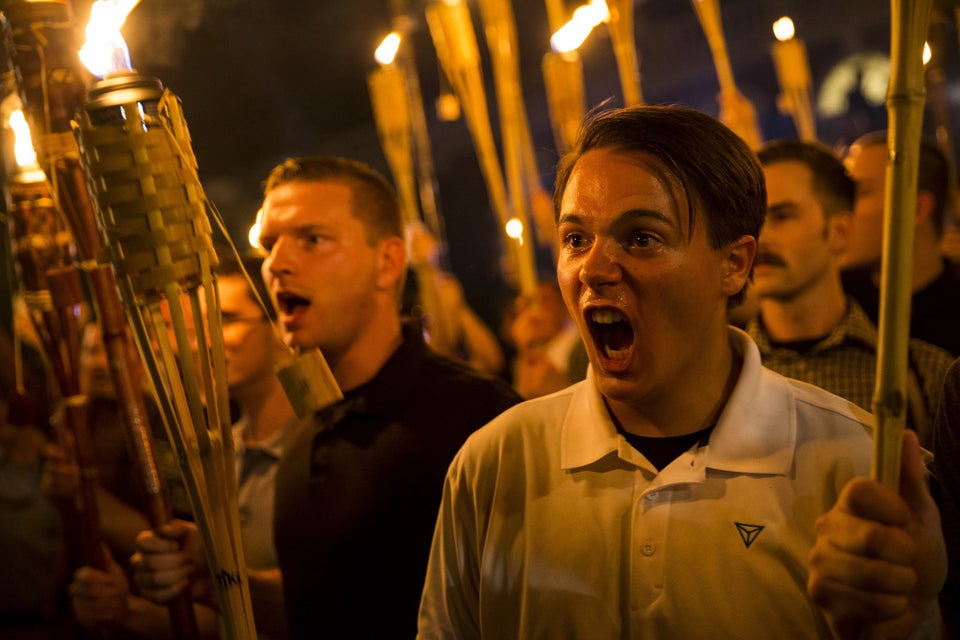 Clashes In Charlottesville
Popular in the Community