WASHINGTON ― Republicans, Democrats and business leaders have called President Donald Trump's response to last weekend's deadly white nationalist rally in Charlottesville, Virginia, inadequate. But white nationalists involved in the rally have sung a different tune, praising the president for what they see as his truth telling about the incident.
Trump "sees the truth is the way I see it," said Eli Mosley, a 25-year-old who advocates for "white rights" and helped organize the "Unite the Right" rally. "He's seen through this ridiculous narrative that we went there to fight."
Trump on Tuesday condemned "neo-Nazis and white nationalists," but also suggested that anti-Nazi counterprotesters ― who the president termed the "alt-left" ― instigated the weekend's violence.
"What about the alt-left that came charging at the, as you say, the alt-right," Trump said at Trump Tower in New York. "You had, you had a group on one side that was bad. And you had a group on the other side that was also very violent. And nobody wants to say that, but I'll say it right now."
There were "very fine people on both sides," Trump said.
"It sounds to me like [Trump] is being an objective observer," said Christopher Cantwell, a white nationalist from New Hampshire who attended Saturday's rally. "Somebody who is not like a communist piece of filth would look at what happened there and say the leftists were the initiators of the force."
The chaos at Saturday's rally made it hard to tell who was responsible for every act of violence. But a few facts are clear: At least 35 people were injured — and one was killed. (Two more people, both state troopers working the rally, were also killed when their helicopter crashed.) James Alex Fields, the man who allegedly drove his car into a group of counterprotesters, killing the one and injuring 19 more, was reportedly fascinated with Nazis and stood with Vanguard America, a white supremacist group. (The group disavowed any connection with Fields.)
Even before Tuesday, Democrats and some Republicans had criticized Trump's first response to the weekend's events for blaming "many sides" for the violence. Sen. Cory Gardner (R-Colo.) tweeted: "Mr. President - we must call evil by its name. These were white supremacists and this was domestic terrorism."
The president followed up on Monday with a second, more comprehensive public denunciation of "the KKK, neo-Nazis, white supremacists and other hate groups that are repugnant to everything we hold dear as Americans."
But on Tuesday afternoon, in a heated back-and-forth with reporters, Trump shifted his tone yet again, returning to the "both sides" rhetoric of his initial statement.
"White supremacy, bigotry & racism have absolutely no place in our society & no one - especially POTUS - should ever tolerate it," Sen. Jerry Moran (R-Kan.) tweeted after the remarks.
"We must be clear. White supremacy is repulsive. This bigotry is counter to all this country stands for. There can be no moral ambiguity," tweeted House Speaker Paul Ryan.
In addition to negative reactions from lawmakers, several members of the White House manufacturing council also resigned in protest this week.
But prominent members of the so-called "alt-right," a rebranding of white nationalism, jumped to Trump's defense. Tim Gionet, who calls himself "Baked Alaska" and attended the rally, thanked Trump in one tweet, adding: "President Trump is right!"
Richard Spencer, a prominent white nationalist leader, said he didn't take Trump's more guarded statement condemning hate groups seriously. It's more "Kumbaya nonsense," he told reporters on Monday, adding that it sounded "hollow and vapid." After Trump's latest remarks on Tuesday, however, Spencer tweeted,"I'm proud of [Trump] for speaking the truth."
White nationalists who spoke to HuffPost don't claim that Trump supports their views.
When asked about the president's denunciation of white supremacist groups, Cantwell said he found it sincere, and also said the media is trying to conflate the views of the president and white nationalists.
"I know exactly what you're trying to do, is tying Donald Trump to me, which is why you're a piece of garbage, right, because you know it's not accurate, he went out of his way to denounce all these different groups or whatever," Cantwell said.
But "we have overlap, right, we want to save our nation," Cantwell added, calling it a "poor strategic decision on his [Trump's] part to denounce white supremacists. I don't think there's any benefit to it because obviously all the propagandists on the television are saying that he didn't do it fast enough."
But critics of Trump's reaction to the violence in Charlottesville, and his statement on Tuesday, were appalled.
"If the situation weren't so serious, we could overlook his act, his ducking and weaving, his petulant behavior," Richard Cohen, the president of the Southern Poverty Law Center, said in a statement Tuesday. "But at this point, it's simply bizarre and disheartening."
Sign up for the HuffPost Must Reads newsletter. Each Sunday, we will bring you the best original reporting, long form writing and breaking news from The Huffington Post and around the web, plus behind-the-scenes looks at how it's all made. Click here to sign up!
Before You Go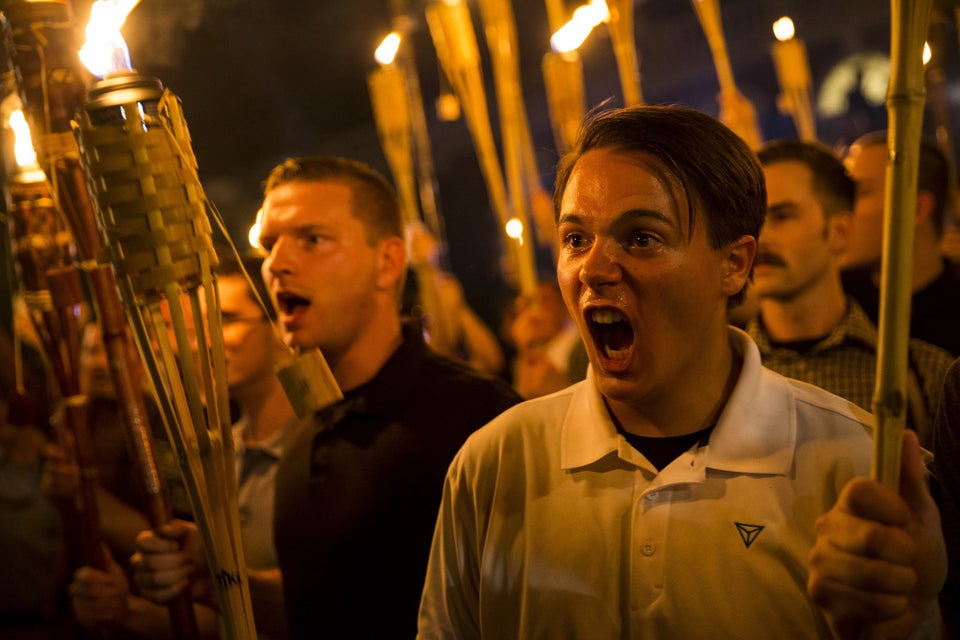 Clashes In Charlottesville
Popular in the Community