President-elect Donald Trump on Monday issued a vague denunciation of a white nationalist conference that celebrated his victory with Nazi propaganda, responding in a short statement from his transition team.
"President-elect Trump has continued to denounce racism of any kind, and he was elected because he will be a leader for every American," the statement reads. "To think otherwise is a complete misrepresentation of the movement that united Americans from all backgrounds."
Over the weekend, a conference of white nationalists met in Washington, D.C., to laud Trump's victory. The celebration included racist rhetoric and Nazi chants, and attendees gave Nazi salutes.
Trump has now effectively embraced white nationalism, particularly given his appointment of Steve Bannon as his chief strategist in the White House. Bannon is executive chairman of Brietbart News, a site that regularly airs white nationalist viewpoints.
Trump and his advisers have also barely spoken out against the uptick in racist attacks since his election, an increase surpassing that of the period immediately after the Sept. 11 terrorist attacks, according to organizations that track hate crimes.
"I say, 'Stop it.' If it helps, I will say this, and I will say right to the camera: 'Stop it,'" he said, before claiming that the media "built up" the attacks.
In February, when David Duke, the former Ku Klux Klan grand wizard, endorsed him, Trump at first refused to condemn Duke, feigning ignorance, but when pressed, he said: "I disavow. OK?"
Yet a few days later, he appeared to forget about his apparent disavowal.
In an interview with The New York Times on Tuesday, Trump tried to distance himself from his white nationalist backers by claiming he was unaware of their support.
This article has been updated with Trump's comments in his interview with the Times.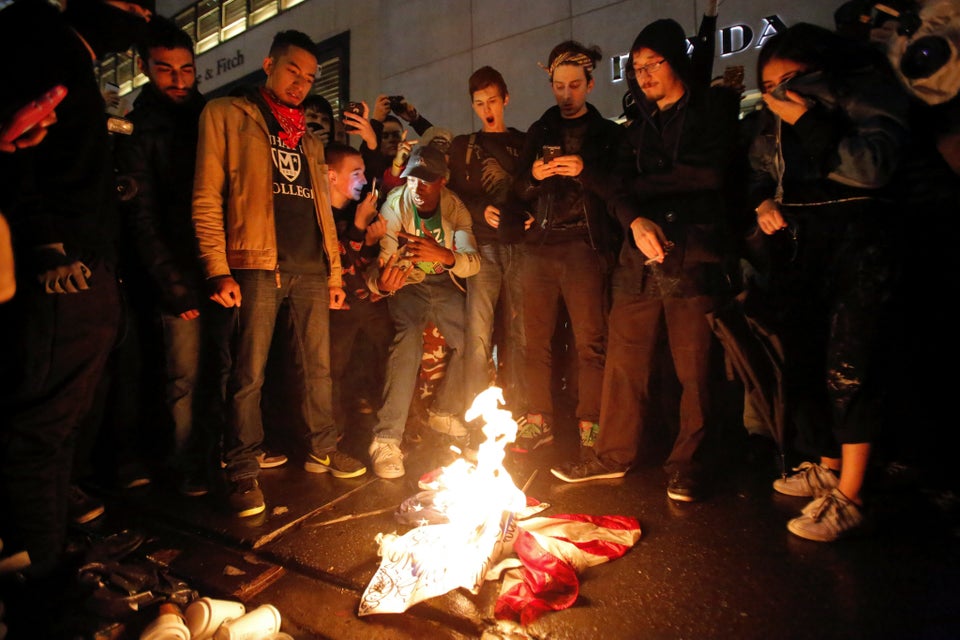 Donald Trump Win Sparks Protests Nationwide
Popular in the Community