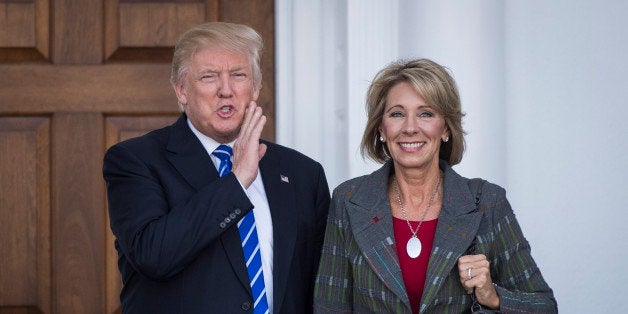 For all the talk in public education about "choice" there's another choice that's often overlooked: who should control public schools?
Betsy DeVos, Donald Trump's pick to run the Department of Education, certainly has an opinion. Despite never having taught in, managed, or attended a public school, DeVos believes that public school children should be in private hands.
"We must open up the [public] education industry--and let's not kid ourselves that it isn't an industry--we must open it up to entrepreneurs and innovators," the billionaire recently said.
No wonder she's a staunch advocate for unregulated charter schools, which are publicly funded but privately operated. No wonder she promotes vouchers that send children to private and religious schools with taxpayer dollars. And no wonder she supports for-profit online schools managed by companies like K12 Inc., launched by a former Goldman Sachs banker.
DeVos has spent decades dismantling public education, which she's called a "closed market," a "dead end," and a government-run "monopoly."
She helped pass Michigan's first charter school bill, which paved the way for for-profit companies to manage almost two-thirds of the state's charter schools. While private profits have soared, test scores have lagged and lower-income students have been effectively segregated into poorer-performing schools.
Through her organization, American Federation for Children, she's spent millions across the country lobbying for voucher programs, which allow schools to skirt legal obligations to publicly disclose data or serve all children, including those with significant disabilities.
DeVos talks up "school choice" but her real choice is clear. She resents public schools because of what makes them public: transparency, oversight, and democratic accountability. Instead she wants more charter and private schools run by private groups unaccountable to neither parents nor the public who pay the bills.
All children deserve great, stable schools. They don't need more "choice." They need clean and safe schools, social services if they need them, and great teachers.
Who do we trust to make that happen? Communities, teachers, and education professionals, or billionaires like Betsy DeVos and Wall Street investors?
REAL LIFE. REAL NEWS. REAL VOICES.
Help us tell more of the stories that matter from voices that too often remain unheard.