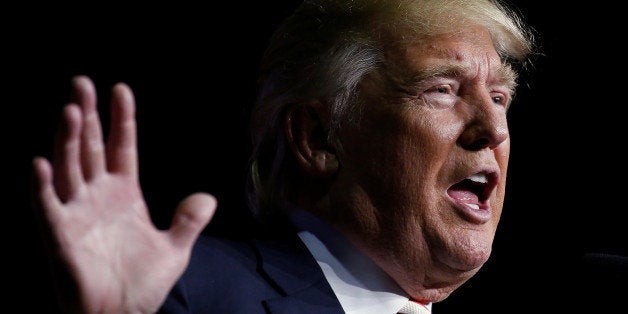 Donald Trump is many things -- a petty tyrant, a thug, a sociopath -- and, a con artist, a confidence trickster that is a large part of his persona.
His campaign has reflected his life, one con job after another. He says, e.g., that he, and he alone, will bring back jobs from overseas. Yet, he cannot even bring his own jobs back from overseas, where he has absolute control. He says global warming is a hoax invented by China, but claims he needs government assistance in Ireland because global warming is causing rising seas.
He claims Hillary Clinton and Barack Obama are responsible for the troubles in the world and that he, Trump, opposed the Iraq War, the Libyan intervention, and the troop pullout from Iraq. But, he supported each and every one of them.
His business life has been one con job after another -- witness the astounding 3500 lawsuits with which he has been involved. That is one every three days, weekends and holidays included, for 30 years. Think of it.
Tax returns provide a con artist with a ready-made opportunity to fake it. All he need do is hire accountants to fill in the forms, making "adjustments" from reality where they help. Since the IRS cannot, by law, utter a peep about their authenticity, it is rather simple.
Hence, rather than take the flak for refusing to show his tax returns, he can just fake it. Dr. Bornstein must have counterparts in the accounting field.
Thus, Trump should not be credited with releasing his tax returns if he does it himself. The only release that counts is Trump giving permission to IRS to release them. Hillary, of course, would do the same. She would have no problem with that.
Otherwise, any returns released by Trump or his campaign should be given the same credence as everything else he has said or done.
Calling all HuffPost superfans!
Sign up for membership to become a founding member and help shape HuffPost's next chapter