A White House official confirmed the news Saturday, a day after Outdoor Life broke the story.
The decision is almost certainly influenced by the awkward position in which Pendley's nomination put Republican Sens. Cory Gardner (Colo.) and Steve Daines (Mont.) ― two close Trump allies facing tough reelection bids. Both earned rare points with the conservation community with the passage of a major public lands package that they helped champion through Congress, and a vote to confirm Pendley would have undercut if not entirely spoiled that victory.
Pendley has served as the bureau's acting director for more than a year, and Trump officially nominated him in June to take on the position of director permanently. The announcement sparked major condemnation from environmental groups, which pointed to Pendley's previous statements that seemed to put him wildly at odds with the goal of conserving public lands.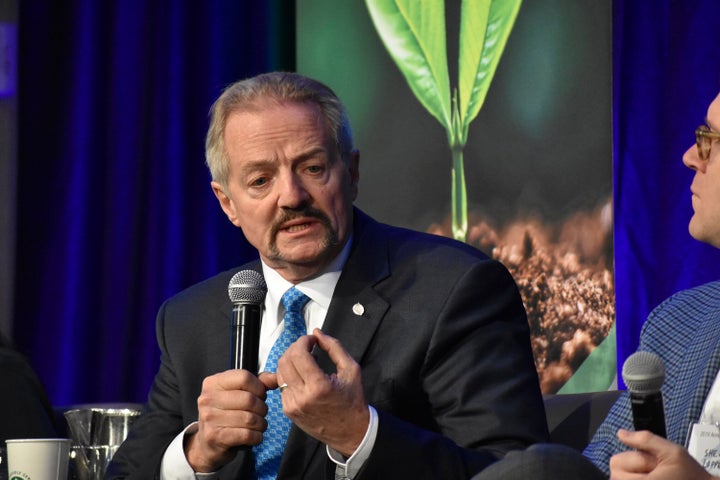 A former property rights lawyer, Pendley spent decades running the Mountain States Legal Foundation, a conservative property rights organization that has pushed for the U.S. government to sell off millions of acres of federal land. "The Founding Fathers intended all lands owned by the federal government to be sold," he wrote in the National Review in 2016.
The withdrawal comes days after the entire Senate Democratic caucus sent a letter to Trump signaling it would vote against confirming Pendley and imploring Trump to nominate someone else.
Sen. Martin Heinrich (D-N.M) celebrated the news on Twitter: "It's about damn time."
"Let's be clear. The White House is pulling down the Pendley nomination because Americans don't want a zealot in charge of their public lands," he wrote.
But the withdrawal will change little in the near term. Pendley will continue to lead the bureau as deputy director for programs and policy, according to a spokesman for the Interior Department, the bureau's parent agency.
"The president makes staffing decisions," a department spokesman wrote.
The department and the bureau did not say why Pendley's nomination was withdrawn. Last week, White House spokesman Judd Deere defended Pendley in an email to HuffPost and called him "a true son of the West, an outdoorsman, a Marine and an accomplished public servant."
"The White House fully supports his expeditious confirmation by the Senate," Deere said at the time.
It is unclear whom Trump might nominate next. The Senate is in recess through Labor Day.
Pendley is a former leader of the so-called "Wise-Use movement," a group of anti-government organizations pushing to boost mining, drilling and logging on federal lands while deriding environmentalists as domestic terrorists.
Pendley's first stint at the bureau was under James Watt, President Ronald Reagan's controversial secretary of the interior, and he has been described as Watt's "ideological twin." During his decades at Mountain States Legal Foundation, Pendley sued the federal government numerous times.
In the 1990s, as HuffPost first reported, he published anti-environmental pieces in a fringe magazine produced by Lyndon LaRouche, the late cult leader, convicted fraudster and paranoid conspiracy theorist.
"William Perry Pendley has been unfit to lead the Bureau of Land Management every day since he was appointed acting director in 2019, and the fact that he was nominated this June and not withdrawn until millions of Americans and elected officials spoke out illustrates the wrongheaded priorities of this administration," National Wildlife Federation President Collin O'Mara said in a statement.
Sen. Tom Udall (D-N.M.) also welcomed the withdrawal, calling it "good news for all who value public lands, conservation and tribal sovereignty."
"It's hard to imagine a worse pick for the bureau than someone who doesn't believe in the very idea of conservation, who has a clear history of racism toward Native Americans, and who spearheaded a relocation effort that is a transparent effort to undermine the very agency he would oversee," Udall said in a statement. "Pendley never should have been nominated, and the fact that he was shows you what you need to know about this administration's conservation priorities. He should not be allowed to continue in this role in an acting, unconfirmed capacity."
Support HuffPost
The Stakes Have Never Been Higher
Popular in the Community