WASHINGTON – President Donald Trump will see renewed congressional probes of his campaign's contacts with Russia, have his Cabinet members spending more of their days getting grilled on Capitol Hill, and could see his long-secret tax returns become public, all thanks to Democratic wins in Tuesday's congressional elections.
On Wednesday, Trump took a victory lap anyway.
"I was very well received by the people our country," he said during a White House news conference, referring to his frenetic series of rallies around the country in the closing weeks of the campaign. "I think people like me. I think people like the job I'm doing."
In that 86-minute session with reporters and in a series of statements on Twitter, Trump claimed that Republicans had done extraordinarily well in the elections and had done so almost entirely thanks to him.
"The candidates that I supported achieved tremendous success last night. As an example, of the 11 candidates we campaigned with during the last week, nine won last night," Trump said. "This vigorous campaigning stopped the blue wave that they talked about."
Even Republicans were left scratching their heads about Trump's interpretation of the elections, which will give Democrats ― likely, California Democrat and House Minority Leader Nancy Pelosi ― the speaker's gavel come January.
"Come on, you don't lose control of the House and call it a great night," said GOP consultant John Weaver, who ran Ohio Gov. John Kasich's presidential campaign in 2016. "You don't lose seven governorships and call it a great night. You don't lose 300 [state] legislative seats and call it a great night."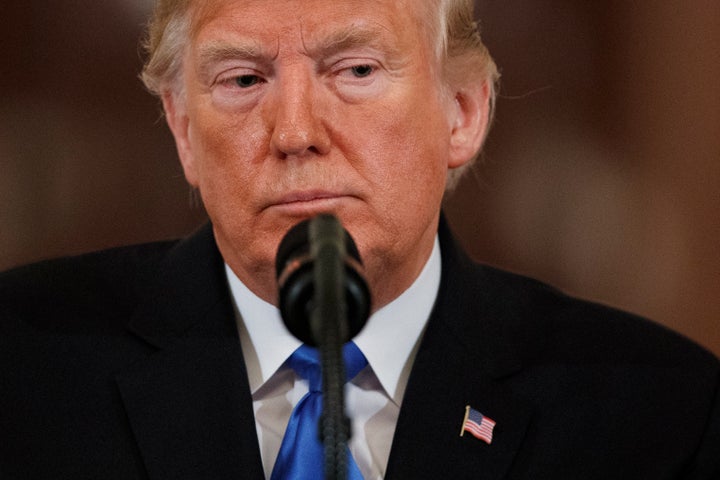 Rick Tyler, who worked on Texas Republican Sen. Ted Cruz's 2016 presidential campaign, said Trump was correct that Democrats did not win as many seats as out-of-power parties have won in some previous midterms. It was also true, he added, that the party in power does not typically gain Senate seats in a midterm.
However, he pointed out that the only reason Republicans were able to do well in the Senate was that Democrats had done extraordinarily well during Senate elections in 2006 and 2012, leaving them with a large number of vulnerable senators in heavily Republican states.
"The reality is, the Republicans hit the Senate map lottery. It was just a bad year for Democrats," Tyler said, adding that with the economy as strong as it is and unemployment as low as it is, the real question is why Republicans did not do better.
"You would have expected the Republicans to have gotten re-elected to the majority," Tyler said. "They lost the House because of him."
Trump, predictably, tried to sell the exact opposite story. After boasting that candidates who had appeared with him at rallies had won ― but failing to mention the dozens of candidates he had endorsed who nevertheless lost ― Trump read through a list of Republican House members who lost Tuesday and blamed them for not embracing Trump.
"They did very poorly. I'm not sure that I should be happy or sad, but I feel just fine about it. Carlos Curbelo, Mike Coffman ― too bad, Mike ― Mia Love," he said of Republicans from South Florida, Colorado and Utah who distanced themselves from Trump because he is so disliked in their districts. "But Mia Love gave me no love. And she lost. Too bad. Sorry about that, Mia."
Trump's claims of "great success," of course, are nothing new for him. He has claimed great success in virtually everything he has done during his adult life, from his failed casinos to his money-losing airline. In a deposition for a lawsuit he filed against an author for writing that he was not really a billionaire, Trump would repeatedly claim ownership of an asset as proof of his wealth ― but then, after it was pointed out to him that he didn't actually have ownership of that asset, he would argue that not owning it was, in fact, preferable to owning it.
Trump used a similar strategy on Wednesday, arguing that losing the House to Democrats was preferable to holding it by a small margin because there would always be some difficult-to-please Republican members who could sink legislation. "And now, we have a much easier path, because the Democrats will come to us with a plan for infrastructure, a plan for health care, a plan for whatever they are looking at, and we'll negotiate," he said.
That, for Weaver, was a favorite part of Trump's explanations on Wednesday. "You can actually pass more legislation if you don't have control of the Congress," he laughed. "Did you know that?"
Weaver added that despite all Trump's big talk, he was obviously worried about the coming months, when "the subpoenas are going to be flying down" from the Capitol. "For someone who says he just a great night, why did he come across as the crank from Queens?"
REAL LIFE. REAL NEWS. REAL VOICES.
Help us tell more of the stories that matter from voices that too often remain unheard.