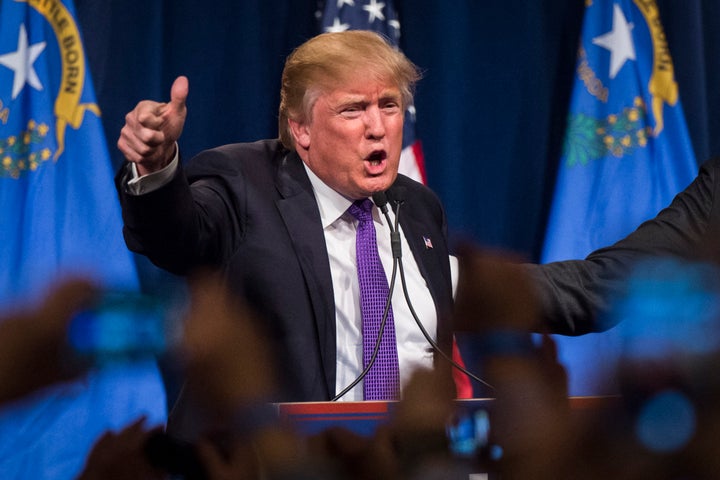 Donald Trump won handily among Nevada's anti-establishment electorate. . His coalition is so strong that it could erase home-state advantages for Marco Rubio and John Kasich. And most Republicans side with him over the pope, but not over George W. Bush. This is HuffPollster for Wednesday, February 24, 2016.
TRUMP'S OUTSIDER APPEAL NETS HIM A WIN IN NEVADA - ABC News: "A new high in desire for an outsider candidate vaulted Donald Trump to a sweeping victory in the Nevada Republican caucuses, completing a three-contest hat trick for the New York billionaire – first New Hampshire, then South Carolina, now Nevada. Six in 10 caucus-goers in entrance poll results said they were looking for someone from outside the political establishment, compared with about half in previous contests. And a smashing 71 percent of them voted for Trump, a record for his populist campaign among outsider voters. Six in 10 also described themselves as angry at the way the federal government is working, compared with four in 10 in the previous three states to hold nominating contests this year." [ABC]
Donald Trump wins Latino Republican support - HuffPollster: "Preliminary entrance polls show Donald Trump winning among Nevada's Latinos, taking 41 percent to Marco Rubio's 29 percent and Ted Cruz's 16 percent….Entrance polls, like any other surveys, aren't an exact science, especially when it comes to very small populations. In this case, the poll included 1,545 people. Just 9 percent -- or about 139 people -- were Latinos. That's a large enough sample size to be worth looking at it, but it carries an extremely high margin of error….Still, even if Tuesday's numbers are off, they show Trump carrying significant support from a group he has repeatedly disparaged. But, as the Cook Political Report's Dave Wasserman notes, that's not exactly the same thing as support among the Latino community as a whole." [HuffPost]
Rubio and Cruz in a close race for second - While Trump pulled 46 percent of the Nevada GOP vote, Sens. Ted Cruz (R-Texas) and Marco Rubio (R-Fla.) split another 45 percent between them. Rubio took second place with 24 percent support over Cruz's 21 percent. Retired neurosurgeon Ben Carson and Ohio Gov. John Kasich lagged far behind.
THERE MIGHT BE NO SUCH THING AS HOME-STATE ADVANTAGE FOR GOP CONTENDERS - Philip Bump: "Of the four candidates still in the race (Carson having dropped out in spirit a few weeks ago), two are poised to win their home states, per the most recent polling, and two are not. Sure, John Kasich is close in Ohio -- but only half of his supporters say they're committed to backing him. By contrast, 78 percent of Ohio Republicans backing Donald Trump say they're sticking with him. In Texas, Cruz's lead appears safer: About two-thirds of his support and two-thirds of Trump's say they're committed." [WashPost]
MOST REPUBLICANS SIDE WITH TRUMP OVER THE POPE - HuffPollster: "[Trump] took on both the religious and political establishment last week -- in the form of the head of the Roman Catholic Church and the most recent Republican president, respectively -- and went on to handily win the South Carolina primary. But while neither Trump's feud with Pope Francis nor his criticism of President George W. Bush proved especially detrimental to him, Republicans view the two spats quite differently. In a new HuffPost/YouGov poll, just 10 percent of Republicans agree with Pope Francis that Trump's plan to build a wall along the U.S. border with Mexico is 'not Christian,' while 61 percent side with Trump, who called the pope's comments 'disgraceful'….If Republicans don't have much respect for the pope, however, they still revere Bush's legacy. In a separate HuffPost/YouGov poll, taken last week after Trump criticized the former president's record on the Iraq War, 83 percent of Republicans approve of Bush's job performance…..Most of them strenuously disagree with Trump's contention that the war 'was a big, fat mistake,' and even more reject that it was started based on lies….But even if Republicans aren't happy to see Trump taking on Bush, his decision to do so doesn't seem to significantly dampen their opinions of him." [HuffPost]
RELIGIOUS GROUPS VARY WIDELY IN PARTISAN AFFILIATION - Michael Lipka: "Mormons are the most heavily Republican-leaning religious group in the U.S., while a pair of major historically black Protestant denominations – the African Methodist Episcopal (AME) Church and the National Baptist Convention – are two of the most reliably Democratic groups…These patterns largely reflect data from exit polls during the 2012 general election. In that year, 95% of black Protestants said they voted for Democrat Barack Obama, while 78% of Mormons said they voted for Republican Mitt Romney, who also is a Mormon. White evangelical Protestants also voted heavily Republican in 2012 (79% for Romney), which mirrors the leanings of many of the largest evangelical denominations…. Catholics are divided politically in our survey, just as they were in the 2012 election. While 37% say they favor the GOP, 44% identify with or lean toward the Democratic Party (and 19% say they do not lean either way). In the 2012 election, 50% of Catholics said they voted for Obama, while 48% voted for Romney." [Pew]
HUFFPOLLSTER VIA EMAIL! - You can receive this daily update every weekday morning via email! Just click here, enter your email address, and click "sign up." That's all there is to it (and you can unsubscribe anytime).
WEDNESDAY'S 'OUTLIERS' - Links to the best of news at the intersection of polling, politics and political data:
-Matthew McWilliams finds that voters with authoritarian views gravitate toward Trump. [Vox]
-Chris Cillizza says Trump is poised to win the nomination based on the delegate math. [WashPost]
-Polls show a high level of intolerance among Donald Trump supporters. [NYT]
-Alex Seitz-Wald explains why losing Nevada isn't enough to encourage Bernie Sanders to drop out. [MSNBC]
-Democrats might not have as much of a stronghold on Latino voters as they think. [LatinPost]
-Bernie Sanders' pollster says their last internal polls showed Sanders winning the Latino vote in Nevada by the same margin that entrance polls show. [WashPost]
-A Pew Research of 38 countries finds broad support for internet freedom in most of them. [Pew]
-A new survey finds British voters unhappy with the terms of the EU membership, but likely to stay in. [Independent]
Popular in the Community