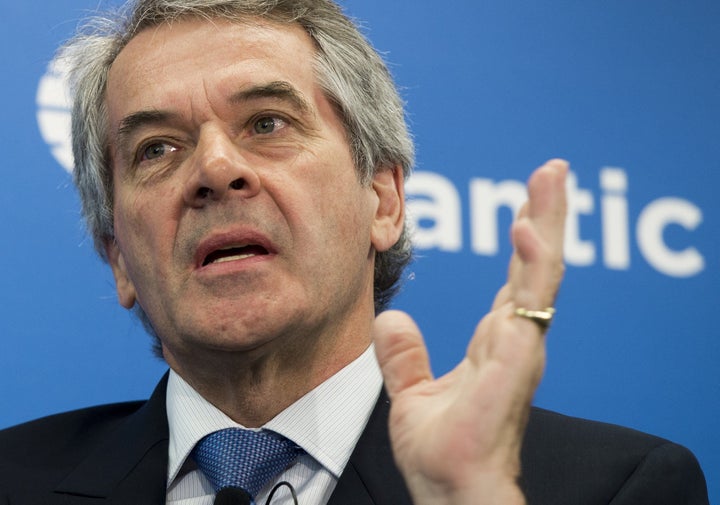 A former British ambassador to the U.S. lashed out at Donald Trump on Sunday for his "absurd" lies that the U.K. wiretapped him for former President Barack Obama.
Sir Peter Westmacott, who was ambassador to the U.S. from 2012 to 2016, accused the president of "peddling falsehoods," wantonly risking the American alliance with the U.K. and threatening the nations' united front combatting terrorism.
"This is a dangerous game," Westmacott warned in an opinion piece in The Guardian. "The intelligence relationship between Britain and America is unique and precious. It is critical to our shared efforts to counter terrorism."
He added that "gratuitously damaging" the nations' alliance with lies without setting the "record straight would be a gift to our enemies they could only dream of."
Westmacott also wrote disdainfully about Trump's "famous reluctance to admit mistakes."
Earlier this month, Trump doubled down on his claim that Obama wiretapped Trump Tower phones during the presidential campaign. White House press secretary Sean Spicer also accused British intelligence of tapping Trump's calls at Obama's behest.
Spicer later cited an unsubstantiated report by a Fox News analyst that alleged Britain's GCHQ — the U.K. equivalent of the National Security Agency — had colluded to obtain intelligence on Trump for the Obama administration. Fox News now says it cannot confirm the report.
GCHQ issued a rare public statement slamming the accusation as "utterly ridiculous" and warned that it "should be ignored." 
When questioned about the stunning accusation during a meeting with German Chancellor Angela Merkel on Friday, Trump said Spicer was simply repeating a media report.
"All we did was quote a certain very talented legal mind who was the one responsible for saying that on television. I didn't make an opinion on it," Trump said. "So you shouldn't be talking to me, you should be talking to Fox."
Trump hasn't offered a shred of evidence backing up his wiretap claims.
Asked Sunday if there was any information supporting Trump's accusations, House Intelligence Committee Chair Devin Nunes (R-Calif.) said on "Fox News Sunday": "Was there a physical wiretap of Trump Tower? No, there never was."
The committee is holding a hearing on the issue Monday.
Trump's wiretapping accusation against the GCHQ may be a touchy point of contention on Tuesday when Britain's Foreign Secretary Boris Johnson meets with senior Trump aides in Washington, The Guardian reported.
REAL LIFE. REAL NEWS. REAL VOICES.
Help us tell more of the stories that matter from voices that too often remain unheard.