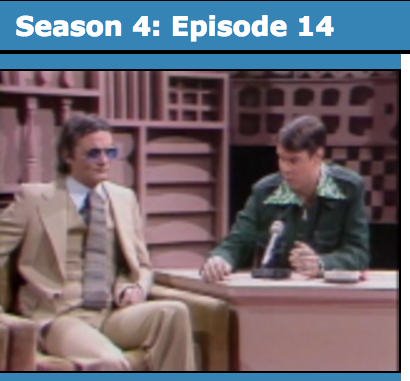 On Friday, two male CEOs were scheduled to speak about women in the workplace at a meeting with President Donald Trump. We weren't there to hear it, but perhaps their discussion kicked off like this:
"Any woman who wants a career, she's got two problems ― one, her career; two, this baby thing. I don't care who she is, what she says ― there isn't a broad alive who doesn't feel unfulfilled if she doesn't have a baby."
That's Bill Murray playing "Brad" in a 1979 "Saturday Night Live" sketch called "Women's Problems," in which six guys tackle the women's issues of the day on a fake TV show. Another character in the sketch, "Craig," was played by Gary Busey, now a vocal Trump supporter. We couldn't dig up the video, but here are some highlights from a transcript: 
Steve (Dan Akroyd): We've got a lot of women's problems to discuss..

Mike (Garrett Morris): Yeah.. yeah.. and, you know, one of the biggest problems that we haven't touched on, is the fact that, when they get old, man, they get ugly! You don't want to be around her any more after that!

Clint (John Belushi): I just gotta say that you guys are the only show on TV that has the guts to openly discuss women's problems, and I think that's great for a lot of guys.

Steve: Alright!

[the men applaud themselves]

Steve: Well, thanks a lot. You know, we're trying the best we can, Clint.
Craig: If they could just make a decision and stick to it!

Steve: There you go.

Mike: Exactly, Craig. You get tired of hearing it, man?

Brad: I think I may want a kid.. when I'm 40, late 40's, something like that. If that happens, I'll divorce my wife and marry a girl in her 20's.

Mike: Right on!

Brad: I'll take that chance. That's life. But you're not gonna hear me whining about it all the time.

Steve: Well, that brings up another terrible women's problem - whining. That is a problem.

[the men argue this point between themselves]
Thirty-eight years later, Trump is employing a similar strategy in real life. Doug McMillon, CEO of Walmart, and Mark Weinberger, CEO of the consulting firm EY, were set to speak about "Women in the Workforce" at a meeting of Trump's CEO advisory board on Friday, The Wall Street Journal reports.
Seventeen business leaders were reportedly in attendance, including three women ― General Motors' Mary Barra, IBM's Ginni Rometty and PepsiCo chief Indra Nooyi. But they were there to speak about tax, trade and regulatory issues, according to the Journal. (Ivanka Trump, the president's elder daughter, was also there. She often promotes herself as a supporter of "women who work.")
On the one hand, it's refreshing that Barra, Nooyi and Rometty don't have to carry the burden of speaking for all women ― often a problem when there are so few in a company or running Fortune 500 businesses. But it's still ridiculous to ask two guys to lead a conversation about women in the workplace.
It's also worth noting that while EY has been very outspoken in its efforts to promote and advance women, it's still struggling to reach equality in its uppermost ranks.
Walmart, meanwhile, is not known for its efforts on this issue. A few years ago it fought off a class action suit filed by 1.5 million female employees who accused the company of systematically paying them less than men. They lost their case in a 5-4 decision at the Supreme Court.
Fifty-seven percent of Walmart's U.S. workers are women. But if you look at the people who make the most money, they're primarily guys. The company's seniormost leaders are all men, including McMillon and the CEOs who run Walmart International, Walmart U.S., Sam's Club and Walmart's e-commerce business.
Calling all HuffPost superfans!
Sign up for membership to become a founding member and help shape HuffPost's next chapter