President Donald Trump met with Canadian Prime Minister Justin Trudeau on Monday to talk about women in the workplace. The contrast between the two leaders on this issue could not be more stark.
Trudeau is a progressive leader who understands that women are not a minority, but a critical part of any strong leadership team. When he took office in 2015, he named 15 women and 15 men to his Cabinet, intentionally creating an even split.  
At the time, a reporter asked him why the gender balance was so important. "Because it's 2015," Trudeau explained. His answer, lengthier than "duh," but more charming, quickly went viral.
Trump's Cabinet, meanwhile, harkens back to 1980. Of 22 appointees, four are women. Only two are high enough in the pecking order to even make it into the presidential line of succession: Betsy Devos was so grossly unqualified as education secretary that she almost didn't gain the approval of the Republican-dominated Senate. Elaine Chao has real experience and was simple to recruit as transportation secretary ― she's married to Senate Majority Leader Mitch McConnell (R-Ky.).
It's as if Trump doesn't even know where to find qualified women, Avivah Wittenberg-Cox noted in a recent piece for the Harvard Business Review. She runs a consulting company that helps big companies with gender equality.
At Monday's meeting, Trump tried to portray himself as a great supporter of women at work. It was "pinkwashing" ― paying lip service to gender equality while doing little to foster it ― at a new extreme.
"Women, as you know, and I can say that from my past life, I had so many women executives, they were phenomenal, phenomenal, and really helped me, and it was really fantastic," Trump said. "They play a tremendously important role, women in our economy."
You need only look at Trump's Cabinet and inner circle to understand what he really thinks about women.
"If he were truly enlightened leader who gets that women bring value, his team in the White House would reflect that," Wittenberg-Cox told The Huffington Post.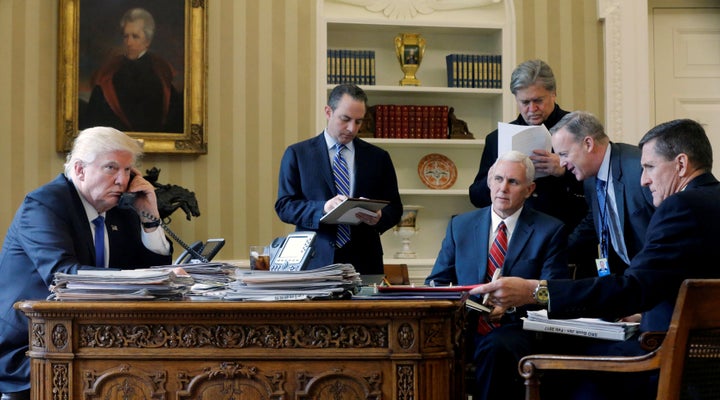 There are no women in Trump's inner Cabinet ― the secretaries of defense, state, treasury and the attorney general are all white guys. A situation like that was last seen under Ronald Reagan. 
Barack Obama appointed eight women to his Cabinet in his first term. Like Trump, George W. Bush appointed only four women in his first term, but to slightly higher-level positions. Bush's choice of Colin Powell for secretary of state also increased diversity on this team by a hair. Trump and Reagan both nominated a single black person to their Cabinets ― both to lead the Department of Housing and Urban Development.
Wittenberg-Cox categorizes Trump as a "plodding leader" who doesn't value women as independent players, but instead slots them into positions where they take on supportive, traditionally female roles. 
The woman closest to the president (and not a relative), senior counsellor Kellyanne Conway, illustrates this well: She is sort of like a "babysitter/shrink/bear tamer," Wittenberg-Cox said. Conway has a support role, not central to defense or security. She's not in the Cabinet.
At the highest levels of corporate America, you'll often see a similar trend. Men dominate, taking most mission-critical roles. Women pepper the outer spheres of the circle.
You'll see women heading up human resources, or the legal department, or the diversity and inclusion team. More frustrating, a lot of these companies engage in pinkwashing. Walmart, which suffers from a lack of women in critical roles, sent its CEO to the White House talk about women in the workplace earlier this month. Audi, which has no women on its global management board, ran a Super Bowl ad about gender pay equality.
This was more common 10 or 20 years ago, Wittenberg-Cox said, but has changed as more companies realize that women help strengthen the bottom line. If a majority of your customers are women, you need women on your team as a practical necessity. Plus, well, it's 2017.
Not at the White House. Look at Trump's female Cabinet nominees. Two women are in the "outer cabinet." Devos at the Education Department is 15th in line to succeed the president. Transportation Secretary Chao, one of the most experienced members of Trump's administration, is 13th in the order of succession. 
As ambassador to the United Nations, Nikki Haley is not part of the line of succession. Nor is Linda McMahon, a billionaire who Trump named administrator of the Small Business Administration.
None of these positions are core to the presidency or part of Trump's most urgent agenda, which appears focused on security and the economy.
None of Trump's female appointees joined him at Monday's roundtable discussion. Instead, Trump brought his daughter Ivanka, who seems to have taken on the unofficial role as spokesperson for all women in the Trump administration ― a supportive daughter just doing her part.  
Calling all HuffPost superfans!
Sign up for membership to become a founding member and help shape HuffPost's next chapter
BEFORE YOU GO