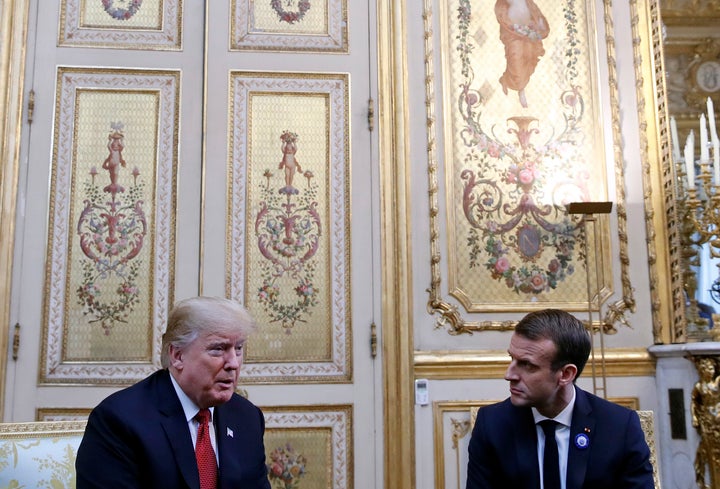 President Donald Trump traveled thousands of miles to Paris on Friday to participate in a number of events commemorating the 100th anniversary of the end of World War I.
But a bit of rain on Saturday kept him from one of the solemn gatherings ― and his no-show prompted a chorus of scorn.
Trump skipped a planned visit to the Aisne-Marne American Cemetery, with a White House statement citing "scheduling and logistical difficulties caused by the weather" for the decision.
In his place, Trump sent a delegation led by White House chief of staff John Kelly, who traveled in a small motorcade to the cemetery that is about an hour's drive from Paris.
Trump's absence earned him harsh criticism from a range of current and former U.S. and European officials over social media.
David Frum, a one-time speechwriter for President George W. Bush, voiced astonishment in a series of tweets, writing, "It's incredible that a president would travel to France for this significant anniversary ― and then remain in his hotel room watching TV rather than pay in person his respects to the Americans who gave their lives in France for the victory gained 100 years ago tomorrow."
It remains unclear how the weather impeded the president's plans.
A helicopter ride aboard Marine One may have been too risky. But the weather did not deter French President Emmanuel Macron and German Chancellor Angela Merkel on Saturday from making a trip by car to a town in northern France where the Allies and Germany signed the Armistice ending the war, the BBC noted. Macron and Merkel unveiled a commemorative plaque at the event.
British Parliament member Nicholas Soames ― a grandson of Winston Churchill ― reacted to Trump's absence at the cemetery event by calling the U.S. president "pathetic."
Soldiers "died with their face to the foe and that pathetic inadequate [Trump] couldn't even defy the weather to pay his respects to The Fallen," Soames wrote on Twitter.
Kelly Magsamen, a former high-ranking Pentagon official, borrowed one of Trump's derisive phrasing. saying he displayed "real low energy" by "not bothering" to head out in the rain.
"Somehow everyone else was able to do so today," she tweeted.
Former Macron campaign adviser Francois Heisbourg also knocked Trump, posting a photo of a cyclist pedaling through a wet street corner in Paris.
"Nothing a cyclist can't handle, let alone a presidential [helicopter]," he wrote.
Ben Rhodes, deputy national security adviser for the Obama administration, recalled his experience helping to plan President Barack Obama's trips for eight years.
"There is always a rain option," he wrote. "Always."
Rhodes continued with a scathing take: "Trump will use the US military for a pre-election political stunt but sits in his hotel instead of honoring those who fought and died for America."
He referred to Trump's deployment of more than 5,000 troops to the southern U.S. border in response to a caravan of migrants that remains hundreds of miles away in Mexico.
Trump still plans to attend an Armistice Day event with other world leaders at the Arc de Triomphe on Sunday and to speak at the Suresnes American Cemetery on Monday.
At Aisne-Marne cemetery, Kelly and Marine Corps Gen. Joseph Dunford, chairman of the Joint Chiefs of Staff, laid a wreath in honor of the deceased.
Popular in the Community