WASHINGTON ― As a team of elite U.S. commandos found themselves under unexpectedly heavy fire in a remote Yemeni village last month, eight time zones away, their commander in chief was not in the Situation Room.
It's unclear what he, personally, was doing. But his Twitter account was busy promoting an upcoming appearance on the Christian Broadcasting Network.
"I will be interviewed by @TheBrodyFile on @CBNNews tonight at 11pm. Enjoy!" read a tweet from President Donald Trump's personal account on Saturday, Jan. 28.
Whether it was Trump himself or an aide who sent out that tweet at 5:50 p.m. ― about half an hour into a firefight that cost a Navy SEAL his life ― cannot be determined from the actual tweets, and the White House isn't saying. Likewise, it's not clear who deleted the tweet some 20 minutes later, or why the new president, just a week on the job, chose not to directly monitor the first high-risk military operation on his watch.
The CBN interview did not actually air until the following night, Jan. 29, and Trump or an aide may have realized the error and deleted the tweet for that reason. Alternatively, Trump or an aide might have realized that the Yemen operation was going badly and deleted the tweet to avoid looking callous. The tweet appears to have been sent via an iPhone, not via Android. Tweets sent from an iPhone are generally from the president's staff, often taking his dictation, while tweets sent by Android are usually composed by Trump himself.
The White House did not respond to The Huffington Post's queries on the issue.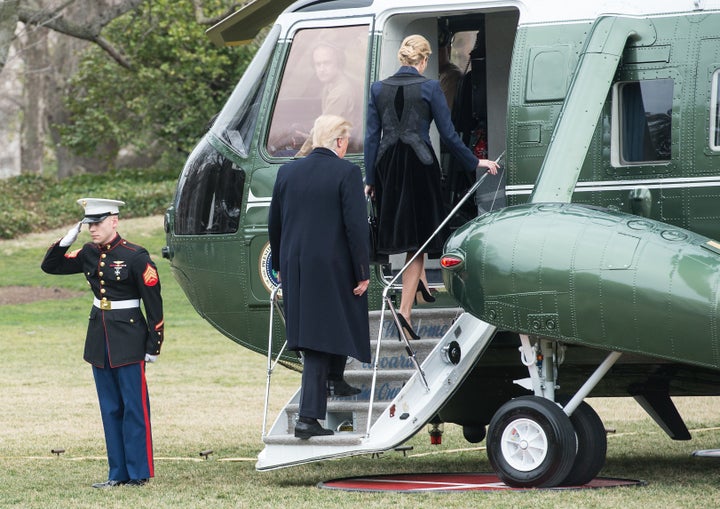 "He was obviously aware of the strike occurring," White House Press Secretary Sean Spicer said the day after the raid. "He was kept in constant contact Saturday night of the status of the mission, both of the success that it had and the tragic loss of life that occurred to that member."
Spicer, though, has not specifically said what Trump was doing between 5:30 p.m. and 6:30 p.m. on Jan. 28, other than to say he was in the White House residence ― not in the Situation Room. That's the hour ― 1:30 a.m. to 2:30 a.m. local time ― when the firefight in Yemen resulted in the deaths of some 30 people, according to news reports. U.S. forces had called in air strikes because of the ferocity of the resistance they encountered. At least 10 of those killed were women or children.
The last event on the presidential schedule released to the media for that Saturday was a phone call with Australian Prime Minister Malcolm Turnbull at 5 p.m. According to the White House pool reporter that day, Trump was on the phone with Turnbull at 5:11 p.m. when reporters were taken to witness the call through the Oval Office windows.
"Obviously, if a raid is only 20 minutes in, you should wait to see how it turns out before tweeting," said one former National Security Council participant under former President Barack Obama. The staffer added that while Obama did not monitor every operation from the Situation Room (as he did during the one that killed Osama bin Laden), it seemed odd that Trump did not monitor this operation. "It is your first one."
The timing of the CBN tweet and its deletion is the latest detail in the story of a military special operation that went not at all as planned.
Chief Petty Officer William "Ryan" Owens was killed in the raid, and four U.S. service members were wounded. A $75 million Osprey aircraft was damaged and had to be destroyed to keep it from falling into enemy hands. Subsequent reports pointed out that Trump did not participate in a formal National Security Council review of the plan, but instead was briefed over a dinner meeting three nights before the raid.
Spicer on Feb. 2 said that Defense Secretary James Mattis, Joint Chiefs of Staff Chairman Gen. Joseph Dunford, CIA director Mike Pompeo, then-national security adviser Mike Flynn, National Security Council chief of staff Keith Kellogg, White House chief of staff Reince Priebus and chief strategist Stephen Bannon took part in that dinner, as did Trump's son-in-law, Jared Kushner.
"Doing it over dinner with Kushner and Bannon, without someone from the State Department present? I considered that a little odd," said Luke Hartig, a former senior director for counterterrorism at the NSC under Obama. He added that more comprehensive planning might not have averted problems, but could have ensured that better contingency strategies were in place.
In any event, Spicer on Feb. 2 essentially described the raid as something planned and approved under Obama (a characterization that Obama aides dispute). That places it about midway along the evolution of the White's House description of the operation ― from immediately afterward, when Spicer declared the raid a complete success, to the following week, when he accused anyone who questioned that assessment of dishonoring the fallen serviceman.
In the initial aftermath, Spicer said the raid had killed 14 fighters with the group al Qaeda in the Arabian Peninsula. Within a few days, as reports spread of civilian deaths which the Defense Department acknowledged, Spicer said the whole point of the mission was "intelligence gathering," in the form of laptops and cellphones that were taken.
By the following week, amid reports that Yemen had withdrawn permission for U.S. troops to conduct raids there and that the purported main target of the raid, AQAP leader Qassim al-Rimi, had escaped and was now taunting Trump, Spicer denounced criticism of the raid of any kind.
"The life of Chief Ryan Owens was done in service to this country and we owe him and his family a great debt for the information that we received during that raid," Spicer said on Feb. 8. "I think any suggestion otherwise is a disservice to his courageous life and the actions that he took, full stop."
Popular in the Community