WASHINGTON — President Donald Trump and Interior Secretary Ryan Zinke have repeatedly said they oppose selling off federal lands.
It was over this very issue that Zinke — a former Montana congressman — resigned as a delegate to the Republican National Convention in 2016. And in a speech one day after arriving at his new post, Zinke promised Interior staffers: "You can hear it from my lips. We will not sell or transfer public land."
The draft plan, which Politico and Axios obtained this week, includes this line: "Disposition of Federal Real Property: would establish through executive order the authority to allow for the disposal of Federal assets to improve the overall allocation of economic resources in infrastructure investment."
To be clear, the document is a draft plan — one Paul Teller, a special assistant to the president for legislative affairs, told Politico this week does not reflect the final proposal. Nonetheless, it is easy to see how one might read "disposal" to mean that the government will look to sell off, trade or transfer federal assets, including land, to help pay for crumbling bridges and highways.
White House spokeswoman Lindsay Walters declined to say whether this "disposal" would include federal lands. "We are not going to comment on the contents of a leaked document but look forward to presenting our plan in the near future," she wrote in an email to HuffPost.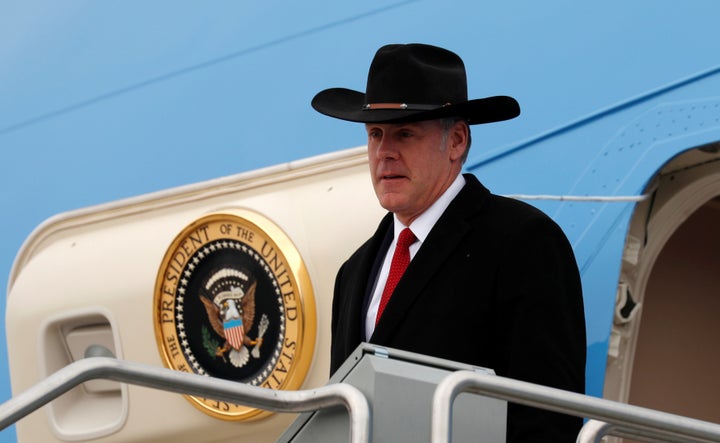 Politico reported Wednesday that Trump could release his long-anticipated infrastructure plan in as little as two weeks. If it takes aim at public land, Zinke will almost certainly face the brunt of public outrage. After all, it was Zinke who said last month, "No one loves public land more than I. You can love it as much, but you can't love it any more."
Fearing a looming about-face, conservation groups sent a shot across the administration's bow this week.
"It raises suspicions from everybody that cares about public lands," Brad Brooks, public lands campaign director at The Wilderness Society, told HuffPost. "And if they are proposing to sell off public lands, the American public is not going to stand for D.C. politicians trying to steal our land."
Brooks added that Zinke needs to explain — one way or another — what's going on. To his knowledge, there is no precedent for public land being disposed of via executive order.
Jennifer Rokala, executive director of the Center for Western Priorities, said in a statement that the draft infrastructure plan is the latest example of Zinke saying one thing and doing another.
"This plan calls for the disposal of federal lands, it's right there in black and white," she said. "The secretary owes the American public an honest answer: Will he continue to be complicit in President Trump's attempts to sell off our public lands?"
Whit Fosburgh, president of the Theodore Roosevelt Conservation Partnership, told HuffPost that he too is looking for clarification about what the White House means, but said "it smells like selling off public [lands]."
The move provoked outrage from conservationists, hunters, anglers and outdoor enthusiasts, who labeled Chaffetz an "anti-public lands congressman." Chaffetz ultimately pulled the bill, citing concerns from his constituents.
"I hear you," he wrote in an Instagram post that included a photo of him dressed in hunting camouflage, and promised to kill the bill.
Zinke continues to paint himself a champion of public lands and "a Teddy Roosevelt conservationist." But the conservation and outdoor sporting groups that once supported his nomination have largely walked away, as the interior secretary has led the administration's effort to gut national monuments and prioritized energy development over conservation.
The Interior Department did not respond a request for comment on the language in the draft infrastructure plan.
But in an interview Thursday with conservative radio commentator Josh Tolley, Zinke re-emphasized his commitment to maintaining federal control of public land.
"We're not transferring or selling public land," he said. "What we're doing is we're working with the states to open up recreation opportunities. We don't want to be in an adversarial role. And that's been the tension out west, is that the local voice, communities, have been ignored. And that's not right."
Support HuffPost
The Stakes Have Never Been Higher
Popular in the Community