WASHINGTON ― The health care bill crafted and passed by House Republicans received another poor score from the Congressional Budget Office on Wednesday evening, with officials estimating that the legislation would leave 23 million more Americans uninsured by the year 2026.
But over in the Senate, where lawmakers are trying to create a health care bill of their own, the dismal analysis may actually offer Republican lawmakers a silver lining. Since it does nothing to ease concerns of more than a half-dozen GOP senators, it could encourage them to simply ditch the House plan in favor of a vastly different approach.
"I like your optimism. I think that's a very interesting perspective," said Sen. Rob Portman (R-Ohio), who has put himself at the center of the main GOP working group trying to come up with a bill, along with the chairmen of the three relevant committees. That group of more than a dozen also includes conservative Sens. Mike Lee (R-Utah) and Ted Cruz (R-Texas).
For weeks now, Republicans senators have been openly critical of having to deal with the House GOP bill. Their worries stem both from the dramatic cuts the House legislation makes to Medicaid expansion, and the insurance market reforms that would result in rising premiums for the elderly and fewer coverage protections for consumers at large. The CBO score, from their vantage point, validated those criticisms.
"I always said we need to stay focused on one very important goal, and that is reducing costs, premiums," said Sen. Steve Daines (R-Mont.), one of the House bill's more conservative opponents. Daines said he includes older Americans and ill people among those who need affordable premiums, and according the the CBO analysis, many of those would no longer be able to buy coverage.
For Portman, the House bill is downright catastrophic in that it would roll back the Affordable Care Act's expansion of Medicaid, which is the single largest source of funding to combat the opioid epidemic ravaging his state. He needs to get conservatives like Lee and Cruz off the idea of curtailing that expansion.
"That's what I'm trying to do, is shift the discussion a little bit to, how do we continue to provide coverage?" Portman said.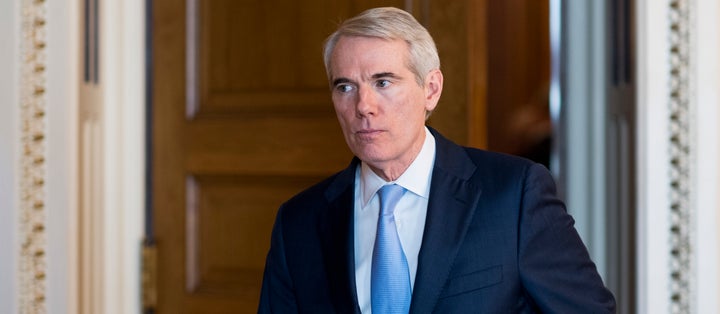 The reality that the House bill cannot win enough senators' support at least offers a fresh opening for Portman, even among his conservative colleagues who want to wipe Obamacare entirely from the books.
"I hope so. I hope so. I just don't know if we can get the other folks" on the right, Portman said.
One of the wild-card options boosted by the CBO's tarnishing of the House bill is a measure written by Republican Sens. Bill Cassidy (La.) and Susan Collins (Maine).
That legislation is not popular with conservatives, because it keeps the funding sources of Obamacare and lets states that like the Affordable Care Act keep it. But it also ends the hated individual mandate in favor of a system that allows automatic enrollment in insurance with the ability to opt out. How well it would work is debatable. But with the CBO affirming the House bill as a non-starter in the Senate, and Portman struggling to bring his conservative colleagues in his direction, the Cassidy-Collins option could emerge as the de-facto compromise.
"That's our hope," Collins said. "We've had several good meetings with our colleagues and there's a lot of interest, and I believe this does give us momentum to try to draft a different bill."
Whether the Senate GOP leadership will follow Collins' lead is an open question. Majority Leader Mitch McConnell (R-Ky.) has said he will only rely on Republican votes, making his margin of error razor thin (he can stand to lose only two members).
Because of that, lawmakers have had fits coming together on a proposal that would unite senators such as Collins, Portman and Cassidy, with those like Cruz, Lee and Sen. Tom Cotton (R-Ark.) ― another member of the GOP's main working group. The CBO score of the House bill makes a fresh approach a necessity. But it doesn't change the reality and challenges of the whip count.
The "Senate was already committed to doing its own thing, had a good sense of what the score would say," said one senior Senate GOP aide. "The challenge for Republicans is that the party doesn't generally believe in forcing people to buy things they don't like (and if you haven't noticed, most healthy young people don't like super pricey health care plans) and that makes it hard to get a decent CBO score."
Popular in the Community