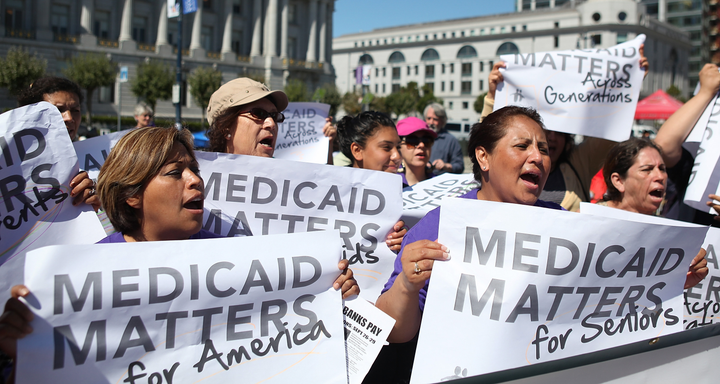 Trumpcare is officially known as the American Health Care Act, but that's a lie. It isn't a bill to provide health care, but exactly the opposite ― a bill to take health insurance away from tens of millions of Americans, especially those who are older, poorer, and sicker, in order to pay for massive tax giveaways for the wealthy and corporations. The bill cuts $880 billion from Medicaid, and cuts taxes primarily for rich people by about the same amount.
When people think of Medicaid, they don't usually think "seniors." But in fact, about six million seniors receiving Medicare are also enrolled in Medicaid ― and that number doesn't include people in their fifties and early sixties, who will be increasingly likely to rely on Medicaid if Trumpcare passes and makes their premiums for private health insurance rise by 750 percent.
Medicaid is particularly important to seniors who require long term care and their families. That will be most of us one day: 70 percent of Americans ages 65 and older will eventually require long-term care services and supports, which include nursing facilities, home health aides, personal care, and family caregiving. Medicaid covers sixty percent of nursing home residents and forty percent of long term care services and supports.
Without Medicaid, millions of seniors and their families will not be able to afford long-term care. The median yearly cost for home health help is $46,000 per year, and for a nursing home it's $92,000! In comparison, the average yearly Social Security benefit is only $14,776. Taking Medicaid benefits away from seniors forces their families (especially women) to provide at-home care even if they don't have the time or skills to do so adequately. Those seniors who don't have family members or friends who can take on care responsibilities are condemned to a lonely death.
Social Security Works has released a factsheet detailing the importance of Medicaid to seniors, through protections such as:
The method that Trumpcare uses to gut Medicaid (in addition to rolling back the Affordable Care Act's Medicaid expansion) is a benign sounding policy called "per-capita caps." What that actually means is that instead of paying a fixed percentage of states' Medicaid costs, the federal government would only pay a fixed amount per beneficiary. This cap doesn't account for future economic downturns, unanticipated epidemics, or the expected increases in healthcare costs as the population ages. And it won't keep track with annual increases in healthcare costs—if Trumpcare passes, Medicaid's costs per beneficiary will quickly outstrip federal funding. That means that when the costs per beneficiary inevitably go up, states will need to either spend more of their own money or cut their Medicaid programs. Unfortunately, history suggests that most of them are likely to do the latter.
States will be faced with this dilemma sooner rather than later because the population is aging, and a larger percentage of Medicaid beneficiaries will soon be seniors. As we mentioned above, long-term care is not cheap, and seniors ― particularly those over 85 ― cost considerably more to cover than other groups such as children. States will be highly incentivized to kick seniors off the Medicaid rolls.
Popular in the Community