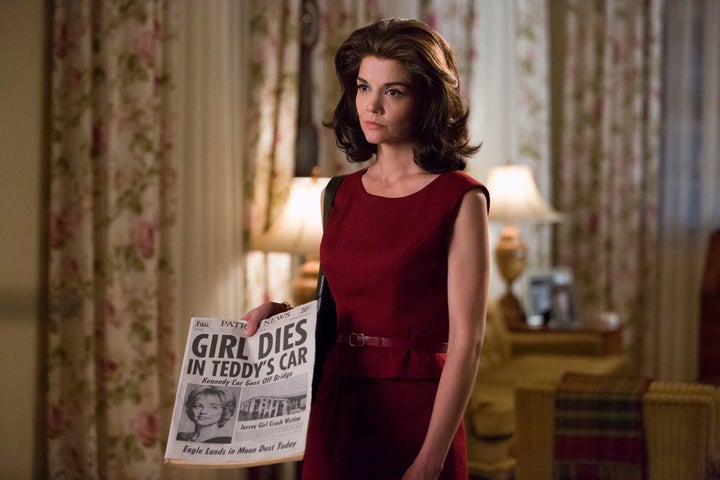 Like every woman of my college generation, I never knew the real Jackie Kennedy. Born four years after her death, I remember her only through her rare interviews and portrayals on film. Still, I've been touched by the Jackie effect. I chose to attend Sarah Lawrence College, her dream school and her sister's, Princess Lee Radziwill, alma mater.
But now my vision of Jackie Kennedy is in danger of being "trumped." In the new Reelz mini-series, "The Kennedys after Camelot," which ended on Sunday night, the Jackie Kennedy whom Katie Holmes plays is a woman more like Melania Trump than the serious post-Eleanor Roosevelt Jackie I have always admired.
"After Camelot" revolves around Jackie's relationship with Aristotle Onassis following Bobby Kennedy's death. The show makes no mention of Jackie's efforts to memorialize her husband through his presidential library or her international relations efforts during the Vietnam War.
The series suggests, while Jackie genuinely loved Ari, he exploited her. As he tells Ted after they've negotiated Jackie's dowry, "To the rest of the world, she's unattainable, out of reach. But to me, there's no such thing."
The show further calls Ari's character into question when Jackie learns of his affair with a Parisian woman. She tells Ari, "You have given me so much, and you've made me want to live again. But, Ari, I love you and respect you but you don't have the power to hurt me. Jack did, and he's the last man who will." This seemingly perfect moment is undermined by Jackie's visceral reaction to the affair, angrily throwing a gift from Ari's mistress into the ocean.
The imperfect feminism of the show becomes more apparent when Jackie goes to comfort Ted after the 1969 Chappaquiddick scandal in which a young woman drowned during a weekend of partying with the senator and his friends. At first, Ari forbids his new wife from leaving, to which Jackie responds, "If that's a question, the answers no. If that's a threat, we have a lot more to talk about." If only Jackie was leaving not for Ted, but out of a sense of sisterhood to his wife, Joan Kennedy.
Jackie experiences another Melania moment when the family's crisis team tries to pressure her into releasing a statement in support of Ted. Jackie refuses, telling them she's only there out of duty to Jack. When Jackie finally reaches out to Joan, it again reinforces her sense of gender roles. "You don't owe it to him. What he's put you through, he's lucky you're still here. But I think it would look bad if you didn't go. Years from now it'll be important to your children to see that you were there for him," Jackie tells her.
No doubt, similar advice was bestowed upon Melania when she made a statement in support of her husband in light of the Access Hollywood scandal. "The words my husband used are unacceptable and offensive to me. This does not represent the man I know. He has the heart and mind of a leader. I hope people will accept his apology, as I have, and focus on the important issues facing our nation in the world."
The flawed feminism of "After Camelot" continues when Jackie discovers Ari's secret room full of memorabilia of Jackie before and after JFK's assassination. "I'm nobody's prize. I am your wife. I am a human being," Jackie tells him in disgust. Still, she gives in to Ari's apologies, and he embraces "my Jackie."
Ironically, the most sinister moment of the series occurs in the episode directed by Holmes, when Ari destroys his Jackie memorabilia after his son's death. Violently grabbing her wrist, Ari curses Jackie, "You killed your husband. You killed my son. You are cursed. Everything you touch turns to death. I never want to see you again."
The show suggests Ari doesn't see her again until four years later on his deathbed. Because he dies before the divorce could go through, Ari's daughter is desperate to settle with Jackie, offering her upwards of $25 million. Jackie refuses, telling Christina, "What you're willing to give is nothing compared to what I've had to take." Jackie comes across as a kind of gold digger, even after what she's endured.
The mini-series' attempts to pay homage to Jackie's literary career similarly fall short. An editor's ambiguous praise of Jackie at a launch party characterizes the depiction; "Our team is much stronger with you on it." The producers focus the majority of the screen time on Jackie's downfall at Viking, resigning after The New York Times credited her for acquiring speculative fiction about Ted's assassination.
But the omission of Jackie's later success at Doubleday is nothing in comparison to the absence of Caroline from the final episode. The show romanticizes the future of her brother, who tragically died in a plane crash at 38. According to the end credits, "the dream that was Camelot ended" with JFK, Jr.'s death. That Caroline would live to become the U.S. ambassador to Japan during the Obama administration is never mentioned.
That's not to say the mini-series has no sense of a feminist conscience. The final minutes feature a beautiful homage to the complicated relationship between Jackie and Ethel Kennedy, Bobby's wife. "You're a wonderful woman, and you've been a wonderful sister … most of the time," Jackie tells her sister-in-law.
The show should have ended there. Instead, it closes with JFK, Jr. flying off into the sunset with his bride after telling her of his political aspirations. With this decision, the producers made it clear that a woman's legacy is her son, not her daughter or her lasting contributions to the American narrative. But the show was never about honoring Jackie. It was an attempt to make money off her life's tragedies.
That the newest version of Jackie should seek to capitalize on the current political moment is not surprising. Melania Trump has given the mini-series producers plenty of reason for doing so, speculating on her future role as first lady, "I would be very traditional. Like Betty Ford or Jackie Kennedy I would support him."
But Melania's attempts to imitate Jackie, even dressing like her for the inaugural, only point up the differences between them.
The Jackie I admire was not the woman behind the man. She was JFK's political equal--the person responsible for cultivating the legacy of her husband, turning "one brief shining moment" into a lasting dynasty. She was not defined by her marriage. She had a full life after her husband's death, preserving historic New York City landmarks from Grand Central to Central Park, and raising two children free from the scandals that haunted so many of their cousins.
My Jackie is no Melania. She is a nasty woman.
REAL LIFE. REAL NEWS. REAL VOICES.
Help us tell more of the stories that matter from voices that too often remain unheard.