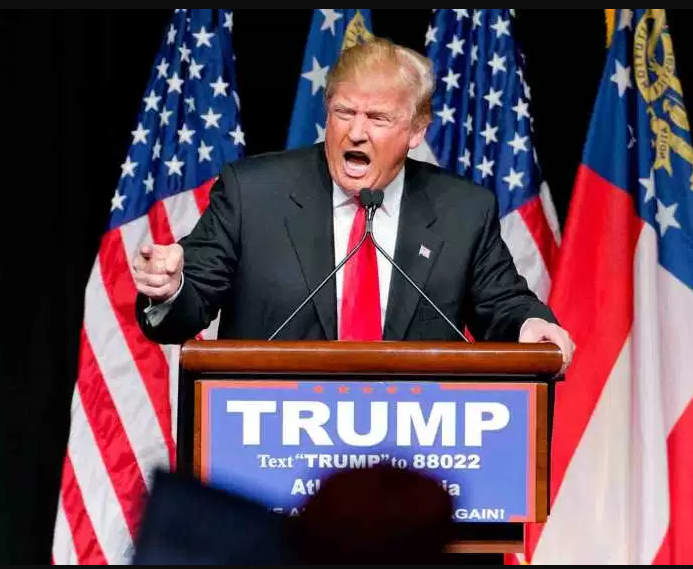 Trumpism: "a toxic mix of demagoguery, mean-spiritedness, and nonsense." – Former Texas Governor Rick Perry, currently United States Secretary of Energy in the Trump cabinet
The election of Donald Trump and his grotesque statements and actions are empowering racists and other anti-democratic forces to openly express their views and to break rules and laws. The most blatant case was in Charlottesville, Virginia, but it frequently happens in the shadows.
During the election campaign, the Southern Poverty Law Center's Teacher Tolerance project documented "an alarming level of fear and anxiety among children of color" and increasing "racial and ethnic tensions in the classroom." It also reported "many students worry about being deported" as a result of Trump campaign rhetoric. The National Education Association collected and shared stories from teachers about increased incidents of bullying and anti-immigrant and anti-Muslim statements.
Since his election, Trump's efforts to ban Muslims, calls for a wall on the U.S.-Mexican border, and threat to deport undocumented immigrants brought to the United States as children, have only served to increase fear and convince Trump supporters they are free to antagonize and intimidate others. Newsweek recently reported that "Living in Donald Trump's America over the past year has left the nation's youngest feeling stressed and acting hostile, especially at school." More than half of American teachers surveyed by UCLA reported they witnessed unusually high levels of anxiety among high school students. Over 40 percent of the teachers believe it is having a negative impact on student schoolwork and attendance.
Making the situation worse is when schools, despite all the hoopla about anti-bullying campaigns, become complicit in Trump-style bullying. At two Harris County,Texas high schools, families are suing because students were punished for sitting during the Pledge of Allegiance. In one suit, a student from Klein Oak High School reported that a teacher compared people who do not stand for the pledge to communists and people who "condone pedophilia." The student claims she was disciplined by the school for her actions and bullied by other students. At Windfern High School, a student was ordered to leave the building under threat of arrest for not reciting the pledge.
Protests by National Football League players "taking a knee" during the playing of the national anthem have inspired similar responses from student athletes and threats from school administrators. In Bossier Parish Louisiana, the Superintendent of Schools distributed a letter informing student athletes that they are required to stand during the national anthem as a condition of participating in extra-curricular activities. The principal of a high school in the district notified students and parents that punishment for disobeying the rule could include removal from the team. In New York, the Roman Catholic Diocese of Rockville Centre threatened students at its network of church-run schools with "serious disciplinary action" if they knelt during the anthem before sporting events.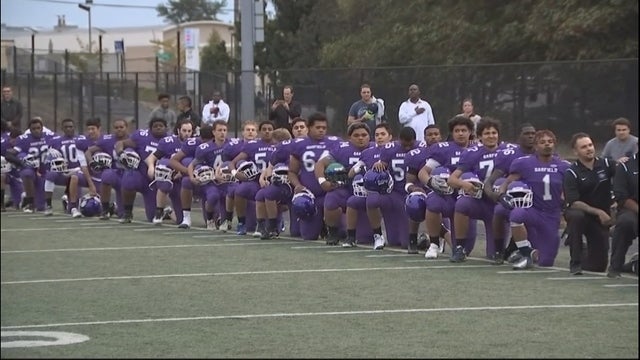 In the United States, students are within their legal rights not to stand during the Pledge of Allegiance and the national anthem as long as they are not disruptive. Since the 1940s, federal courts have ruled that reciting the Pledge of Allegiance in schools must be voluntary. In West Virginia State Board of Education v. Barnette (1943), the Supreme Court held that schools cannot force students to recite the Pledge and must respect the right of an individual to remain seated. The ruling followed a suit by Jehovah Witnesses who argued the pledge was a violation of their constitutionally protected freedom of religion. Ironically, the pledge was written in 1892 by socialist reformer Francis Bellamy. The phrase "under God" was added during the Eisenhower administration. In a ruling citing Barnett, a federal court in New Jersey overturned a state statute requiring students to stand during the pledge of allegiance because it required "a student to engage in what amounts to implicit expression by standing at respectful attention while the flag salute is being administered and being participated in by other students."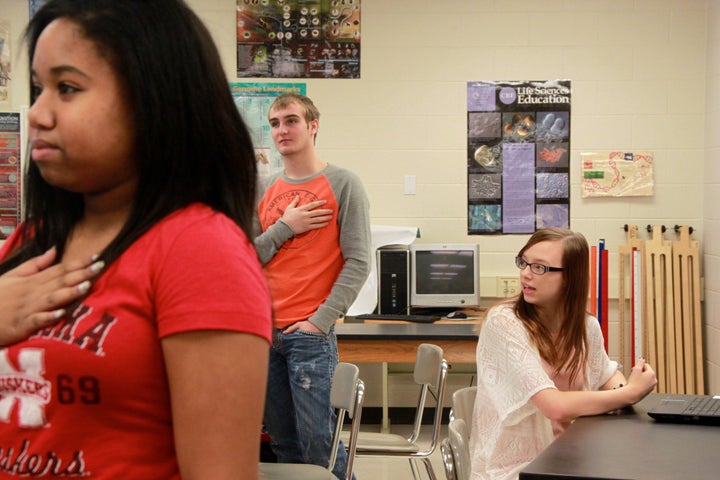 In 1969, in its Tinker v. Des Moines decision, the United States Supreme Court declared that students do not lose their constitutional rights "at the schoolhouse gate." That includes the right to religious freedom and to responsible protest. According to the United States Justice Department website, the Civil Rights Act of 1964 "prohibits discrimination based on religion in public primary and secondary schools, as well as public colleges and universities" and "authorizes the Attorney General to bring suit in response to a written complaint by a parent that a child is being 'deprived by a school board of the equal protection of the laws.'"
With each new tweet, Donald Trump incites hostility towards people who he disagrees with or dislikes. Unfortunately Trump and Trumpism will not be going away soon. In the mean time, students, teachers, parents, and other people of good-will will have to take the lead in keeping Trumpism out of our schools.
REAL LIFE. REAL NEWS. REAL VOICES.
Help us tell more of the stories that matter from voices that too often remain unheard.