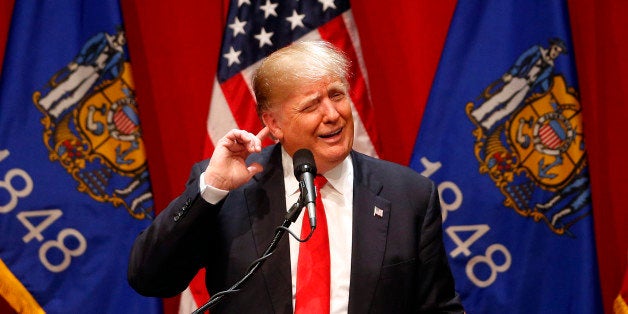 Donald Trump's campaign pledge is to "Make America Great Again." Instead, if he is nominated, he may end up destroying the Republican Party.
Trump's blustery, brash and in-your-face demeanor has attracted a large following of devoted acolytes that have lifted him to front-runner status for his party's nomination. Ever the showman, Trump has gobbled up hours of free media time on television news outlets, which has resulted in huge ratings.
Since he announced his candidacy last June in the opulent lobby of Trump Tower on New York's Fifth Avenue, he has overcome many political gaffes and consistently confounded political commentators who have many times predicted his demise. At long last, though, it appears that the accumulated weight of his missteps has begun to drag on his campaign, and may have permanently damaged the Republican Party.
Trump has referred to Mexicans and rapists. He has promised to build a wall along the Mexican border, which he says Mexico will pay for. He has pledged a mass deportation of all 11 million immigrants who are in this country illegally. He has called for a ban on Muslims entering the United States. He has humiliated his opponent's wives, including Heidi Cruz and Columba Bush. He has attacked journalists, including Univision's Jorge Ramos and Fox News anchor Megyn Kelly, who each have millions of loyal viewers.
Trump has alienated women. "Look at that face!" he said of then opponent Carly Fiorina. "Would anyone vote for that?" He has unapologetically supported his campaign manager, Corey Lewandowski, who has been charged with battery for grabbing the arm of a female reporter at a rally. And, in an apparent attempt to strengthen his bona fides as a pro-life candidate, he said that there has to be "some form of punishment" for women who have abortions. He later recanted that position following a firestorm of protests, saying in a statement that if abortions were illegal, "The doctor or any other person performing this illegal act upon women would be held legally responsible, not the women."
Trump has also alarmed our allies in Europe with is lack of understanding of foreign affairs and loose talk. For instance, this exchange with MSNBC's Chris Matthews:
Matthews: "Can you tell the Middle East we're not using nuclear weapons?"
Trump: "I would never say that. I would never take any of my cards off the table."
Matthews: "How about Europe? We won't use (them) in Europe?"
Trump: "I'm not going to take it off the table for anybody."
Matthews: "You're going to use it in Europe?"
Trump: "No! I don't think so. But..."
Matthews: "Just say it, say 'I'm not going to use a nuclear weapon in Europe'."
Trump: "I am not taking cards off the table. I'm not going to use nukes -- but I'm not taking any cards off the table."
Trump rattled two Asian allies with comments he made in an interview with The New York Times. Trump said he would be open to allowing Japan and South Korea to build their own nuclear arsenals as protection against North Korea and China.
Many Republicans have expressed concern that if Trump is their nominee in November they will lose the Senate and maybe the House. Nerves are so frayed that Trump suddenly traveled to Washington to meet with leaders of the Republican National Committee Thursday. It was described in news reports as a "unity meeting" because RNC officials were concerned after Trump withdrew his pledge to support whomever the party decides to make its nominee at the Republican convention.
Will the Republican Party awaken from what University of Virginia political analyst Larry Sabato calls its "Trumpmare? Will RNC Chairman Reince Priebus heed his own warning, given when the party released its autopsy of its overwhelming 2012 election defeat? "The RNC cannot and will not write off any demographic or community or region of this country," Priebus said.
A recent Reuters poll, taken before Trump's comments on abortion, found that 50 percent of American women hold a very unfavorable view of Trump. Meanwhile, a Gallup Poll shows that 77 percent of Hispanics have an unfavorable view of him. Overall, Trump's unfavorables are above 60 percent in all the recent polls, and they do not factor in his most recent gaffes.
Trump's shadow hangs over the Republican Party. Even if a contested Republican convention selects another nominee, the party has been badly hurt. Priebus might reflect on the line from Shakespeare's Julius Caesar, "The fault dear Brutus is not in our stars, but in ourselves."
REAL LIFE. REAL NEWS. REAL VOICES.
Help us tell more of the stories that matter from voices that too often remain unheard.