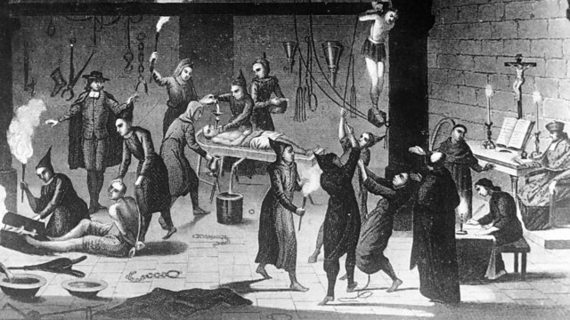 Trump/Pence against Spanish Inquisition for Not Being English Only
After meeting Mexico's President Nieto, to show their resolve and draw a strong line against illegal immigration, the Trump/Pence campaign came out against the Spanish Inquisition for not being English Only.
Trump, said this was his toughest call so far in his run for the White House; but that because the Bible's in English, so should be any torture, coercion, or persecution in its name. Adding: "Believe me. We'll have the best torture. It'll be huge. Believe me. Huge."
Trump/Pence campaign surrogate and a self described 'cradle Catholic,' NJ Governor Chris Christie, speaking for the Trump/Pence campaign, said "we've come a long way from those times, and a lot of so-called tortures should now be used to keep marriages together." Adding, "There's nothing like a good flaying or a few cracks of the whip to add spice to a marriage, as long as it's done in English."
Due to missteps on message between Governor Pence and Mr. Trump, Governor Pence did add: "As a supporter of former President Bush, I believe he did the enhanced interrogation thing right. Except where he didn't. So I agree where he was right and don't where he wasn't. That is, by the way, my position on all things. Except when it isn't. What were we talking about again?"
REAL LIFE. REAL NEWS. REAL VOICES.
Help us tell more of the stories that matter from voices that too often remain unheard.