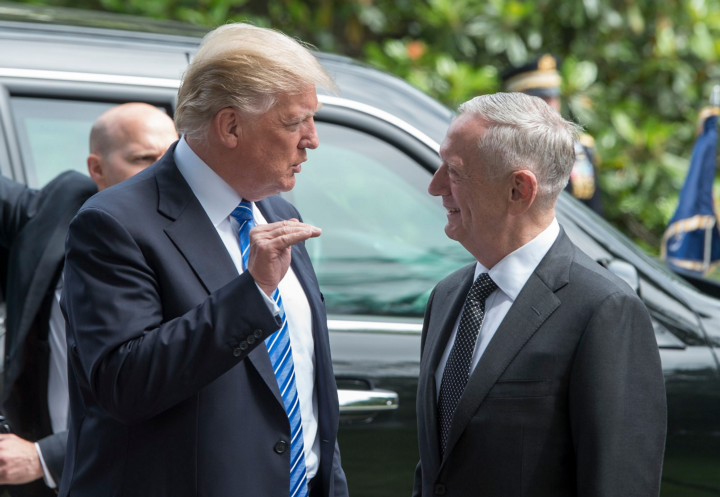 The multinational defense contracting behemoth from which Defense Secretary James Mattis received generous payouts as recently as last year stands to gain handsomely from the Afghanistan "surge" announced Monday night by President Trump.
Prior to joining the Trump Administration, Mattis  —  to whom much of the Afghanistan decision-making was reportedly outsourced  —  was an "independent director" for General Dynamics, the massive military contractor juggernaut. Mattis was paid $594,369 by the company between 2013 and 2016, and accrued at least $900,000 worth of stock. (At present writing, the General Dynamics stock price is ticking up in the wake of Trump's announcement.)
During the years Mattis served in the "independent director" capacity, General Dynamics was flush with federal contracts for the provision of resources related to Afghanistan. For example, in June 2015, the company boasted of a $216 million order from the U.S. Army for what it calls its "Warfighter Information Network" system, which, it declared, had "successfully served Army units… in Afghanistan." The company has received multi-million dollar payments to provide combatants in Afghanistan with everything from Foxhound vehicles to IT management services, often framing these efforts in terms of job creation and/or preservation.
According to an ethics agreement brokered during his confirmation process in January, Mattis agreed to divest his General Dynamics stock and recuse himself from all matters involving the company for one year. But he need not become personally involved for his official actions to greatly benefit the contractor.
Mattis now assumes a far more operational role for his former benefactor: as Defense Secretary, he oversees the provision of lucrative Pentagon contracts, which are poised to get much more lucrative in light of Trump's announcement that additional US forces would be deployed in the 16-year-old conflict. The precise amount of troops and resources on offer is not yet quite clear, but in any case contractors like General Dynamics will very likely be sought to satisfy the multifold needs which may arise. (Finding out exactly what they're up to may well be more difficult under Trump. "We will not talk about numbers of troops or our plans for further military activities," he declared in the address.)
Of course, the potential always lingers for General Dynamics to once again reward Mattis with employment opportunities once he leaves the administration  —  an arrangement which former senior Defense Department officials are known to frequently take advantage of.
One option the Trump administration was reportedly considering for Afghanistan was to simply replace American troops with private, for-profit forces, which could've been a huge windfall for mercenary magnates like Erik Prince. But even with the more traditional "surge" approach Trump outlined last night, private corporations with administration connections are well-positioned to cash in.
UPDATE: TYT inquired with the Defense Department and General Dynamics about whether Mattis has recused himself from any matters pertaining to General Dynamics since assuming office, and, if so, who oversees such matters in his stead. We will update this article if we receive a reply.
UPDATE: Asked whether Mattis has recused himself from any matters involving General Dynamics thus far in his tenure, a Defense Department spokesperson, Benjamin Sakrisson, said, "there are no records that satisfy the specificity" of the query. "Secretary Mattis has recused himself from particular matters involving General Dynamics, and this is outlined in his publically posted Ethics Agreement," Sakrisson explained.
REAL LIFE. REAL NEWS. REAL VOICES.
Help us tell more of the stories that matter from voices that too often remain unheard.
BEFORE YOU GO