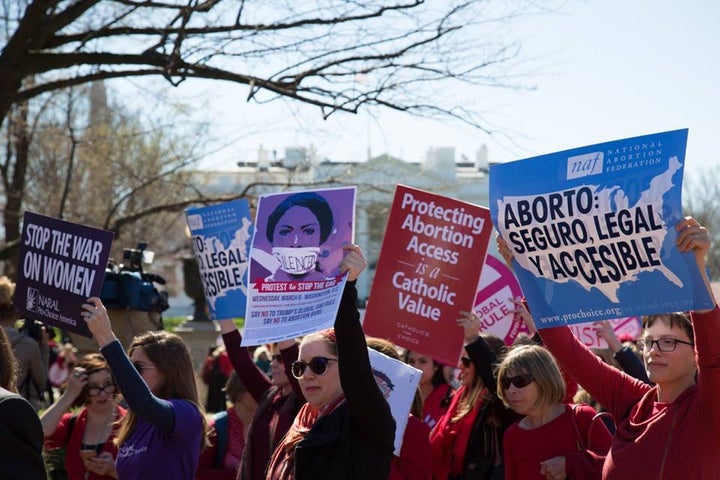 President Donald Trump's first 100 days reads like an anti-woman and anti-human rights check list. From day one, Trump has been relentless in his attempts to undermine human rights globally, especially for women, girls, and other marginalized populations. Trump has done everything in his power to disempower women – their health, their well-being, their human rights. If the first 100 days are an indication of what to expect from this administration, the time is now for advocates, U.S. policymakers, and global leaders to stand up and resist.
Just 48 hours after millions of women from around the world marched for women's rights, Trump issued a presidential memorandum on January 23 to expand the Mexico City Policy (also known as the "global gag rule") to all global health assistance. The policy prohibits non-U.S. organizations that receive U.S. global health assistance from using non-U.S. funds to provide information or services related to abortions, except in the cases of rape, incest, or life endangerment. The policy is failed, outdated, and deadly.
Evidence has shown that the last time the global gag rule was in effect (2001-2008), women's access to contraceptives decreased, rates of unsafe abortions increased, and HIV prevention programs were thwarted. The expansion of Trump's global gag rule could fracture health programs that provide pregnant women with treatment that prevents HIV transmission to newborns, as well as programs that respond to emergency health outbreaks such as Zika and Ebola. Trump's global gag rule could even impact clinical trials that are critical to developing life-saving medicines and vaccines. This is draconian.
Soon after on January 27, Trump signed his executive order to ban travelers from certain Muslim countries from entering the United States. The travel ban against Muslims – which has since been replaced due to legal challenges only to be challenged again – is, among many other things, a shameful attempt to fuel discrimination against Muslims across the country. The executive order conflates very real concerns about terrorism with the Muslim faith. It also uses the very real threat of violence against women and LGBTQ individuals to justify banning a particular group of people from entering the United States, while the administration withdraws support for programs that help victims and survivors of such violent acts.
On March 13, the Trump administration announced the members of the U.S. delegation to the 61st Session of the UN Commission on the Status of Women (CSW) – the chief global intergovernmental body dedicated to the promotion of gender equality and the empowerment of women. The official delegation, headed by Ambassador Nikki Haley, included a delegate from the Center for Family & Human Rights (C-FAM), an organization with an extensive track record of opposing women's reproductive rights. C-FAM has been designated as a hate group by the Southern Poverty Law Center for its extreme anti-LGBTQ positions. Despite calls from U.S. and global LGBTQ and women's rights organizations to remove the hate group from the U.S. delegation, the Trump administration did nothing. Another example of a fox being called to guard the proverbial chicken coop.
On March 16, Trump released his "skinny budget," which outlined his plan to slash domestic and global assistance funding, including a proposed 28 percent cut to the State Department and USAID budgets. By cutting this funding, the president is paving the way to potentially eliminate programs that advance women's health and empowerment, such as promoting access to skilled birth attendants for pregnant women and family planning for those who wish to space childbirths, and providing services to prevent and respond to gender-based violence including sexual assault and rape.
On April 3, Trump announced plans to gut funding to the United Nations Population Fund (UNFPA), a move that jeopardizes the health and rights of millions of women and girls around the world. UNFPA provides critical maternal health and family planning services to more than 150 countries worldwide, works to end child marriage and female genital cutting, and delivers essential health services in humanitarian crises. In just the last year, U.S. funding to the UNFPA extended sexual and reproductive health care to nine million people in crisis settings. Specifically, in the Zaatari refugee camp in Jordan, UNFPA doctors and nurses safely delivered 7,100 babies without a single maternal death.
In his first 100 days, Trump has moved to dismantle support for the world's most vulnerable populations. From the discriminatory travel ban to an expanded global gag rule to budget cuts to State Department and USAID, his extremist policies should not stand unchallenged. An organized resistance must challenge the Trump administration from multiple angles. Researchers, journalists, and advocates must collect evidence and document the impact of these policies to inform policy solutions that repair harm. Congress must bolster their oversight role: gather support and build momentum among lawmakers to support a robust U.S. foreign assistance agenda that promotes global health and human rights. Advocates must create a united front across global health, development, and human rights to protest and mobilize support for the health and rights of women, girls, and other marginalized populations. Like the European governments that pledged through She Decides, all donors must intensify their efforts to not only fill the funding gaps for sexual and reproductive health services, but to fund the research and advocacy agendas that are needed over the next four years and beyond. The time to stand up and resist is now.
Calling all HuffPost superfans!
Sign up for membership to become a founding member and help shape HuffPost's next chapter
BEFORE YOU GO