PHOENIX ― Even before taking the stage for a political rally scheduled for Tuesday night, President Donald Trump started trying to shift the national conversation back to his signature talking point: immigration enforcement. 
Trump hoped to find that "pivot" in Phoenix, as one congressman put it, after he sparked outrage and stirred racial conflict with his muddled responses last week to white supremacist violence in Charlottesville, Virginia. But shifting to tough-on-immigration rhetoric is still racially divisive, even if it's an issue that helped put him in the White House.
Trump plans to hold his rally in the border state of Arizona in the hope of energizing his conservative base. Even before announcing the details of his speech, he'd broached his pet subject.   
Trump told Fox News last week that he was "seriously considering" the idea of issuing his first presidential pardon to former Maricopa County Sheriff Joe Arpaio, who faces sentencing in October for a contempt of court conviction. A federal judge found that Arpaio's office racially profiled Latinos when conducting its infamous immigration raids. Arpaio disregarded the judge's order to stop.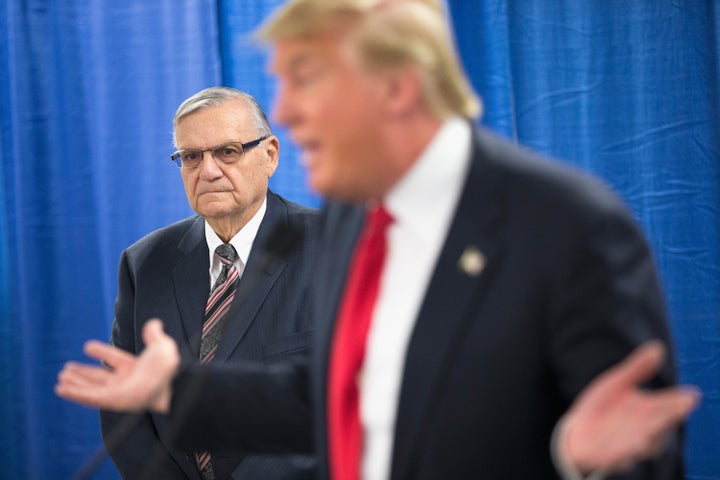 "When Trump comes to Phoenix, it's no different than how he started his campaign, when he thought it was appropriate to call Mexicans 'criminals' and 'rapists,' and when he thought it was appropriate to keep going on about the wall," Rep. Raúl Grijalva (D-Ariz.) told HuffPost. "Now he finds himself in trouble again, so he's coming to Arizona for that pivot, and I suspect that he'll speak about immigration again in harsh terms."
Trump's benevolence toward Arpaio is driving allegations from critics that the president will use his visit to Arizona to keep stoking ethnic conflict ― this time by giving his tacit blessing to the profiling of Latinos. By late Monday, about 2,600 people had RSVP'd on Facebook to say they would attend a counter-demonstration organized by Trump's opponents two hours before the president's speech is scheduled to begin.
Noemi Romero is among those who plan to protest the president's rally. She was arrested in 2013 at a grocery store during one of the workplace raids later found to have illegally profiled Latinos and spent two months in jail, Romero, who is undocumented, said Monday on a call with reporters.
When she was released, Romero found she was no longer eligible for Deferred Action for Childhood Arrivals — the program implemented by President Barack Obama that allows undocumented immigrants who arrived in the U.S. as children to work legally in the United States and avoid deportation for a renewable two-year period.
"We're not going to accept white supremacy," Romero said. "We are not pardoning white supremacy under his administration."  
Trump has also sounded the immigration theme by lashing out at Sen. Jeff Flake (R-Ariz.) on Twitter last week, calling him "WEAK on borders." In the same tweet, Trump threw his support behind Flake's primary challenger, Kelli Ward, a former state senator who is campaigning as a Trump devotee. Ward aired a television ad Monday that derided Flake's conservative credentials, in large part for not supporting the construction of Trump's proposed border wall enthusiastically enough.
Even if Trump hadn't floated the idea of pardoning Arpaio or unseating Flake, holding a campaign-style rally in conservative Arizona likely would have sent the message that Trump hopes to play to his base by resurfacing the contentious and ethnically divisive issue that has defined him as a politician since the day he launched his presidential bid by referring to Mexicans as "rapists" and "killers" who are bringing crime into the U.S.  
The last time Trump held a rally in Phoenix was in August 2016, in the heat of the presidential race. He used the event to dismiss a series of reports indicating he might adopt a softer tone on immigration after winning the Republican Party primary.
"Every trip he's made to Arizona, immigration was the issue," Grijalva said. "He wants to coddle and comfort the alt-right and extremists in his base at the expense of the rest of us."
Arizona's Republican-dominated Legislature cast itself as the vanguard of the immigration debate in 2010 by passing Senate Bill 1070, which requires police to check the immigration papers of those they stop. While the U.S. Supreme Court ultimately gutted that law and the business community pressured state leaders to tone down their rhetoric on immigration, the state distinguished itself as a conservative bastion willing to challenge the federal government when it comes to the border.
That independent sensibility and tough-on-crime mindset often appeals to both mainstream Republicans and more extremist and openly racist groups here. Some 18 hate groups operate in Arizona, according to the Southern Poverty Law Center, and the state is home to vigilante groups that patrol the border in their free time. 
He wants to coddle and comfort the alt-right and extremists in his base at the expense of the rest of us.

Rep. Raúl Grijalva (D-Ariz.)
At least one prominent neo-Nazi, J.T. Ready, was active in Republican politics and associated with the author of SB 1070, former state Sen. Russell Pearce. (Ready killed himself and four others, including a 15-month-old child, in a 2012 murder-suicide.)  
Many immigration hard-liners in Arizona bristle at the notion that their views indicate racial hostility. Glenn Spencer, the founder of the American Border Patrol, told HuffPost that Latino political leaders had made racially charged comments toward him in the past, when describing the declining place of white Americans as the country's demographics shift. (The SPLC classifies Spencer's organization as a hate group, which he disputes, saying his group focuses on technological solutions to border security.)
"We're in a struggle over the issue of immigration," Spencer told HuffPost. "Any time we get this 'racism' cry, there's always some purpose to it. It's usually to defeat any attempt to secure our borders or enforce our immigration laws. It's to intimidate people."
Trump has had more political success pushing his contentious views on immigration than with his admiration for Confederate statues. But the debate over immigration bears similar racial undertones to the debate about whether to keep Confederate monuments standing in public places, according to Lee Bebout, a professor at Arizona State University who specializes in the study of white identity.
"There's an extreme white supremacy, what we think of as the [Ku Klux] Klan, mainstream Nazi groups," Bebout told HuffPost. "But then there are mainstream white supremacists that would never consider themselves white supremacists… You have people who are elected officials who enact policies that support the same agendas as those groups, whether they identify as white supremacists or not."
"Trump was really baldfaced about that," Bebout said. "He's able to speak to the mainstream white supremacists and the extreme white supremacists."
CORRECTION: A previous version of this story misstated Lee Bebout's professional affiliation. He is a professor at Arizona State University, not the University of Arizona.
REAL LIFE. REAL NEWS. REAL VOICES.
Help us tell more of the stories that matter from voices that too often remain unheard.