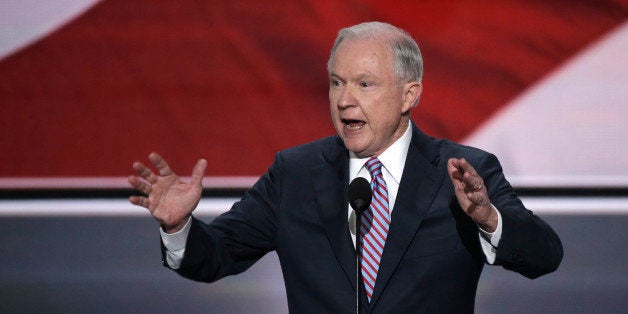 Questions and Controversy
Senator Jeff Sessions (R-AL), President-Elect Donald J. Trump's new nominee for United States Attorney General, was one of the chief opponents of the Shepard-Byrd Hate Crime Act passed by Congress in 2009 over his vigorous objections. Significant questions are arising about his nomination and the future of hate crime enforcement during the next administration because the Act specifically mandates the Attorney General's approval for all federal enforcement under its provisions.
Senator Sessions' nomination has drawn sharp rebukes from civil rights advocates and some politicians. "It is unimaginable that he could be entrusted to serve as the chief law enforcement officer for this nation's civil rights laws," stated NAACP Legal Defense and Education Fund President, Sherilynn Ifill. Previously, Mr. Sessions' nomination to the federal judiciary was rejected by the Senate, in part over alleged racially offensive comments, prior to his election as senator. He was eventually appointed to the very same committee that rejected his judgeship.
The Shepard-Byrd Hate Crime Act
The federal hate crime law at issue was named after Mathew Shepard, a young gay Wyoming college student, who died in 1998 after being tortured and strung to a remote prairie fence and Texan James Byrd, an African-American who was chained and violently dismembered after being dragged behind a pick-up truck earlier that same year by white supremacists. The Act named in their memory expanded federal criminal law protections for violent racial hate crimes and added new protected categories such as sexual orientation, gender identity and disability. In addition, the statute allows funds and investigative resources to be directed by the Justice Department to local authorities to assist them with often onerous hate crime prosecutions. The legislation also expands the mandate of the Hate Crimes Statistics Act to cover gender and gender identity. To limit its use, unlike most federal criminal statutes, the new hate crime law specifically mandates various procedural conditions be established. These include the approval of the Attorney General, or a hand picked designee, for any prosecution to move forward. Since Senator Sessions opposes federal hate crime law, it remains an open question if he would act to derail the decision of career prosecutors to pursue cases. The Act was signed into law by President Obama in October 2009 and became operational the following year. The Act punishes violence and attempts involving bodily injury through firearms, fire, explosives, and other dangerous devices.
Senator Sessions slammed the Act earlier in 2009, stating it is "a broad power that we give to the Attorney General and a broad statute I don't believe is compelled by the facts [about hate crime] that are happening in America today." In 2009 the FBI enumerated 6,600 hate crimes. Just this week the FBI released data showing 5,850 incidents, a 6.8 percent annual increase in reported hate crime overall, largely in line with our estimates. The data also confirmed our Center's previous estimate of about 260 anti-Muslim hate crimes nationwide, a 67 percent annual increase and the second highest level since recordation began in 1992. The Bureau of Justice Statistics previously estimated that the actual number of hate crime victimizations overall are far higher at about 294,000.
The sparingly-used law, found at 18 U.S.C. § 249, improved on another loophole-ridden, decades-old criminal civil rights statute, 18 U.S.C. § 245, passed in 1968, in two main ways. First, it extended group protection to categories not covered in the older law like gender, gender identity, disability, and sexual orientation. Federal law previously covered only race, color, religion, and national origin. However, these new categories, like some earlier ones, are only protected in the new law when the bigoted crimes also affect interstate commerce. This is because of federal jurisdictional requirements found in the Constitution's Commerce Clause, Article I, Section 8; which establishes limits on Congressional legislative authority. In today's interconnected nation, this regulatory authority is quite broad, though not unlimited. Many of the most important federal civil rights laws banning racial and other forms of discrimination in employment and public accommodations, like hotels and restaurants, rely on this critical Constitutional clause.
Because of post-Civil War constitutional amendments, Congress has greater latitude to protect people from violent acts based on race, and this law expands those racial protections beyond the limited activity categories found in older laws. This now closed loophole was dramatically illustrated when a federal district court jury acquitted serial race killer Joseph Paul Franklin for the near fatal sniper attack on then Urban League President Vernon Jordan outside a Fort Wayne, Indiana hotel in 1980. While the jury was convinced that the attack was motivated by race, they nonetheless acquitted because existing law bootstrapped a requirement that the assailant also have committed the attack to interfere with Jordan's right to stay at the hotel.
Sessions Questioned Need and Constitutionality of Hate Crime Law
Senator Sessions, who previously served fifteen years as a federal prosecutor, delivered a blistering attack in a floor statement on the legislation before the Senate on July 20, 2009. Among his stated grievances:
"I think two questions should be asked initially. First, is this a crime that uniquely affects a Federal interest, and can it be addressed by an effective and enforceable statute? Second, have local police and sheriffs' offices failed to protect and prosecute this vital interest?"
Ironically, Alabama, Mr. Session's home state answers his second question quite well. It is among a handful of states with the worst record of hate crime recordation and enforcement by authorities of any in the Union. Despite having a hate crime law, in 2015, Alabama, with a population 4.9 million, recorded only 10 hate crimes, while neighboring Tennessee, with a population of 6.6 million counted 221 hate crimes. In 2009, Alabama counted only nine. According to the FBI few Alabama law enforcement agencies meaningfully participate in hate crime reporting.
"The hate crimes amendment is unwarranted, possibly unconstitutional -- certainly, I believe it is unconstitutional in certain parts -- and it violates the basic principle of equal justice under the law. The hate crimes amendment to this bill has been said to cheapen the civil rights movement."
The statute has not come up for a Supreme Court challenge in the six years it has been operational.
Mr. Sessions, also unsuccessfully led an effort to delay a vote on the legislation before its eventual passage. He concluded, "I do not think our focus here is to deal with symbolic legislation that is broad and can expand Federal criminal jurisdiction beyond its historic role and where the facts do not support the need."
Popular in the Community