Co-Authored by Valerie Young, JD, Outreach Director for CPS's Caring Economy Campaign. Valerie's work appears extensively in social media, @WomanInDC on Twitter, and Your (Wo)Man in Washington on Facebook. She also has written for The Shriver Report, Brain/Child Magazine, and SheKnows.com as well as the CPS and CEC blogs.
President Trump's proposed budget adding $54 billion to defense while slashing an equivalent amount from non-defense spending threatens national security. It's a terrifically risky approach calculated to further destabilize the world order – and increase income inequality, squander human capital, and stress family finances.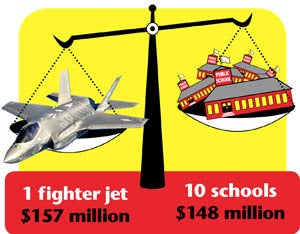 Trump's budget suggests that national strength rests on violence, weaponry, and the ability to destroy. But what we know is that peace, abundant natural resources, and a free, educated, and healthy population are the foundations of a strong democratic nation.
Social Wealth Economic Indicators provide compelling data showing that investments in care, education, and the irreducible needs of people and the environment produce enormous returns. Gains in "social wealth", i.e. that which promotes human well-being, such as natural resources, human capacity, knowledge, and unpaid care within families, engender a rich culture, a robust democracy, and a rising standard of living sustainable for generations. These are all key to real national security – and far better investments than an additional $54 billion on top of a defense figure already larger than the next 7 largest military budgets globally, combined
Budgets are statements of values. Trump typically resorts to hyper-masculine tropes and his budget outline is no exception. What's missing are the so-called "soft" elements critical to navigating internal and external challenges.
Sacrificing the "soft" approach of diplomacy to increase military spending pushes us closer to violent conflict. Except for arms dealers, nobody wins. A recent article in The Atlantic quotes a State Department staffer: "Now, it feels like coming to the hospital to take care of a terminally ill family member."
Care is another "soft" skill ignored by the Administration. About 2/3 of US children live in homes where all resident adults are in the labor force, yet child care in the US remains hugely expensive, highly variable in quality, and unevenly accessible. At the other end of the lifespan, there will be 70 million elders over age 66 by the year 2030, twice the size of that population in 2000. Adult children and other family members are already stretched to the limit, providing many hours of unpaid care worth $470 billion as estimated by AARP in 2013.
Trump promised to lessen the stress on American families. But this will not happen without a national paid family leave policy, which would allow workers to pay their bills while fulfilling their family care obligations. Nor will cutting domestic programs help Americans avoid poverty. On the contrary, it will increase the likelihood they'll need public assistance – and add to public health costs.
Goosing defense spending at the expense of other programs leads to still other costly consequences. For example, cutting funds to programs that reduce domestic violence increases costs in lost time at work and medical care, not to speak of trauma and lost human potential. And there is no amount of defense spending that can protect vulnerable family members from violence. Cutting staff at the federal agency ensuring clean air and water threatens public health, adding still more human and economic costs. Cutting subsidies that low-income families use to pay for childcare pulls parents out of the work force, impedes children's school readiness, and throws the family into poverty, once again, increasing the need for public assistance.
Trump's ill-conceived budget, perhaps not surprisingly, is especially damaging to women – which, in turn, has a very negative impact on the US economy. When women, who do most of the care work, have greater autonomy, economic parity, and access to the same resources as men, living standards are higher across the board. UN Women reports: "Research shows that women across the world subsidize care work by quitting paid work to look after children and elderly parents and for managing household chores. Therefore, the availability of affordable and quality care services is key to promoting women's economic empowerment. It frees up women's time to participate in paid work, while ensuring child development, and autonomy and rights of all people who need care."
According to Nobel prize winning economist James Heckman, the return on investment from high quality early education and care between birth to age 5 is 13%. The gains take the form of higher income for mothers, and better health, higher IQ, income, and greater educational attainment for the child.
It's time for policy makers to take a systemic approach in their budgeting decisions. We know what expands the economy, creates opportunity, spurs innovation, and decreases the burden on the public purse. Social Wealth Economic Indicators have shown us. Increasing public and private investment in care of the planet and people yields economic results far superior to increasing military spending. Diplomacy, cultivating alliances, and collaborating on mutual objectives yield better results at a fraction of the cost of defense spending.
War-mongering and saber rattling is no substitute for investing in people, the planet, and the realization of the full scope of our potential. The evidence is overwhelming that prosperity, democracy, and security are derived from investing in our human and natural resources. Scaling these investments back to pay for more weapons of war? #Resist.
Calling all HuffPost superfans!
Sign up for membership to become a founding member and help shape HuffPost's next chapter
This post was published on the now-closed HuffPost Contributor platform. Contributors control their own work and posted freely to our site. If you need to flag this entry as abusive,
send us an email
.