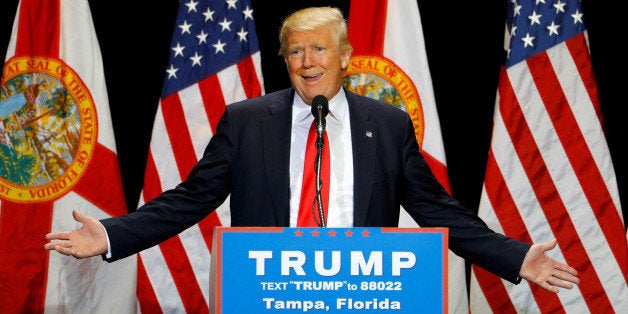 Who better to tout a bigoted, immoral, repugnant, bullying lunatic than Mike Tyson, Don King, Bobby Knight, Dennis Rodman, Latrell Sprewell, John Rocker, and Dennis Rodman?
The aforementioned are among the many athletes and sports figures who have endorsed Trump.
But it's far from everyone.
When Trump selects which athletes will speak at the convention, he's got a deep bench to choose from:
Don King, racketeer, swindler, boxing promoter. Trump praised the endorsement from King, the Keyser Soze of sports, who went to prison for beating a man to death and when paroled became a boxing promoter. Many of his clients sued him for fraud. Mike Tyson says of his former manager, "(King is) a wretched, slimy, reptilian ... This is supposed to be my 'black brother', right? He's just a bad man, a real bad man. He would kill his own mother for a dollar. He's ruthless, he's deplorable, he's greedy ... and he doesn't know how to love anybody." Or maybe Tyson was referring to Trump?
Bobby Knight, disgraced former college football coach. Knight was fired as head basketball of Indiana University after, among other things, assaulting a man in a restaurant parking lot, assaulting a Puerto Rican police officer, kicking a player, choking a player, shoving an opposing team's fan into a trash can, and choking one of his team's fans.
Dennis Rodman, one of the best cross-dressing small forwards in NBA history. Rodman, who has been arrested multiple times for spousal abuse and failure to pay child support, appeared on Trump's "Celebrity Apprentice." Rodman calls himself a friend of Trump's but says he has a much closer relationship with North Korean dictator Kim John-un, who he describes as "a friend for life."
Terrell Owens, former NFL receiver and deadbeat dad. Owens once appeared on Dr. Phil after three of the four mothers of his children accused him of stiffing them on child support. The Sports Post called him "the most hated man in sports." Owens also has been identified as one of the biggest jerks in NFL history, appearing on the list with at least two alleged murderers. The list also included coach Rex Ryan and offensive guard Richie Incognito (both of whom have endorsed Trump).
Tom Brady, Super Bowl-winning quarterback, will be suspended for the first four games of the NFL season for cheating during a playoff game. Brady says he's appealing. He may be a lot of things but appealing is not one of them.
John Rocker, bigoted, disgraced former major league baseball pitcher. Rocker was suspended by Major League Baseball after expressing slurs about blacks, gays, Asians, and just about anyone everyone else -- except other bigoted rednecks. He referred to a black teammate as a "fat monkey." He used steroids but even they weren't enough to save his career.
Calling all HuffPost superfans!
Sign up for membership to become a founding member and help shape HuffPost's next chapter