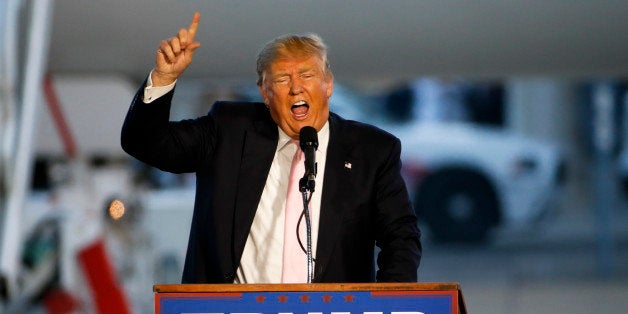 The Trump brand, once synonymous with ostentatious luxury, has been twisted by the candidate himself into a worthless symbol of bigotry, hatred and exclusion. The moment that Donald Trump announced his candidacy, he condemned the entire 58 million-strong Latino community in the United States as rapists, murders, drug dealers and criminals. Trump has targeted ethnic minorities as the centerpiece of his campaign and the only promise for which he has released a detailed agenda.
Even his campaign slogan "Make America Great Again" is an overt message to his followers that he will somehow turn back the clock on our nation's demographic changes. Making America great in Trump's ominous rhetoric means excluding immigrants, Latinos, Blacks, Asians and the disabled, just to name a few.
A clear example of the rebranding of Trump can be seen in high schools across the country where kids are using Trump's name and likeness to taunt racial minorities. Recently in Indiana, students waved a cutout of Trump's face while chanting "Build a wall! Build a wall!" during a basketball game against Bishop Noll Institute which has many Latino students. A couple of days later, students from a predominately white school in Iowa were chanting "Trump! Trump!" during the game against a high school with a diverse student population.
Emboldened by candidate Trump's ability to sell overtly racist views as merely "politically incorrect" and still command relentless media attention, some students are using Trump as a synonym for the bigotry and exclusion that his brand now represents.
Young people are not the only ones to recognize the devolution of Trump's brand. The candidate's hateful rhetoric has emboldened the KKK to resurface and its former leader to endorse Trump for president. Trump's initial refusal to denounce David Duke in an interview with CNN confirmed to the KKK and their sympathizers that they have found the right candidate.
Two white brothers in Boston beat a Latino homeless man with a metal pole and urinated on him, telling police that "Donald Trump was right, all these illegals need to be deported." Trump's response was to claim that his followers are "very passionate."
For a businessman who values his personal brand at $3.3 billion -- more than a third of his total worth -- Trump's eagerness to associate his name with hate speech defies the norm. Virtually all other businesses in America do everything possible to protect their brands rather than to destroy them.
Yet Trump's naked appeal to white angst about our nation's changing demographics is not unique, just the most overt. He has dispensed with the usual dog whistles and gone straight for the bullhorn, spewing hateful rhetoric and betting that racialized whites are a bigger block of voters than many previous candidates thought possible.
By playing on people's hatred, fear and prejudice, Trump is bringing out the worst in Americans in order to win their vote. He is exploiting and aggravating racial divisions in the United States in a gambit to win the Republican Party's nomination for president.
Yet he is also transforming his namesake luxury brand, gaudy as it was, into the brand of hate and dragging down the Republican brand along with him in the process. In the end, Trump's brand-trashing is the path to both moral and financial bankruptcy. But it is the Republican party that will need to pick up the pieces and find its true soul.
REAL LIFE. REAL NEWS. REAL VOICES.
Help us tell more of the stories that matter from voices that too often remain unheard.