Former President Donald Trump knew his body language would matter at his April 4 arraignment.
"[Trump] has talked to advisers a lot about his so-called 'perp walk,' where he is led down a hall to a courtroom: Should he smile or not? How should he handle it?" Haberman said.
Podcast host Michael Barbaro considered what might be running through the former president's head: "[Should I look] morose? Am I smiling? Am I defiant or am I sad?"
"He can lean into the spectacle of what that day is going to be, and he can be deeply anxious about what is going to happen to him at this moment that he has been trying to avoid for decades … This is a man for whom the fear of public humiliation has been an animating force for decades," she said.
To get a more professional take, we asked body language experts what they thought of Trump's bearing throughout the day.
While news outlets were denied access to broadcast the hearing, photographers from The Associated Press and Reuters were allowed inside the courtroom. Other media outlets captured video of Trump outside.
The former president's visage changed throughout the day, the body language experts told us: emboldened by his anger at one moment, seemingly registering the personal and political loss the next.
As he left Trump Tower to head to the Manhattan courthouse, we got standard-issue Trump bravado: a pumped first and a wave to the crowd, with a stern look on his face.
The raised fist gained prominence during the Civil Rights Movement as a signal of solidarity and strength, but Trump has frequently used the gesture during his political tenure.
"In this setting for Trump, he raises his fist as he addresses the crowd before heading into court," said Karen Donaldson, an author and a body language expert. "I read this as a mix of performance, solidarity with an undertone of defiance."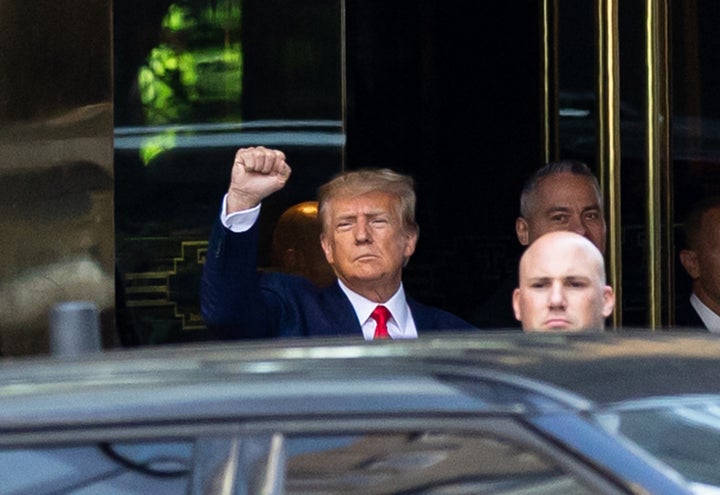 Arriving at the New York criminal court, we saw his signature scowl.
"This is his standard look that we've seen [for] years from him," said Traci Brown, a body language expert and author of "How to Detect Lies, Fraud and Identity Theft."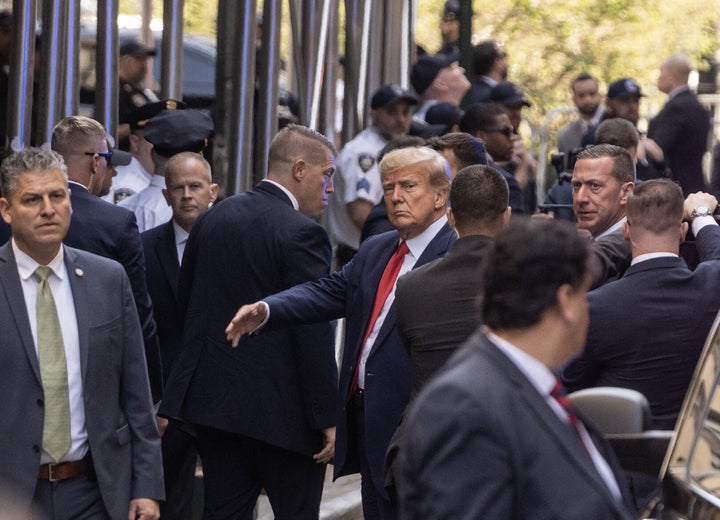 "When guys scowl like this, viewers register that they're angry at something outside of them. When women scowl like this, viewers register that they're just an angry person," she noted.
Donaldson called the look a "confident stare-down."
"He has security around him, however, he doesn't seem worried in the least as he turns and makes time to wave," she said.
Trump's emotional tenor seemed to change once he entered the court, a scene recorded on video:
Blanca Cobb, a body language expert and speaker, suggested that this might be the moment the trial became real for Trump.
"If you watch the clip, you see no one holds open the door for Trump," she said. "Regardless of political affiliation, most people would agree that a president of the United States should be treated with respect. What a fall from grace for any president."
Brown noticed a certain sadness, too.
"I've never seen anything like this before from him," she said. "It's evidenced quickly by his eyebrows tilting up above his nose. It's a sad look that indicates a loss."
"We don't know what that is, but the list of possibilities [includes] reputation, money, status and power," Brown said. "It doesn't last long, though, and he goes back to his angry scowl."
Inside the courtroom, Trump's body language wasn't as powerful as it was when he left Trump Tower, either, Donaldson said.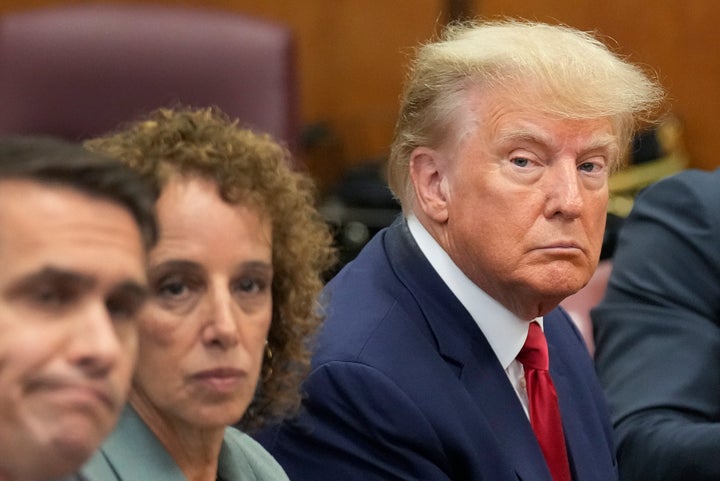 "We witness him sitting with his shoulders slumped," she said. "When you hunch your shoulders, you're making yourself smaller; it can signal anxiety and it's more of a protective gesture than a gesture that exudes confidence."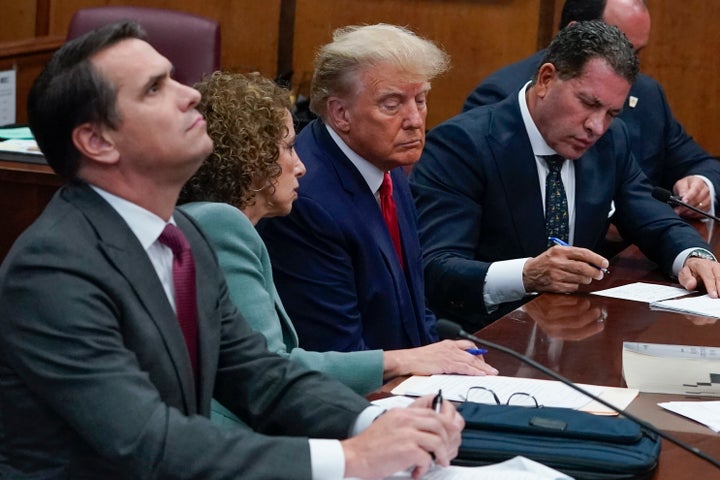 In the image below, it looks like "his power and confidence [have] been stripped away," Donaldson said.
Cobb noticed the deep frown on Trump's face.
"The corners of his lips are pulled down so much that his chin is accentuated, which signifies sadness," she said.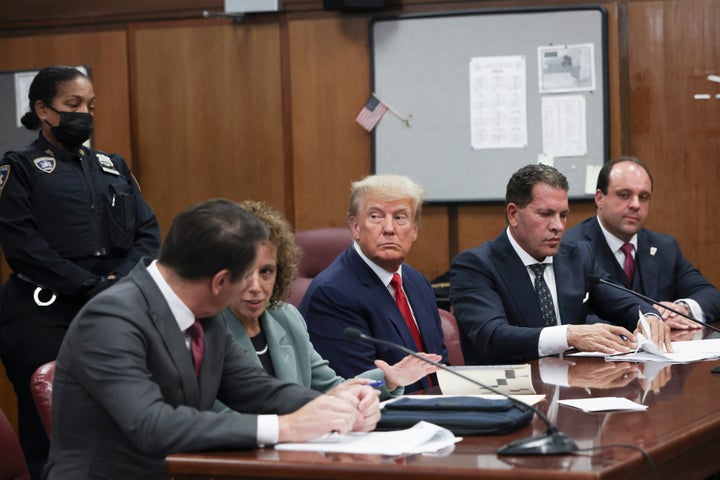 There was one photo that struck all of our body language analysts as particularly striking.
In the photo, Trump scowls with his eyebrows and forehead raised ― a facial expression that calls for some next-level facial contorting.
"This is hard to do," Brown said. "It shows a request for approval. I'd like more context around exactly what was being said at the time, but of course we don't have that."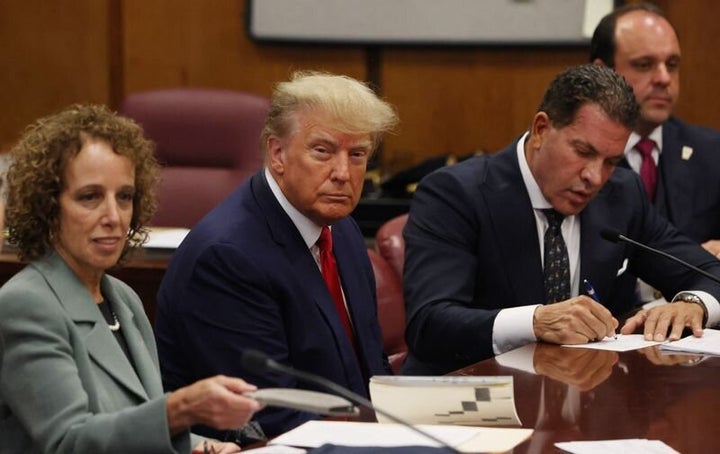 After years of analyzing Trump's face for different media outlets, Brown said she'd never seen anything like this before in his political career.
"He's for sure experiencing some different emotions than what he's ever shown in public in some of these photos," she said. "It's off-brand."
Cobb read high tension in the photo.
"He's clearly angry, as evidenced by the tightening of his eyelids and straightening and tightening of his lips," she said. "The contracted forehead displays tension."
Why do we care about any of this?
We also asked our body language experts why political pundits and laymen alike enjoy dissecting photos like this.
For starters, without video cameras allowed in the court, we're starved for visuals. Thank goodness that a press pool of photogs was allowed in, because the courtroom sketches were ... not exactly edifying: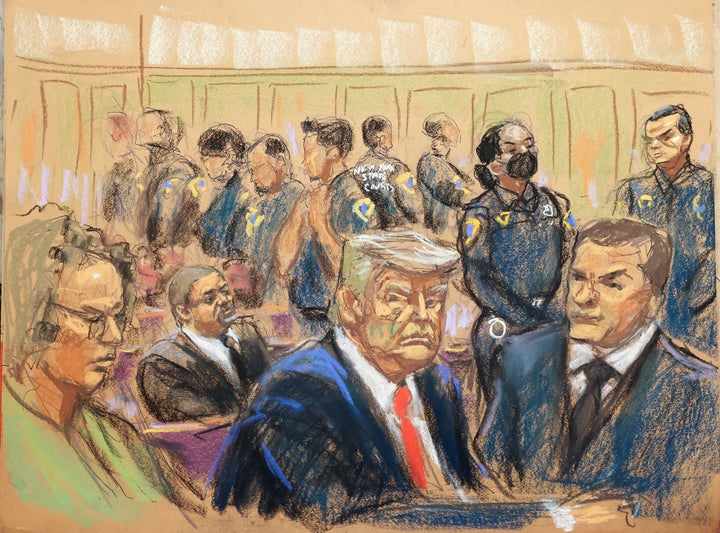 In general, people are always fascinated by trying to figure out what public figures are communicating with their body language, facial expressions and clothing. (Look at all the coverage of Gwyneth Paltrow's blinking and "billionaire chic" wardrobe in her ski case in Park City, Utah, last week.)
"We want to know what's going on with anyone and what's not being said from people we watch all the time, from any kind of celebrity," Brown said.
Brown also isn't surprised people are partisan in their reading of Trump's courtroom visage: What's glum or quietly raging to one person is stoic and in control to another, depending on whom they voted for.
"Politicians who try their best to hide emotions have them leaked out, but we see what we want to see," she said. "Body language tells you what's on someone's mind, but not the why. If people aren't trained, they'll put their personal spin on it."
Before You Go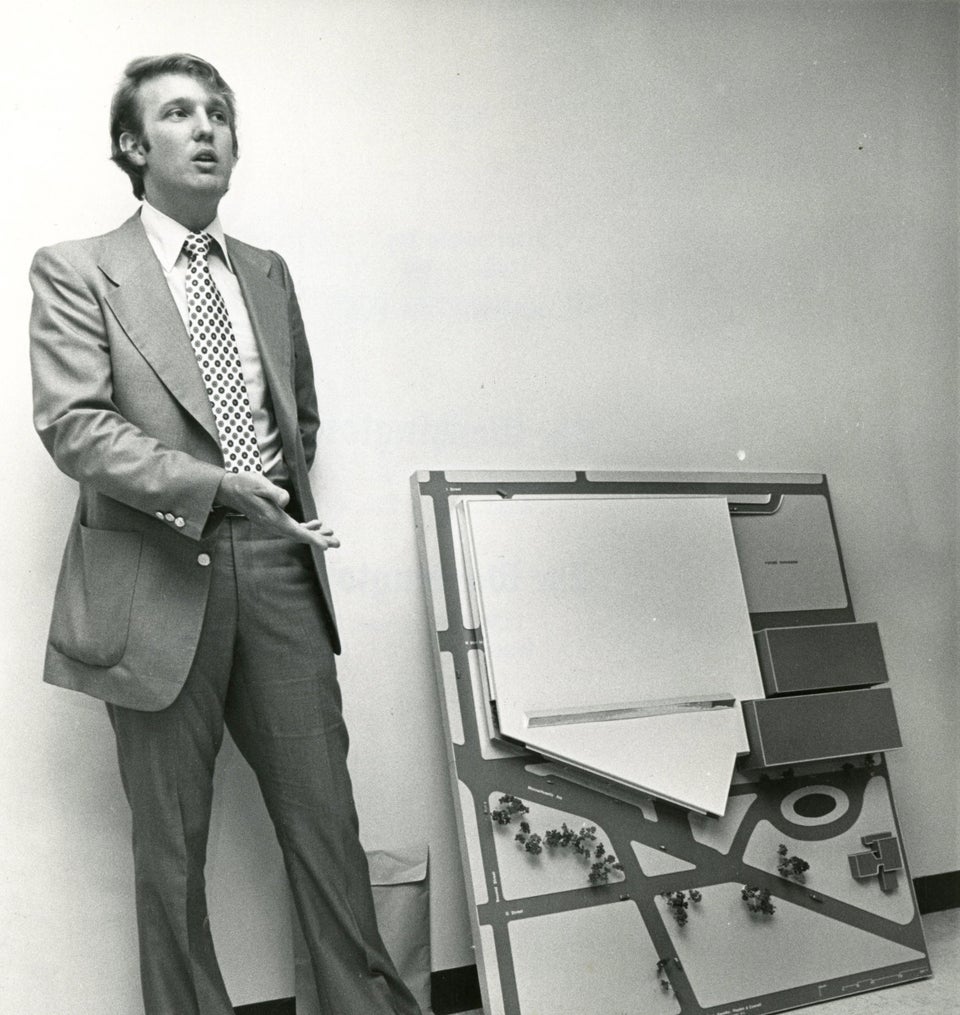 Donald Trump Style Evolution