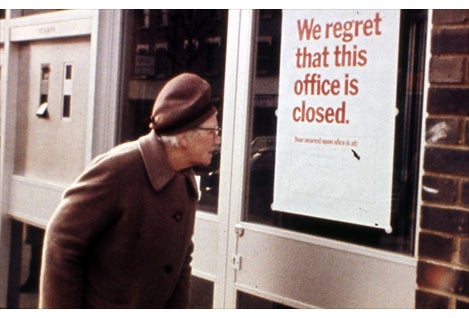 As a new fact sheet from our organization, Social Security Works, shows, vital services that Americans rely on — and, importantly, have already paid for — are under continued threat from ongoing, harsh limitations on the operating budget of the Social Security Administration (SSA).
Republicans in Congress have allowed these budget restrictions to continue as part of their overall cuts to important government agencies and programs, despite the fact that no funds are appropriated for SSA's budget. Instead, lawmakers have unjustifiably limited the amount of Social Security's annual surpluses and growing reserve that can be used for SSA's operating budget. If SSA were properly treated and accounted for, related programs, like Meals on Wheels and other government spending could be increased without adding at all to the deficit.
Social Security's surplus totaled $35 billion in 2016 alone, adding to its already-substantial $2.8 trillion reserve. Trump and the Republican-controlled Congress should permit Social Security to spend just a few hundredths of one percent more of its reserve on vital services. These are funds that the American people have already paid for services they deserve. Instead, SSA has been starved of needed funds. On top of that, Trump's proposed budget would provide SSA with not even sufficient additional funding to meet the agency's fixed costs—meaning that SSA will continue to experience unnecessarily austere limitations that will cause longer wait times, backlogs and other wasteful, unnecessary hardships.
SSA oversees the administration of Social Security benefits. Historically, it has been known for its world-class, in-person services to millions of Americans through its network of over 1,200 field offices. But over the past six years, SSA's budget has been cut by 10 percent (adjusted for inflation). During the same period, the number of Social Security beneficiaries has increased by 13 percent!
This means that SSA is forced to handle rising workloads with significantly fewer resources at a time when its services are needed most by the public. Moreover, Congress has increasingly directed how SSA can spend its limited budget. Congress has steered money away from program administration and services to the public, instead forcing already inadequate administrative dollars to be spent on so-called program integrity measures, which target virtually non-existent waste and fraud.
Arbitrary restrictions on SSA's operating budget have already led to office closings, as well as reduced hours and staffing at remaining offices — along with the virtual elimination of SSA's mobile offices, which serve rural areas far from field offices. The FY2017 Continuing Resolution (CR) has only exacerbated these constraints, leaving SSA with insufficient resources to meet its fixed costs and improve its services to the public. As a result, SSA has been forced to freeze hiring and promotions, while eliminating virtually all overtime, which previously allowed employees to work longer hours, catching up, after business hours, to ensure that all benefits are correctly paid on-time and in-full.
SSA's disability hearings backlog has grown to record numbers, with over 1.1 million Americans awaiting a final determination;

On average, nearly 18,000 visitors to SSA's field offices each day must wait more than an hour to be served;

Over 1 in 8 (13 percent) callers to SSA's 800 numbers receive a busy signal, while those who are eventually able to reach an agent must wait an average of 18 minutes;

Due to busy signals and long wait times, nearly half (47.7 percent) of callers to SSA's 800 number abandon their calls; and

Roughly half of customers must wait more than 21 days for an appointment in a field office.
These reductions in services will only get worse if the Republicans in Congress (who are likely to reject Trump's budget) have their way and further constrict the amount of Social Security's revenues that can be spent on SSA's operating budget. For each percentage point cut to its budget, SSA will be forced to shutter its offices for one week. For just one single day of these office closures, SSA cannot fulfill critical services to the public, including:
171,000 field office visits;

150,000 national 800 number calls;

22,000 retirement and survivors benefits claims, and 10,000 initial disability benefit claims;

2,500 disability hearing decisions; and

68,000 new Social Security numbers.
As much as Trump and the GOP would like to pretend otherwise, unnecessary limitations to SSA's operating budget are not abstract, or merely routine budgeting. Because lawmakers do not appropriate federal funds for Social Security's administrative expenses, but merely limit the amount of its revenues that can be spent on program administration, these limitations are entirely unnecessary. Indeed, they are penny-wise and pound-foolish.
Trump and his Republican colleagues are fond of asserting that government should be run more like a business. Any business that had a product as popular and successful as Social Security, delivered efficiently, spending less than a penny of every dollar on administration, and running huge surpluses, would be expanding its customer service, not restricting it. Yet Trump and his Republican Congress are proposing just the opposite.
Visitors to field offices aren't just seeking in-person service because of personal preference, as they might at a bank or post office. The majority of Americans visit SSA's field offices at critical and stressful moments in their lives. Many are preparing for the important, life-altering decision of applying for retirement or disability benefits. Some are contending with the death of a working family member. At these moments in their lives, Americans depend on in-person service from staff who have a detailed understanding of Social Security, and who can offer knowledgeable, personalized, and compassionate assistance.
Further limitations to SSA's budget will greatly harm SSA's ability to administer benefit payments while also maintaining critical services to the public. The cost of ensuring that SSA can restore its services to the public and continue fulfilling its administrative duties is incredibly small, and would cost taxpayers and our federal government nothing. Instead of continuing to unnecessarily limit the amount of Social Security's revenues that can be spent on administration, Congress should allow SSA to use a few hundredths of one percent of its accumulated surplus of nearly $2.8 trillion to restore and expand the vital services it provides to the American people.
Moreover, because Congress conducts appropriations for SSA as part of overall appropriations for Labor and Health and Human Services programs (aka Labor-HHS), SSA essentially, but inappropriately, "competes" head-to-head with NIH and other important agencies and programs. Because Social Security is self-financing, with no borrowing authority, it does not add a penny to the deficit. Neither do the costs of administering the program, which are also financed from the same revenue, and, like the benefits, do not add a penny to the deficit either.
Going forward, Congress should address how much of Social Security revenues should be spent on administration independently of its appropriations for Labor-HHS. Furthermore, since Social Security doesn't contribute a penny to the deficit, appropriations for important Labor-HHS programs, which have also experienced severe and arbitrary cuts, should be increased by the $13 billion currently allocated for SSA.
There is only one explanation for these continued and unnecessary restrictions to SSA. At a time when Republican lawmakers are working relentlessly to cut important federal programs and services—such as our national park system, our public infrastructure, and our research into treating and curing illnesses—Social Security continues to prove that government can work efficiently to improve all of our lives. Indeed, it shows that there are some tasks that the government performs better than the private sector. More than any other federal program, Social Security puts the lie to the conservative anti-government ideology. The Republican answer? Starve the beast. In this case, starve the field offices, national hotline, and other services that Americans have already paid for.
This is outrageous. It is past time that we remind Trump and his Republican colleagues that they work for us. They should stop limiting SSA from spending the money we have all already paid to ensure that our Social Security benefits are carefully and accurately administered, and that all of us can receive, timely and conveniently, the important services SSA provides.