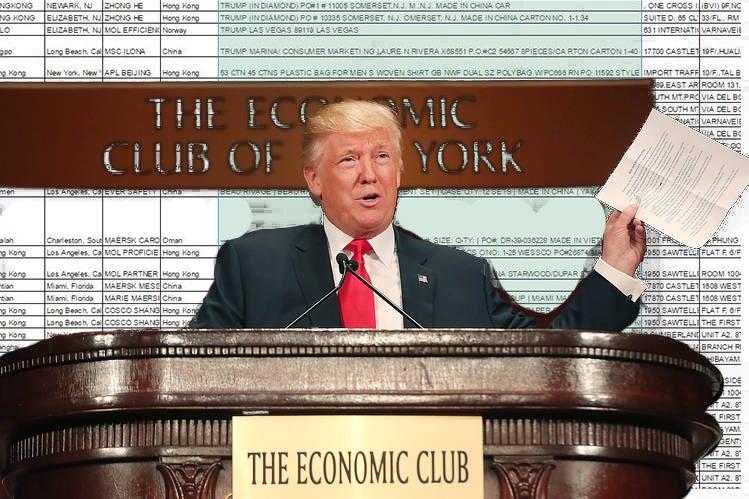 Republican nominee Donald Trump is selling his supporters a barrel of snake-oil about his ability to bring manufacturing jobs back to the United States.
Recently uncovered shipping documents reveal that Trump kept a fleet of ships busy importing over a thousand shiploads of overseas goods – mostly from China – which amounted to one delivery every three days for the last ten years!
Brands like Ivanka Trump's G-III collection are listed, as well as the her line of Marc Fisher Footwear, with a specificity, which can tell you exactly how many tons of cheap Chinese consumer goods the Trump Organization's many ventures imported.
The trove of data which reveals precisely what goods Trump is bringing to America on the cheap, running the gamut from Ivanka Trump's clothing line, to parts for Trump's hotels, items for the Trump Towers, Trump's family owned winery and much much more.
"Trump says that he is going to bring jobs to this country, but he can't even make his products in the United States," said Scott Dworkin, senior advisor to the Democratic Coalition,"and as these shipping records show, the Trumps are huge shoppers in China for pretty much everything they market in America. Blatant hypocrisy is unacceptable from anyone, let alone from the Republican candidate for the highest office in our country."
DCAT also noted in a lengthy report, that Trump's merchant shippers conducted an extensive business with Iran during those years, which from 2010 until early this year were subject to embargo restrictions.
In a list this extensive, there's bound to be a few irregularities, and that's why we decided to provide the entire list to our readers and let them pore over the extensive documentation of Donald Trump's massive, Chinese import-driven business. 
At the very least, these cold, hard facts should come as a wake-up call to Trump's supporters about just how much business the Republican candidate is really conducting with China.
If the Republican nominee was really the champion of American labor, he'd have bought Made in the USA goods all of these years to prove his point.
Instead, Donald Trump needed a virtual armada of foreign shippers to bypass American workers in the Midwest just so the Republican nominee could import everything on the cheap for big profits, while paying no income taxes.
Calling all HuffPost superfans!
Sign up for membership to become a founding member and help shape HuffPost's next chapter
This post was published on the now-closed HuffPost Contributor platform. Contributors control their own work and posted freely to our site. If you need to flag this entry as abusive,
send us an email
.