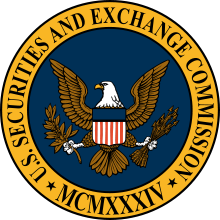 Speak with any CEO of a sizeable business outside the US and chances are they'll know two words about the US capital markets, "Sarbanes Oxley". For them, Sarbanes Oxley raises the specter of facing criminal liability and being sued by litigious plaintiffs who are all too eager to turn to the US courts for redress. Right or wrong, this perception of the US system has had a chilling effect and there is evidence to suggest that foreign companies have delisted from the US markets over increased compliance costs.
The situation for US domestic companies is not much better with many companies opting to stay private longer in part to avoid the "headache" of being public. In many respects, it's not surprising that, according to Renaissance Capital, 2016 turned out to be the year with the lowest number of IPOs since 2009 despite the S&P 500 reaching record highs.
Enter Walter "Jay" Clayton, President-elect Trump's nominee to head the U.S. Securities and Exchange Commission (SEC). Clayton, a seasoned corporate lawyer of white-shoe law firm, Sullivan & Cromwell, is credentialed with an impressive background of deal-making having served in the front-lines of major M&A and capital markets transactions. According to former SEC lawyer, Broc Romanek, it has been almost ten years since there was a deal lawyer that headed the SEC and even longer since the SEC Chair was "plucked" from a law firm.
Contrast Clayton's background with that of outgoing SEC Chair, Mary Jo White, who prior to heading the SEC was a federal prosecutor known for high-profile prosecutions of mobsters and terrorists and during her tenure as SEC head (which commenced in 2013) has placed a strong emphasis on enforcement.
During fiscal years 2014-2016, close to 2,500 enforcement actions were brought by the SEC and according to the SEC, more enforcement actions were brought during White's tenure than in any other three-year period in the SEC's history. Actions spanned the entire market spectrum including financial reporting-related misconduct, insider trading, misconduct by so-called gatekeepers such as accountants and lawyers, market manipulation and foreign corrupt practices.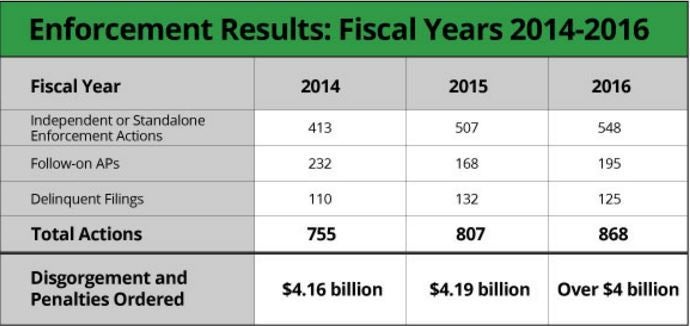 Underpinning White's "bold and unrelenting" enforcement agenda is the belief that strong enforcement deters white collar wrongdoing in pursuit of the SEC's core mission of protecting investors.
However, a no-less important core mission of the SEC is the facilitation of capital formation. While it is true that under White, smaller companies have more capital raising tools at their disposal, including crowdfunding and Regulation A+, the SEC moved at snail's pace in implementing JOBS Act reforms and the results to date have been mixed at best.
With a deal-making background, Trump's choice of SEC head is signaling that the fostering of capital formation will soon rise to the forefront of the SEC agenda. In the press release announcing Clayton's nomination, Trump said "[w]e need to undo many regulations which have stifled investment in American businesses, and restore oversight of the financial industry in a way that does not harm American workers."
Critics of Trump's decision are spinning Clayton's nomination as a "Wall Street insider" that will favor Wall Street over Main Street. However, this fear-mongering ignores a reality that many a deal-maker is keenly aware of - the ever-increasing web of securities regulation that characterizes capital formation in the US makes it increasingly difficult for companies to raise money and produce jobs and opportunity for growth.
There is already talk of dismantling the Dodd-Frank Act and it remains to be seen how this will play out over the months and years ahead. What is for sure is that there are many initiatives for the facilitation of capital formation that have gone unaddressed or remain in limbo.
Take for example the legal ambiguity surrounding activities of so called "finders" who receive a success fee for introducing companies to investors. The legal risk posed by finders - as a result of not being registered with FINRA - hampers the ability of companies to raise capital, particularly those that are too small to attract the interest of FINRA registered broker-dealers. In 2005, the American Bar Association proposed the creation of a broker-dealer lite registration regime for finders that was designed to legalize the activities of finders involved in private placement transactions. Fast forward over ten years later, and this same proposal, albeit in a slightly different form, is still being proposed.
And this is just the tip of the iceberg. There are many more proposals for reform, some of which may seem trivial to the uninitiated, but if implemented have the potential to have a meaningful impact on spurring capital formation. They are just waiting for the political will and leadership with an acute understanding of the challenges faced by companies seeking to raise capital.
The views expressed here are those of the author and do not necessarily reflect those of McDermott Will & Emery or its clients
Calling all HuffPost superfans!
Sign up for membership to become a founding member and help shape HuffPost's next chapter
This post was published on the now-closed HuffPost Contributor platform. Contributors control their own work and posted freely to our site. If you need to flag this entry as abusive,
send us an email
.