Just as Donald Trump is experiencing an unexpected backlash from his conservative base of supporters for his withering attacks on his attorney general, Jeff Sessions, comes his tweetstorm in which he says he will mercilessly ban transgender people ― who've been serving openly in the military since President Obama lifted the ban on open service last year ― from serving any longer.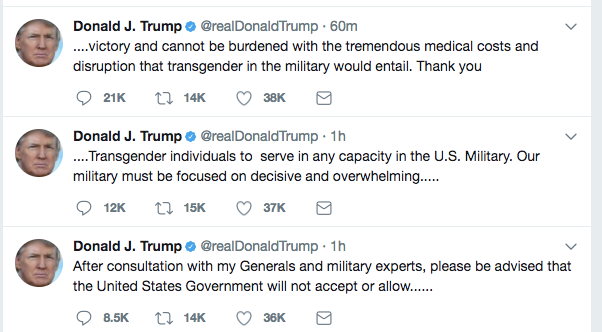 This brutal, authoritarian act against an embattled minority, men and women who are serving their country dutifully and honorably, coming at this particular moment, is not a coincidence. It reveals how Trump will throw the most vulnerable people under the bus when he feels cornered and threatened ― and make no mistake, he is feeling very threatened right now.
Trump has been pummeling Sessions ― not for the job he's doing as attorney general in carrying out horrific policies on issues such as immigration and civil rights, but for having recused himself in the Russian collusion investigation early on. His rantings have shown that Trump is clearly very worried about what the special counsel, Robert Mueller, has found or will find. He's infuriated that Sessions isn't "protecting" him, and blames that rather than his own firing of FBI director James Comey as the reason why the special counsel was appointed.
Some have speculated Trump wants to replace Sessions with someone who will fire Mueller. But the attacks on Sessions, a stalwart of the conservative movement and white nationalists, have gotten the right-wing media, from Breitbart to Rush Limbaugh, up in arms, and have brought out Sessions' defenders on Capitol Hill.
And yet, Trump hasn't stopped attacking Sessions ― going after him again just this morning ― because he can't. Clearly, even if it means harming himself with the base, Trump has to try to force Sessions to resign because whatever Mueller may have will create a worse fate than losing a portion of his base.
So, to give the base something to chew on, he decided to throw them transgender people. It's an issue that has been percolating for months, driven by Vice President Mike Pence. Trump appears to be lying when he says that "after consultation with my Generals and military experts" he decided to ban transgender people from service. In fact, just two weeks ago, under the radar, Defense Secretary James Mattis lobbied against an amendment to the defense spending bill, driven by anti-LGBTQ conservatives, that would have ended medical care for transgender people in the military who are transitioning.
As I reported, Pence, according to advocates, was lobbying House members to pass the amendment. But Mattis was successful, along with LGBT advocates, in getting 24 vulnerable Republicans to join all Democrats in voting down the amendment. Both Pence and House Speaker Paul Ryan expected the amendment to pass, and it was an embarrassing defeat. It is true that Mattis had put off for six months a plan to allow new transgender recruits. But this was because two of the service chiefs had asked for more time to prepare; advocates had expected Mattis to follow through.
But Pence didn't give up. Just this morning, before Trump's announcement via tweets, Foreign Policy, citing several sources, reported that Pence was behind several new amendments introduced by anti-LGBTQ conservatives in the House to deny transgender people necessary medical treatment.
Vice President Mike Pence and his staff have been working quietly to get Congress to roll back the Defense Department's year-old policy covering medical procedures for transitioning service members, according to sources.

In a flurry of last-minute activity, House Republicans have submitted three separate but identical amendments to the 2018 defense spending bill this week that would prohibit the Pentagon from using government money to "provide medical treatment related to gender transition."
Conservative groups such as Family Research Council and Heritage Action have been working furiously on the issue, and were not happy when the previous amendment failed. At a time when Trump is experiencing a backlash from conservatives who support Sessions ― also a virulent opponent of LGBTQ rights ― moving to simply undo the Pentagon's directive under Obama allowing open transgender service seems awfully convenient.
It also saved Pence from having to lobby once again for an anti-trans amendment, pitted against Mattis, and restored Pence's influence after the defeat two weeks ago. And it gave Trump something to throw to the base as he continues his attacks on Sessions, something he obviously believes he must do even if it angers some or many of his supporters.
Popular in the Community