To many others, mostly those in marginalized communities who are acutely familiar with the hate Trump has frequently espoused, his comments were jarring ― but nothing out of the ordinary.
Despite what those in either camp believe, one thing is clear: Trump's defense of white supremacists is an irrefutable moral failure that only serves to embolden the racists who helped to elect him, uphold the structures of white supremacy upon which this country was built, and jeopardize the safety of all Americans who don't identify as white, Christian and conservative.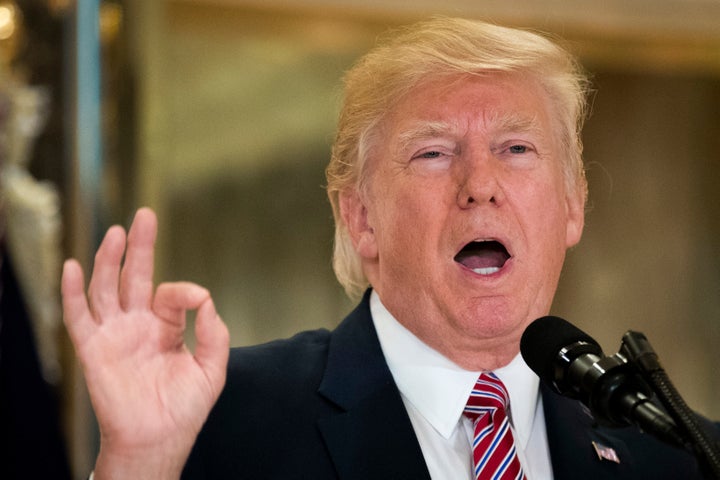 During his remarks on Tuesday, Trump echoed the controversial initial statement he made on Saturday immediately following the rally, in which he vaguely denounced hatred, placing blame on "many sides" and failing to specifically mention hate groups by name. He followed those remarks by releasing another statement on Monday, where he rigidly read from a teleprompter as he called out white supremacists and condemned their actions ― in a move that came two days too late and did not sit well with former KKK leader David Duke, who also participated in Saturday's rally.
But Duke's concerns were short-lived, as Trump delivered statements on Tuesday reverting to his initial remarks and placing blame for the violence at the rally ― which left one woman dead and 19 others injured ― on "both sides," including the counter-protesters, many of whom led a peaceful protest rejecting racism and white supremacy.
"You had a group on one side that was bad, and you had a group on the other side that was also very violent," Trump said, saying he had reached this conclusion after knowing the facts. "Nobody wants to say that. I'll say it right now. You had a group on the other side that came charging in without a permit and they were very, very violent."
The protest, which was a direct reaction to the planned removal of a statue honoring Confederate Gen. Robert E. Lee, showed plainly that taking down these Confederate symbols will not erase racism but rather help to expose it. Trump did not engage with this observation nor did he acknowledge the painful history behind the men honored through such tributes. Instead, he rebutted by mentioning monuments to slave owners like Thomas Jefferson and George Washington, questioning, "Where does it stop?" Trump even went so far as to describe the racists who rallied in Charlottesville as "fine people" and accuse the media of treating them "absolutely unfairly."
Unsurprisingly, his comments stunned America.
Unsurprisingly, this is the Trump America has always known.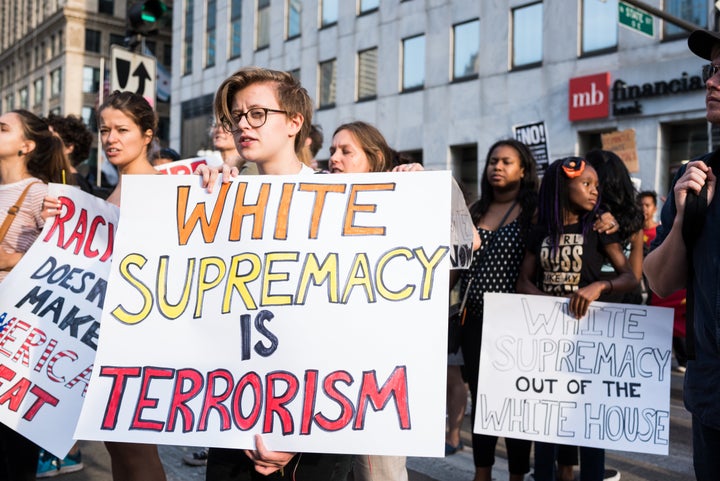 Trump showed his true colors on Tuesday in a sickening display of cowardice that appealed to his racist base of supporters, proven in one way by the praise showered on Trump by white supremacists for showing what Duke infuriatingly called "honesty" and "courage."
This is the same Trump America has seen time and again. Throughout his presidential campaign, Trump emboldened white supremacists in ways that affirmed their hatred of marginalized groups. He failed to adequately address any issue affecting marginalized communities and exemplified racist behavior of his own that showed he was in no way fit for the presidency. On Tuesday, he displayed his inadequacies yet again by sympathizing with white supremacists, refusing to identify the death of 32-year-old Heather Heyer as a terrorist attack, and failing to express complete intolerance for such acts of hate in a country he was elected to govern.
With his latest remarks, Trump only continues to jeopardize the safety of these communities by sending a message of tolerance to hate groups who do harm against them. Heyer, a white woman, was the sole casualty from this weekend's clashes, but her death serves as an important reminder that no one is safe under Trump's reign, especially people of color, who were among the most vulnerable targets of violence at Saturday's rally.
""They're coming for bodies, they're coming to hurt predominantly people of color.""
"They're coming for bodies, they're coming to hurt predominantly people of color," Daniel Straughn, a Charlottesville-based organizer, told HuffPost of the white nationalists who rallied and attacked several people, including two black men who have since spoken out. "They came to strike terror into the heart of Charlottesville."
America has seen the violence racism can wreak not only in Charlottesville but in cities across the country, which saw a spike in hate crimes in the months after Trump was elected. Women, Muslims, Jewish people, people of color and queer Americans were attacked by those supporting his racist dog-whistle pitch to "make America great again." What's to come if the president continues to condone such behavior? How many more lives will be lost as a result?
Trump's inaction is less surprising when his past is taken into consideration, including how he began his political career by launching birther attacks against former President Barack Obama, kicked off his presidential campaign by attacking Mexicans and quickly ascended to the office of the presidency by targeting Muslims and other marginalized groups. He manages to find ways to excuse and broadly defend neo-Nazis while never extending the same courtesy or nuance to Mexicans, Muslims and Black Lives Matter protesters who demand the basic human rights of dignity and respect.
During his time in office, Trump has only spurred greater division ― drawing flashbacks to an America where the KKK did not face repercussions and before basic civil rights laws existed for people of color. Now, not only does America stand to not make progress in that regard ― with Trump enlisting people with white supremacists beliefs to work in the White House, including Attorney General Jeff Sessions and National Security Adviser Steve Bannon ― but the country could roll back the efforts that have been made to reach an equitable society.
Activists and counter-protesters refuse to back down, planning demonstrations of their own denouncing Trump and his racist supporters. However, to help maintain order, Trump must not give new energy to delusional racists demanding more white power. He must squarely place blame for Saturday's rally on the white supremacists spewing hate, condemn their violence, and reckon with the fact that white, homegrown terrorists pose one of the greatest threats to America's safety.
That is, outside of himself.
Clarification: This article has been updated to reflect that while Heyer's was not the only death connected to the events in Charlottesville, hers is the only one known to be a direct result of the violence.
Before You Go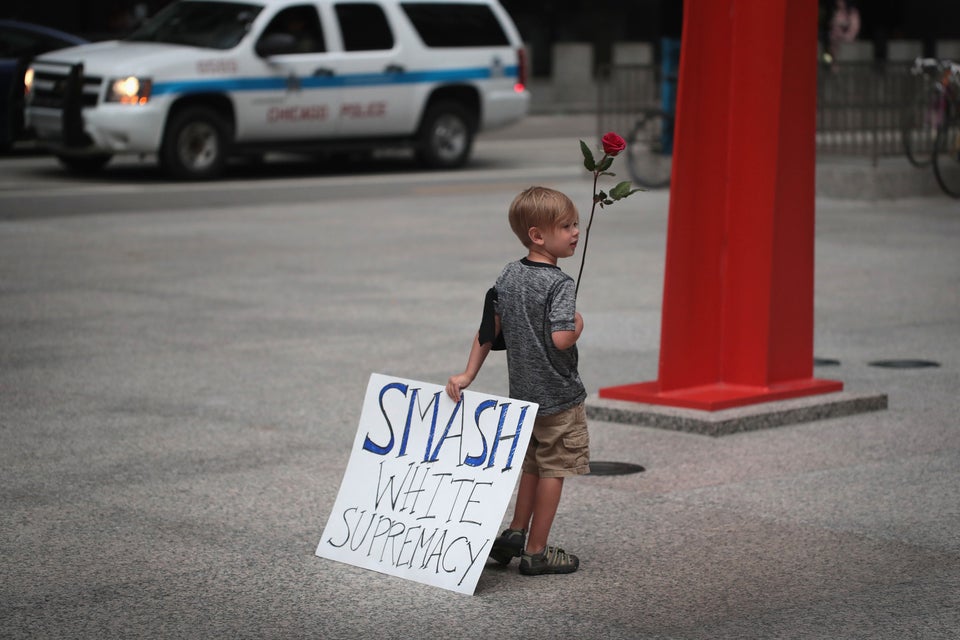 Powerful Signs From Charlottesville Protests Across The U.S.
Popular in the Community