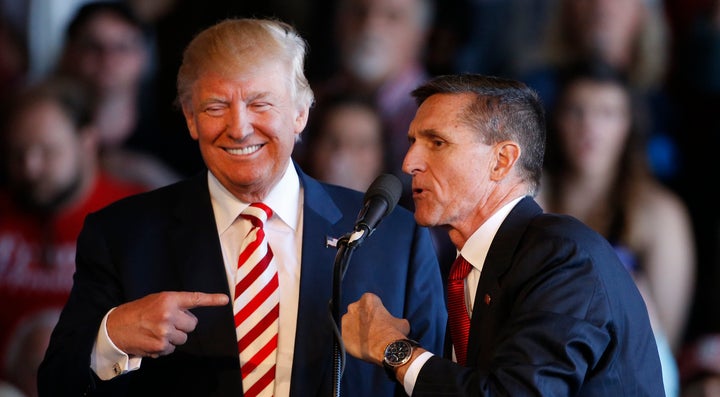 When I was a young lawyer, the SEC assigned me to work with the Watergate special prosecutor — an indelible few months which ended when Richard Nixon fired Archibald Cox. President Trump's precipitous dismissal of FBI director James Comey inevitably evokes the worst of Nixon — a president psychologically cornered by the knowledge of his own guilt, desperate to keep the legal process from exposing this. But this latest spasm of self-absorbed self-preservation carries the anomalous stamp of Trump's disordered psyche.
At his nadir, Nixon hewed to the forms of law and, ultimately, yielded — giving up the last damning tape which exposed his involvement in covering up his campaign's break-in at the DNC. What is so distinctive and disturbing here is Trump's naked desire to attack the legal system itself, reducing his presidency to a cage match between our institutions of justice and a man who does not even pretend to respect them.
For Trump, there are no legal norms, no people bound to uphold them. There are only friends and enemies, defined only by fealty to Trump. In a normal presidency, that acting Attorney General Sally Yates warned Trump about National Security Adviser Michael Flynn would be an act of loyalty. A normal president would care that his national security adviser had lied to his vice president, his chief of staff, and the American public about his conversations with representatives of a hostile foreign power bent on subverting our election. And an ethical president would be outraged that these conversations involved relieving Russia of sanctions imposed to punish that subversion.
Not Trump. When the Senate Judiciary Committee called Yates to reprise her warning, Trump's White House tarred this career prosecutor as a partisan agent of Democrats. Trump could not dispute what she said — because it was true. But by informing White House counsel Donald McGahn that Flynn was subject to Russian blackmail, she inadvertently triggered a chain of events more dangerous to Trump himself — his subsequent involvement in a cover-up which, in turn, raises questions about his larger involvement in Russia's electoral meddling.
To appreciate the peril to Trump, one must consider how an honest prosecutor — or FBI director — would look at the facts surrounding Flynn.
During the 2016 campaign, the FBI began investigating Russian hacking of the DNC and Hillary Clinton's campaign chairman — including repeated contact between Russians and people affiliated with Trump's campaign. This surveillance captured numerous conversations between Flynn and Russian Ambassador Sergey Kislyak, even as Trump repeatedly denied that members of his staff had communicated with the Russians.
In December, the Obama administration sanctioned Russia for its actions in attacking our electoral procees. Calls ensued in which Flynn implied to Kislyak that Trump might reverse the sanctions. Unbeknownst to Flynn, the FBI monitored those calls.
On Jan. 12, the Washington Post revealed the calls and asked whether sanctions were a subject. Repeatedly, Flynn denied discussing sanctions, lying to the press, the public — and, in person, to Vice President Mike Pence, Chief of Staff Reince Priebus, and Press Secretary Sean Spicer. Unwittingly, Pence and Spicer publicly repeated Flynn's lies.
Shortly after Trump's inauguration on Jan. 20, Flynn lied yet again — this time to the FBI. On Jan. 26, Yates informed McGahn that Flynn was lying and, therefore, subject to blackmail by the Russians. Immediately, McGahn told Trump.
Trump did nothing. He did not tell his vice president, chief of staff, or the public about Flynn's lies. Nor, quite clearly, did he reprimand Flynn. The most logical explanation for our president's curious passivity is that Flynn was lying to conceal Trump's knowledge of his conversations with Kislyak. It seems dubious that Flynn was concealing from the president important conversations about sanctions with the country being sanctioned — essentially, that Trump's close adviser had gone rogue.
But whatever his motives, as of Jan. 26, Trump became an active participant in concealing Flynn's mendacity — from the public, and from his other close advisers. On Feb. 8, when Flynn again denied discussing sanctions with Kislyak, Trump stood idly by. But when the Washington Post suggested that Flynn was lying, on Feb. 10 Trump — remarkably — denied to reporters knowing anything about the Post story, thereby concealing what Yates had told him two weeks before. Effectively, Trump himself had begun to lie.
Three days later, on Feb. 13, the cover-up unraveled. The Washington Post reported Yates's Jan. 26 warning to Trump, shredding his pose of innocence.
Only then did Trump seek Flynn's resignation, claiming to have been discomfited by Flynn's deception of Pence and others — deceptions Trump had known about for 18 days. The true reason is obvious: Trump could no longer feign ignorance of Flynn's conduct. The only cover-up remaining was for Flynn to take the fall.
All this is unworthy of a president. But more ominous yet is that Trump's deceit raises questions concerning what else Flynn knows about Trump and the Russians.
Unless and until there is a thorough and complete investigation — something Trump is determined to avoid — we are left to wonder. But no man was closer to Trump and Vladimir Putin than Michael Flynn. Flynn is a logical participant in any communications between Russia and Trump's campaign. So it is imperative to ask if the underlying reason for Trump's deceptions on Flynn's behalf relates not to sanctions, but to offenses committed during the campaign.
That is a question our honest prosecutor, or FBI director, must confront. Which brings us back to Trump's disparagement of Sally Yates, and his firing of James Comey.
To be plain, these behaviors reek of guilt and instability. The assertion that Trump fired Comey for wronging Hillary Clinton during the campaign is preposterous on its face — even had Trump had not been in office for the last three and a half months. The firing itself came with no preparation or a successor in place — the furious reflex of an intemperate mind.
And Comey? He refused to support Trump's slander that Barack Obama had wiretapped his successor. He confirmed to the Senate Judiciary Committee that the investigation of Russia included possible connections with Trump's campaigns. And Comey was continuing with the investigation which, for Trump, seems to inspire the frenzy of a man desperate to defuse a ticking bomb.
Thus we face an inescapable possibility — that a president loyal only to himself colluded with a foreign adversary in pursuit of power, and now invokes that power to escape exposure of who and what he is. The only safeguard is a special prosecutor loyal only to our country and its laws.
Richard North Patterson's column appears regularly in the Boston Globe. His latest book is "Fever Swamp." Follow him on Twitter @RicPatterson.
Calling all HuffPost superfans!
Sign up for membership to become a founding member and help shape HuffPost's next chapter
BEFORE YOU GO