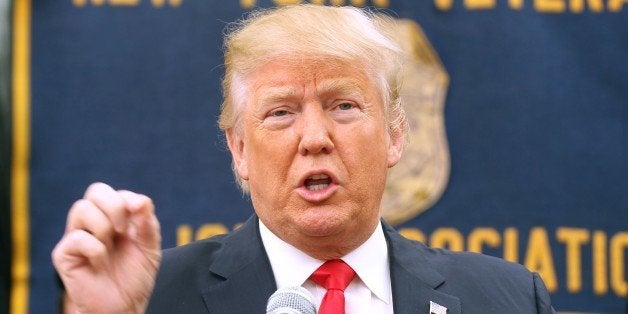 By Michael Goldfien and Michael Woolslayer
Throughout his campaign, Donald Trump has developed a destructive habit of criticizing American alliances. Trump laments that if Japan is attacked, America "must immediately go to their aid," but that if the United States is attacked, "Japan doesn't have to help." The real estate magnate-turned-presidential candidate also asserts that NATO is "obsolete," that it is "unfair, economically...to the United States," and that it is inadequately focused on the threat of terrorism.
Trump is not alone in critiquing U.S. alliances; respected members of both parties' foreign policy establishments, including former defense secretary Robert Gates and former U.S. ambassador to NATO Ivo Daalder, have been critical of many NATO members for spending too little on defense. Another frontrunner, Hillary Clinton, warned while serving as Secretary of State in 2013 of the twin budget and political deficits threatening the alliance's viability. Even President Obama, in an interview with Jeffrey Goldberg of The Atlantic, expressed frustration with the "free riders" of American foreign policy. Yet all these comments, despite the apparent exasperation, seek to improve alliance structures and boost participation, thereby preserving the Pax Americana that they underpin. Trump's criticisms, on the other hand, question their fundamental value. His proposed policies and posture would fracture America's alliances rather than reinforce them.
Take Japan. Yes, Tokyo could do more to provide for its own security and that of its allies. But while Trump is right that Tokyo is not bound to come to America's aid if it were attacked, he overlooks other contributions that Japan makes to U.S. security, including its willingness to base tens of thousands of American troops on its soil. Moreover, the country has recently taken concrete steps to ensure that it could come to America's aid; an effort that has provoked a traumatic national debate about the pacifism entrenched in its constitution and society during the U.S. occupation. In late 2015, the parliament used the concept of "collective defense" to justify passing a law that would allow Japan's Self-Defense Forces to come to the aid of allies under attack. In March 2016, Japan's parliament passed a record $44 billion defense budget, the fourth consecutive increase since Prime Minister Shinzo Abe returned to office. Yet despite these recent Japanese efforts, Trump seemingly suggested in a recent interview that he might prefer that Japan acquire its own nuclear deterrent -- "you may very well be better off in that case" -- rather than continue to honor U.S-Japan defense treaty, thereby undermining decades of bipartisan American nuclear non-proliferation policy. Instead of encouraging Japan to buy into its alliance with the United Sates more fully, Trump's comments encourage Japan to consider acquiring a nuclear weapon as a means for obviating the need for an alliance altogether.
Trump's desire to "pull back from Europe" has a rather un-Trumpian consistency -- he called for it in 2000 -- but his cries of NATO's obsolescence are particularly mistimed today. The charge that NATO has outlived its purpose is not new. As the Cold War ended, prominent realist scholars predicted that the alliance would disappear from lack of mission. Yet NATO is as relevant in 2016 as it has been at any time since the early 1990s, both within and outside of Europe. The alliance has quietly been combating terrorism, contrary to Trump's claims that "NATO doesn't discuss terrorism," and refining integrated command and control mechanisms in a major "out of area operation" in Afghanistan for over a decade. Ironically, any attempt by a President Trump to "knock the hell" out of ISIL by getting "other countries to become very involved" would rely on NATO members' interoperability given the existing coalition.
In Europe itself, great power politics are back as Moscow once again challenges the territorial integrity of European countries and Vladimir Putin seeks to undermine the status quo. The collective security of NATO remains the central pillar of European defense and a source of European unity, despite countervailing populist and nationalist forces; indeed, in a Europe that cannot seem to agree on much, a majority hold favorable views of the alliance in each of the eight largest member states, except Spain. Despite the post-Cold War pattern of military under-investment, Trump's comments come as defense cuts in Europe have all but stopped and key partners like the UK, France, and Germany have showed renewed commitment to strengthening their militaries.
While Trump misses no opportunity to belittle the friendly pillars of the post-World War II American-led international order, he believes that he would have a "great relationship" with Russian President Vladimir Putin, an autocrat for whom dividing the West and destroying Pax Americana appear to be paramount goals. Since the end of the Cold War, American presidents, despite the normal partisan battles, have approached foreign policy with a shared set of values and a fidelity to our global commitments. Trump, if elected, would represent something entirely different and destabilizing for U.S. interests and the global community.
Michael Goldfien is a Campaigns Fellow at Young Professionals in Foreign Policy, and has an MA in International Policy Studies from Stanford University.
Michael Woolslayer has an MA in International Policy Studies from Stanford University and currently works in cybersecurity.
REAL LIFE. REAL NEWS. REAL VOICES.
Help us tell more of the stories that matter from voices that too often remain unheard.