The aim of President Donald Trump's new policy of splitting kids from their mothers at the border is, in a word, deterrence: The White House wants to discourage more immigrants from trying to enter the United States.
Kirstjen Nielsen, Trump's secretary of homeland security, is careful not to say this outright — she dodged a direct question on the subject from Sen. Kamala Harris (D-Calif.) at a hearing last month.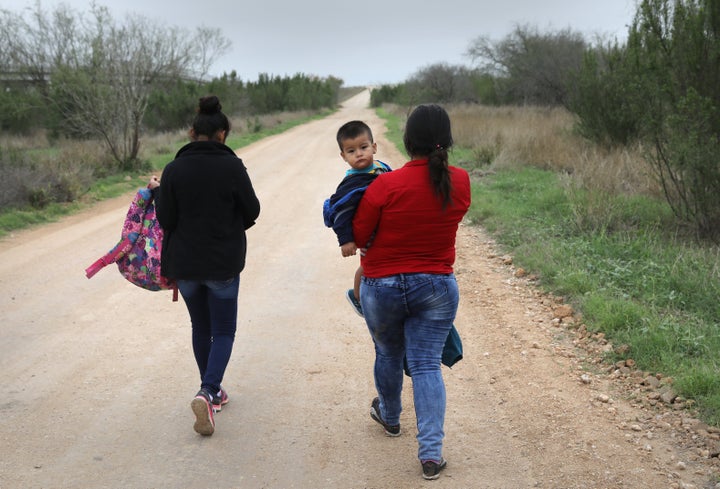 There's a reason Nielsen and other administration officials shy away from attaching the word "deterrence" to the new policy: Changing immigrant detention policy as a way to deter undocumented people from coming to the U.S. is illegal, federal courts have repeatedly ruled. So now she and other Trump administration officials find themselves struggling to defend a family separation policy whose clear ambition is deterrence.
A growing number of mothers have crossed into the United States since 2014, often from Central America and often requesting asylum. Other administration officials were blunter in the past when discussing a policy that would split the families up to scare them away from coming.
The Department of Homeland Security was considering separating children from their parents "in order to deter" undocumented immigration, White House chief of staff John Kelly told CNN while serving as Nielsen's predecessor last year. And Gene Hamilton, a former aide to Attorney General Jeff Sessions, asked participants at a meeting last August on the policy to "generate paperwork laying out everything we could do to deter immigrants from coming to the U.S. illegally," according to The New Yorker.
Whether or not the deterrence goal is spelled out, the strategy is likely to backfire. Former President Barack Obama learned that lesson in 2015, when a federal judge in Washington blocked his plans to lock up Central American immigrant mothers and their kids without bond to deter others from trying to cross the border.
U.S. District Judge James Boasberg ruled that the federal government can't detain immigrants indefinitely for the sake of deterrence alone. Instead, the decision to detain needed to be based on whether the immigrant posed a threat to the community or a flight risk.
The Obama administration was forced to provide bond hearings to the migrants in family detention. A separate ruling that year ordered the Obama administration to start releasing people from family detention after three weeks in order to comply with the Flores settlement, a 1997 deal that bars the government from locking up children in detention centers.
The Trump administration hopes to skirt the rulings that got Obama officials into trouble by prosecuting immigrant parents at the border. The federal government can't jail children while their mothers await trial, so immigration authorities transfer them to the Office of Refugee Resettlement to find a sponsor or to non-secured facility to hold them, as if they arrived by themselves.
But this legal maneuver stands on the same shaky ground.
"Whether the deterrence to seeking protection is being done by detaining families or separating families doesn't make a whole lot of difference," said Michelle Brané, the director of the Migrant Rights and Justice Program at the Women's Refugee Commission. "They're both punishing families for seeking protection, and protection to which they have the right under U.S. law."
The Trump administration is already running into legal trouble over its policy. The American Civil Liberties Union filed a lawsuit in federal court in Southern California to overturn Trump's family separation policy, asking U.S. District Judge Dana Sabraw for a nationwide injunction to halt the practice. At a hearing on May 4, Sabraw repeatedly asked whether the Trump administration had adopted the family separation policy to deter others.
"If there were a blanket policy to separate for deterrence value, would that be legal?" Sabraw asked, according to a transcript of the hearing. "Would that pass muster under the Fifth Amendment?"
The judge did not receive a straight answer. The government's lawyer, Sarah Fabian, instead argued that the government wasn't separating mothers from their kids systematically, and only following existing immigration law to do so.
Attorney General Jeff Sessions undermined her argument three days later, when he announced that the Justice Department's "zero tolerance" policy for prosecuting border-crossers included mothers who cross with their children.
Lee Gelernt, the lawyer leading the ACLU lawsuit, called the government lawyer's unwillingness or inability to defend family separation on the merits without resorting to the legally fraught term "deterrence" significant.
"The government still needs a persuasive justification for separating children," Gelernt wrote in an email. "And the government has not provided one."
On Wednesday, Sabraw ordered that the case against family separation can move forward, over the Trump administration's objections. Although he has yet to rule on the case's merits, his order did not augur well for the federal government.
Implementing a family separation policy to deter other migrants "arbitrarily tears at the sacred bond between parent and child," Sabraw wrote. "Such conduct, if true, as it is assumed to be on the present motion, is brutal, offensive, and fails to comport with traditional notions of fair play and decency."
Support HuffPost
The Stakes Have Never Been Higher
Popular in the Community