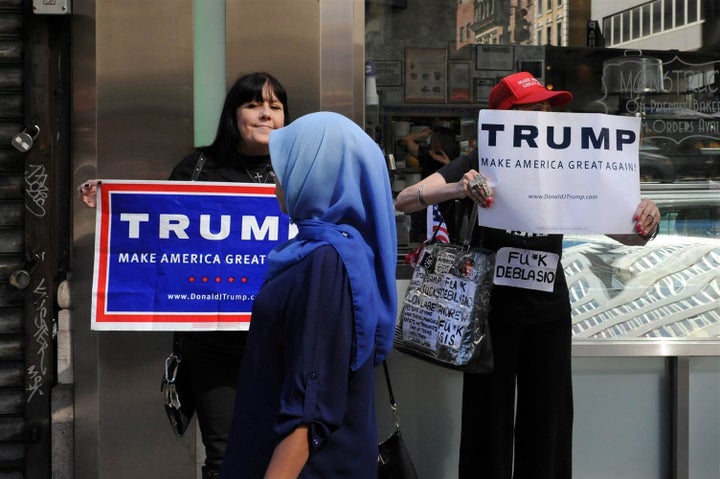 During his recent visit to Saudi Arabia, the birthplace of Islam, President Donald Trump respectfully listened to the recitation of Koranic verses before delivering a major address to more than 1.6 billion Muslims around the world. Throughout his speech, Trump aimed to reset the US's relationship with the Muslim world, speaking in new ways about Islam and Muslims: "I stand before you as a representative of the American people, to deliver a message of friendship and hope." Trump even acknowledged Islam as "one of the world's great faiths," after months of hostility towards the religion and its followers. However, actions speak louder than words. His mere acknowledgment does not excuse his well-documented Islamophobic rhetoric. After denigrating Islam and speaking as if the United States itself does not have millions of Muslim citizens, Trump must first and foremost repair his relationship with his fellow Muslim Americans.
Throughout his presidential campaign, Trump spoke negatively about Islam. His words reached 3.3 million Muslims Americans, making them feel alienated in their own homeland. His bigotry made US citizens worshiping at 2,500 mosques across all 50 states feel threatened in their places of worship. He also pledged to seriously consider shutting down mosques and put others under surveillance, promised to issue Muslims special ID cards, discussed creating a federal database to track and monitor Muslims residing in the United States, and, unsurprisingly, ban all Muslims from entering the country. During an interview with Anderson Cooper on CNN Trump claimed that "it's very hard to separate between radical Islam and Islam." "I think that Islam hates us," he continued.
Trump's xenophobic rants have undoubtedly harmed Muslims and their standing in the United States. A recent report published by Georgetown University's Center for Muslim-Christian Understanding found a marked increase in violence against Muslims in the United States coinciding with the 2016 campaign, as did a study by the Center for Study of Hate and Extremism. Just last week, president Trump waited two days to condemn the murder of two men and the serious injury of another who tried to intervene and protect two young Muslim women from a white supremacist. The attacker was shouting Islamophobic hate speech at the young women on a commuter train in Portland, Oregon. The POTUS account tweeted that the attacks are "not acceptable."
As the Muslim holy month of Ramadan commenced, President Trump issued a statement welcoming its coming: "I extend my best wishes to Muslims everywhere for a blessed month as you observe the Ramadan traditions of charity, fasting, and prayer." Speeches and statements, however, are not necessarily reflective of meaningful policy change -– if we are to take the president at his new and amicable word towards Islam, he must take two simple yet crucial steps.
First, the White House should host a Ramadan Iftar. In a TV interview during the presidential campaign, Trump indicated that he was open to continuing the tradition of hosting an Iftar dinner in celebration of the Muslim holiday. "It wouldn't bother me," Trump said. A White House Ramadan celebration this year would mark the 21st anniversary of a tradition that was first adopted by the then-first lady Hillary Clinton in 1996. All consecutive administrations, whether Republican or Democrat have held to this tradition. Consequentially, The White House Iftar has become the country's most important public gathering of Muslim and non-Muslim voices, used by three presidents to enhance interfaith unity and mutual understanding.
Trump's White House Iftar would send a very positive signal, especially since recent media reports indicate that the state department will discontinue its own two-decade tradition of hosting the Ramadan Iftar. Having attended several State Department Iftars myself, I know firsthand how valuable and constructive official U.S. government overtures to Muslims at home and abroad can be. Such measures must remain a key component of U.S. foreign policy going forward.
Second, President Trump should visit a local mosque. Just six days after the horrific acts of 9/11, the Republican President George W. Bush displayed crucial leadership by visiting the Islamic Center of Washington where he condemned harassment of Muslim Americans and spoke expressively about the need to respect Islam. After all, the White House hosts annual Christmas and Easter events, as well as a Seder dinner to mark Jewish Passover. This Ramadan may be just the right opportunity to show that he is a president for all Americans and host a Ramadan Iftar.
Mohamed Elmenshawy is Washington Bureau Chief for Alaraby Television Network, and a columnist for the Egyptian Daily Alshorouk. He can be reach on twitter @ElMenshawyM or email mensh70@gmail.com
Calling all HuffPost superfans!
Sign up for membership to become a founding member and help shape HuffPost's next chapter