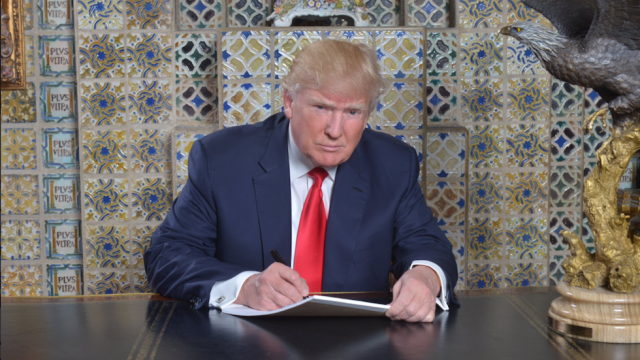 To get an idea of what to expect from Donald Trump for the next four years, we only have to examine his first week in office.
January 20: Trump was sworn in and delivered a dark inaugural address; a shorter version of his "Make America Great Again" stump speech that featured two themes.  One was Trump populism:  "We are not merely transferring power from one administration to another or from one party to another, but we are transferring power from Washington, D.C. and giving it back to you, the people."  The other was Trump's assessment of the "carnage" outside Washington, D.C.: "Mothers and children trapped in poverty in our inner cities; rusted out factories scattered like tombstones across the landscape of our nation; an education system flush with cash, but which leaves our young and beautiful students deprived of all knowledge; and the crime and the gangs and the drugs that have stolen too many lives and robbed our country of so much unrealized potential."
Initially Trump claimed to have written this speech by himself but it was later revealed that it had been penned by his aides Stephen Miller and Steve Bannon.
Trump finished the day by removing all reference to global-climate-change from the White House website and signing a (symbolic) executive order "giving federal agencies broad powers to unwind regulations created under the Affordable Care Act."
January 21: Millions of Americans took to the streets in the national women's march. Trump ignored this and instead went to the headquarters of the CIA where he delivered a rambling speech where, among other things, he lashed out at the mainstream media: "I have a running war with the media. They are among the most dishonest human beings on Earth."  Trump accused the media of distorting the size of the inauguration crowds.
A few hours later, Trump's Press Secretary, Sean Spicer held a bizarre press conference where he took no questions and, instead, huffed, "some members of the media were engaged in deliberately false reporting." Spicer, too, was worried about the crowd-size numbers.
January 22 (Sunday): For most of the day, Trump was quiet but at 4:47 a.m. he tweeted: "Watched protests yesterday but was under the impression that we just had an election! Why didn't these people vote? Celebs hurt cause badly."
Meanwhile, Trump Senior Adviser KellyAnne Conway made the talk-show rounds and revealed that Trump has broken another promise: he will not release his tax returns even after his IRS audit is completed.  Conway went on the defend Sean Spicer, saying his estimates of inauguration crowd size were "alternative facts."
January 23: Trump signed several symbolic executive orders and then visited Democratic and Republican congressional leaders.  During his extemporaneous remarks he explained that he lost the presidential popular vote because 3 million to 5 million "illegals" voted for Hillary Clinton.
Trump's Press Secretary gave a relatively normal White House press briefing.  However, he continued to complain about the media: "The default narrative is always negative, and it's demoralizing."
January 24: Trump continued to assert that "illegals" voted for Clinton and vowed "an investigation."  Meanwhile, during his confirmation hearing, South Carolina Rep. Mick Mulvaney, nominated to head the Office of Management and Budget, indicated that Trump will abandon his promises to leave Social Security and Medicare alone.
It was widely reported that the Trump Administration has issued directives to muzzle Employees at the Environmental Protection Agency, the Interior Department, the Department of Agriculture and the Department of Health and Human Services (HHS).
January 25: Trump signed an executive order authorizing construction of a wall along the southern border and repeated his assertion that the United States would be reimbursed by the Mexican government.  (The next day, Mexico's President, Enrique Peña Nieto, said his country would not pay for the wall and cancelled a meeting with Trump.)
Meanwhile, Steve Bannon, Trump's  strategist, described the media as "the opposition party," adding "The media should be embarrassed and humiliated and keep its mouth shut."
January 26: In an ABC News interview, Trump was asked about the 18 million people who are expected to lose health insurance if Obamacare is repealed.  He replied: "Nobody ever deducts all the people that have already lost their health insurance that liked it... You had millions of people that now aren't insured anymore."
Republicans gathered for a "policy retreat" in Philadelphia where they were met by hundreds of protestors, chanting, "Hey, hey, ho, ho, Donald Trump has got to go" and, "Love not hate, that's what makes America great."
1. Expect a lie every day.  Trump began the week by falsely claiming he was the sole author of his inauguration speech and ended it with the ridiculous assertion that Obamacare had caused millions of Americans to lose coverage.  The danger is that the public will accept pathological lying as "the new normal."
2. Expect a relentless attack on the media.  The Trump Administration has unprecedented hostility towards the mainstream media.  The danger is that Americans won't get the independent reporting they need.
3. It's all about optics.  Trump's executive signing ceremonies may make him appear presidential but, in general, they have minimal impact.  For example, Trump may order the wall to be built, but Congress has yet to authorize the funds.  Trump wants to look good but he doesn't have a plan to do good.
REAL LIFE. REAL NEWS. REAL VOICES.
Help us tell more of the stories that matter from voices that too often remain unheard.
BEFORE YOU GO