WASHINGTON ― Weeks after losing a bruising confirmation battle in Washington, Andy Puzder is leaving his job at the helm of the Hardee's and Carl's Jr. burger chains.
President Donald Trump picked Puzder to be the next labor secretary, but the CEO withdrew himself from consideration in February under the weight of surprisingly wide-ranging controversies. It seems he won't be returning to the world of fast food after all.
On Tuesday, CKE Restaurants, the parent company to Hardee's and Carl's Jr., announced that Puzder, 66, would be replaced by Jason Marker, the president of fried chicken chain KFC, a division of Yum Brands.
In a statement issued by CKE, Puzder was clear that his stepping down had nothing to do with his failed bid for labor secretary and the scrutiny that came with it. "I expressed my desire to have CKE plan for succession approximately a year ago," Puzder said.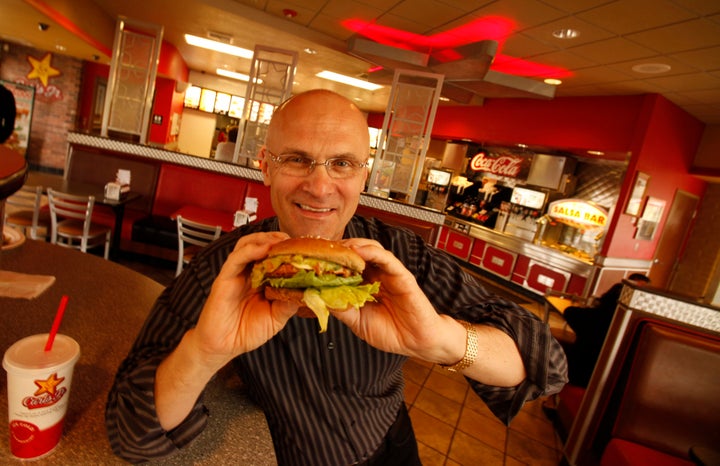 Puzder was among Trump's most controversial Cabinet picks, even for an administration stocked with secretaries hostile to the missions of the agencies they would lead. He would have come directly from a low-wage industry that the Labor Department must hold accountable, and his own chains had violated the very laws that Puzder would have been responsible for enforcing.
But, despite intense pushback from Democrats and labor groups, what ultimately did Puzder in was probably not his corporate record. He was haunted by a recanted claim of domestic abuse by his ex-wife ― Politico unearthed a chilling video in which she spoke of the alleged abuse in disguise on "The Oprah Winfrey Show" ― as well as the fact that he and his wife had personally employed an undocumented immigrant, first reported by The Huffington Post.
In the end, enough Republican senators had their reservations about Puzder to severely jeopardize his nomination. He decided to withdraw before his hearing arose, making him the first Trump Cabinet pick to go down in flames. In later interviews, he blamed the press, saying he was the victim of "a fake news tsunami."
With Puzder a focus of the Trump resistance, the contentious nomination battle put his company in an extraordinarily awkward spot. Reporters dug through the burger chains' labor law violations and court cases, while workers and labor activists protested outside its corporate offices and restaurants. CKE is not a public company, and it isn't clear yet whether the politics affected its sales.
Puzder had been the chief executive of CKE since 2000. He was responsible for the company's successful but controversial advertisements featuring beautiful women eating cheeseburgers on cars. He was also an outspoken critic of the Obama administration and its Labor Department, making TV appearances in which he argued against liberal economic reforms.
"If I had supported the $15 minimum wage, Obamacare and the overtime rule, these issues wouldn't have come up, or they would have been laughed away," Puzder recently said of the critical news coverage. "When there's a campaign like this against you, it's very tough to overcome."
Puzder's replacement for labor secretary, Alexander Acosta, is slated to have his Senate hearing on Wednesday.
Calling all HuffPost superfans!
Sign up for membership to become a founding member and help shape HuffPost's next chapter
BEFORE YOU GO
PHOTO GALLERY
2017 Scenes From Congress & Capitol Hill