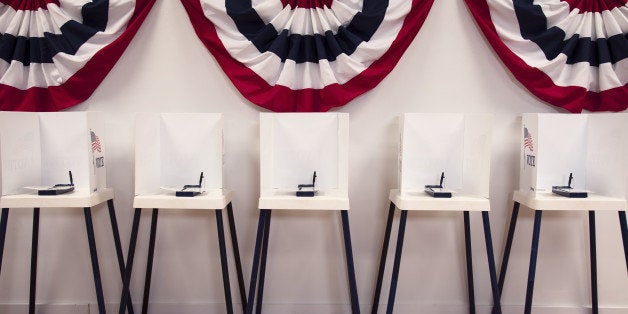 If you look at Donald Trump's website you'll find an application form for election monitors "to help stop crooked Hillary from rigging this election." It is Trump's purpose to undermine the fair electoral process as a face-saving alibi for his impending electoral defeat.
Trump has said that he expects fraud in "certain areas of states". Given all of his campaign rhetoric it is not unreasonable to expect that Mr. Trump's vigilante "monitors" would harass and intimidate voters specifically in black, Asian and Hispanic communities where he has little support. The resulting images of chaos, and the possibility of violence, that would likely ensue would undermine the very sanctity and legitimacy of American democracy.
Given the hostility between Trump and the Republican National Committee, it is highly unlikely that these so- called monitors would receive appropriate instruction or education, but rather would simply be turned loose on these "certain areas of states", Trump's euphemism for minority districts. As a long-time poll watcher in the United States, South Asia and South America, I have seen how electoral processes can be disrupted by frivolous challenges, malicious signature and ID checking, and other forms of voter intimidation.
Such harassment would likely lead to huge back-ups, multi-hour-long voting lines and even potential violence. It would ultimately undermine the confidence of the American people in the election outcome.
And this is exactly what Mr. Trump wants - a preemptive alibi for his anticipated electoral catastrophe.
Electoral violence is rare in the United States but not uncommon in the developing world. Violence abroad is most often incited by incumbent governments who believe that they will lose a fairly contested election, or by opposition parties that know they are about to lose and thus attempt to preemptively delegitimize the outcome.
International Federation of Election Services (IFES) officials William Sweeney, Chad Vickery and Katherine Ellena have recently noted that they have "witnessed the emergence of a campaign strategy whereby candidates...cast doubt on the integrity of the electoral process and the institutions that manage it during the pre-election period...to derail or establish lasting doubts about the legitimacy of the outcome."
Let's look at Pennsylvania as one case in point. Although Donald Trump has said the only way he can lose Pennsylvania is by election rigging, the Pennsylvania voter ID law, enacted by a Republican legislature and governor, was overturned by the court when not a single case of voter fraud could be produced as evidence to support the restrictive law. So when Trump claims that he can only lose Pennsylvania to Clinton as a result of rigging - despite polls consistently showing him ten points behind her - we should assume his comments are deliberate attempts to undermine the legitimacy of the Pennsylvania election.
And Pennsylvania is only one of many possible examples. Seventeen Republican-controlled states have enacted restrictive voter ID laws ostensibly to prevent fraud. But given the absence of any credible evidence of fraud, we must assume that voter suppression is the agenda. In case after case challenging these restrictive state laws, courts have found them to be unconstitutional, most recently in North Carolina.
There are approximately 185,000 precincts where Americans will vote in this year's Presidential election. In the more closely contested states of Arizona, Colorado, Florida, Georgia, Iowa, Michigan, Missouri, Nevada, North Carolina, Ohio and Virginia there are over 45,000 precincts. Arizona, Colorado, Georgia, Iowa, Michigan, Missouri, Nevada, New Hampshire, North Carolina and Ohio allow citizens to carry concealed weapons anywhere.
Let us assume that 20% of the precincts in contested states are in areas where a majority of the voters are black, Hispanic or Asian. That would leave 9,000 precincts as ripe targets for harassment and intimidation. If goon squads provoked violence even in only 5% of these precincts, America and the world would see a spectacle of political chaos in 450 U.S. voting precincts.
The danger of violence is real. Mr. Trump shouts at his rallies for his supporters to "beat the crap out of them [demonstrators]" and "take them out on stretchers" significantly contribute to this danger. A coalition of 76 civil rights organizations has thus recently urged both the Republican and Democratic Parties to denounce attempts to have untrained citizen monitors positioned at or near polling centers on election day.
Is the possibility of harassment, intimidation and violence far-fetched? Anyone who has observed Trump rallies where Trump's hyperbolic rhetoric has turned crowds into mobs, cannot but be concerned that the rabidity of his most ardent supporters could morph into such a result on election day. A Pew survey recently found that only 11% of Trump supporters believe that the presidential vote will be accurately reported all across the country. Thus close to 90% of Trump supporters already accept Mr. Trump's declaration that the election will be rigged against him. These are the people that Donald Trump wants to fan out across America in black, Hispanic and Asian neighborhoods on November 8th. And thousands of them could be armed. In the biggest contested electoral prize - Florida - over one million citizens are licensed to carry concealed weapons.
What can be done to prevent this threat to American democracy? Local and state officials must immediately rise to the unfolding challenge. Clearly, Democratic and Republican state parties should carefully train and educate monitors for election day, and certify only legitimate poll watchers. Any group of de facto Trump election monitors, not trained and certified by responsible party committees, should not be permitted on or near polling sites. Police should be assigned to polling places in minority areas to make sure that voters who are waiting in line to vote are not harassed or have their identities frivolously challenged.
In addition, if it appears that significant harassment and possible violence are likely at polling places, state governors should preemptively mobilize their National Guards. And if governors refuse to act, the President should be prepared to federalize the National Guard.
The press should be positioned at black, Hispanic and Asian neighborhoods to record incidents of harassment and incitement to violence.
The League of Women Voters, the Urban League, the NAACP, La Rasa, CAIR, various Hispanic and good government groups all across the nation should prepare to have their own monitors at potential flash points in minority precincts.
Mr. Trump's rhetoric, policy and personality have already fundamentally undermined the Republican Party of the United States. But we should not allow him to unleash goon squads to undermine the American political process itself.
REAL LIFE. REAL NEWS. REAL VOICES.
Help us tell more of the stories that matter from voices that too often remain unheard.